Russian troop build-up near Ukraine raising concerns of intervention
'We are concerned by recent escalating Russian aggressions in eastern Ukraine, including the credible reports that have been emanating about Russian troop movements on Ukraine's borders and occupied Crimea'
Eleanor Sly
Thursday 08 April 2021 09:44 Comments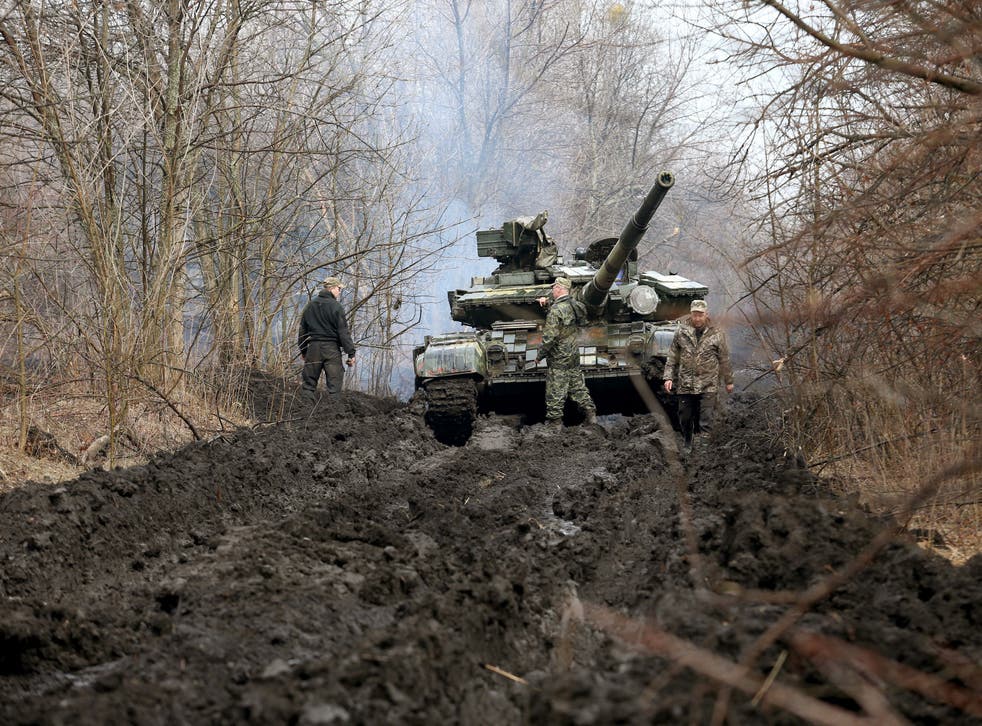 Russia's troops have begun to build up near to the Ukraninan border, in a move which has prompted Ukraine to appeal to the west for help. It has also provoked fears that Russia could be about to escalate its seven-year conflict with its neighbour Ukraine.
The forces currently at the border have sparked fresh worries that the conflict, which has so far claimed 13,000 lives, could be on the verge of ramping up. 
Indeed, last week, the commander-in-chief of Ukraine's armed forces, Ruslan Khomchak told the Ukrainian parliament that Russia now had 28 tactical battalions along the shared border. This would total up to 25,000 troops.
However, in spite of concerns, a Russian top security official said that Russia is not planning to intervene. In an interview with Kommersant newspaper, Security Council Secretary Nikolai Patrushev said that although the country had no "such plans" to intervene in Ukraine, they are "carefully monitoring the situation".
"Depending on how it develops, we will take concrete steps," Mr Patrushev added.
Read more:
Ukraine, on the other hand, sees the situation somewhat differently and has called on the west for support. This comes following both the increase in forces along its border and a rise in cease-fire violations and deaths in the Russian-backed separatist regions in the southeast of the country.
Ukrainian President Volodymyr Zelenskiy has accused the Kremlin of "muscle-flexing" to intimidate Kyiv, which he called "a traditional Russian affair," in a statement. While last week, Ukraine's military intelligence warned publicly of the danger from Russia, saying that Moscow is preparing to "provoke our country to respond to hostile actions along the front line".
Meanwhile on Tuesday, Mr Zelenskiy once again expressed his country's desire to join the North Atlantic Treaty Organisation (NATO) to help protect itself from Russia.
In a telephone conversation with NATO Secretary General Jens Stoltenberg, Mr Zelenskiy called membership "the only way to end the war," Bloomberg reported. However, the NATO chief was non-committal in a tweet later, offering support but saying only "we remain committed to our close partnership" with Ukraine.
Russia remains adamant that it is not threatening its neighbour, yet has announced that more than 4,000 training exercises in military districts across Russia will begin. It has also accused the Ukrainian government of preparing a military offensive to regain control of the eastern conflict zone.
The United States have also expressed their concern over the situation and the growing numbers of Russian troops along Russia's southern border. On Monday, Washington asked Moscow to explain recent "provocations" on Ukraine.
Ned Price, spokesman for the United States Department of State said: "We are concerned by recent escalating Russian aggressions in eastern Ukraine, including the credible reports that have been emanating about Russian troop movements on Ukraine's borders and occupied Crimea."
White House press secretary Jen Psaki also told reporters that the US was monitoring the "recent escalations of Russian aggression and escalation in eastern Ukraine."
The United States and the European Union have both sanctioned Russia for its annexation of Crimea which occurred in 2014. They both support the separatists in Ukraine's Donbas region.
Register for free to continue reading
Registration is a free and easy way to support our truly independent journalism
By registering, you will also enjoy limited access to Premium articles, exclusive newsletters, commenting, and virtual events with our leading journalists
Already have an account? sign in
Join our new commenting forum
Join thought-provoking conversations, follow other Independent readers and see their replies