Russia-US tensions: Putin ally tells Americans to vote for Donald Trump or risk nuclear attack
'If they vote for Hillary it's war. There will be Hiroshimas everywhere,' says Kremlin supporter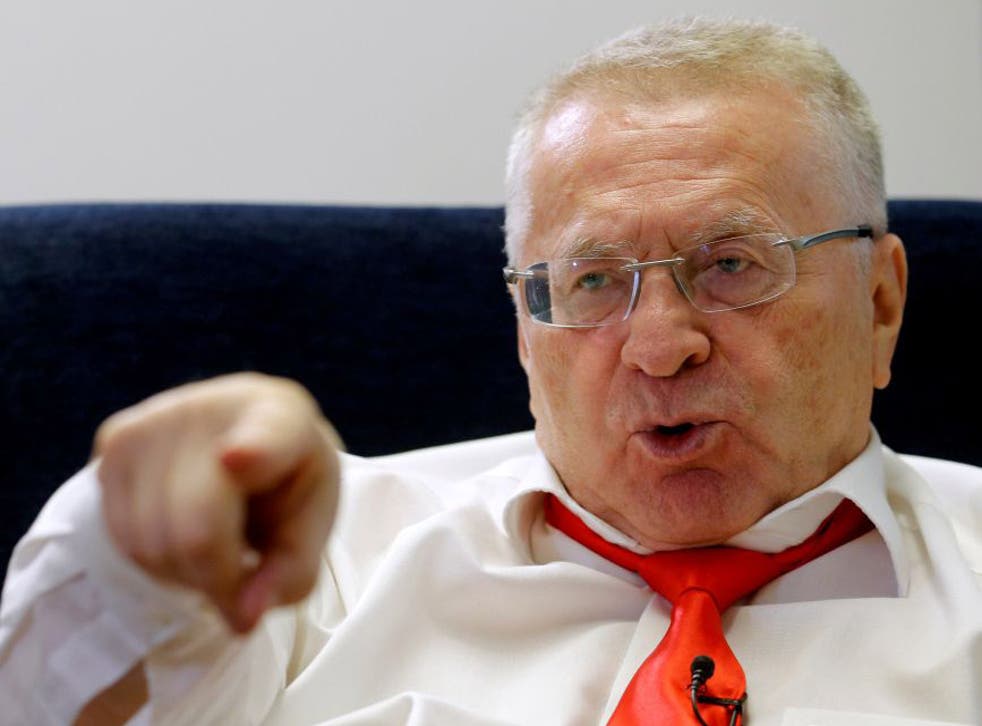 Americans should vote for Donald Trump or risk an apocalyptic nuclear war, a nationalist ally of President Vladamir Putin has said.
Vladimir Zhirinovsky said electing the Republican nominee would be a "gift to humanity", while electing Ms Clinton would likely start a third world war.
A veteran policy-maker, Mr Zhirinovsky's flamboyant nature and brazen comments mean he is considered an oafish figure among Russians. Yet he is also a long-time political insider who has had a seat in the Duma for more than two decades.
As a close ally of the Kremlin, Mr Zhirinovsky is sometimes used to float policy ideas. His pro-Putin Liberal Democratic Party of Russia (LDPR) came third in Russia's parliamentary elections last month.
"Relations between Russia and the United States can't get any worse," Mr Zhirinovsky told Reuters, "the only way they can get worse is if a war starts."
"Americans voting for a president on 8 November must realise that they are voting for peace on Planet Earth if they vote for Trump. But if they vote for Hillary it's war. It will be a short movie. There will be Hiroshimas and Nagasakis everywhere."
Tensions between the White House and Kremlin have escalated over the conflicts in Ukraine and Syria. US Secretary of State John Kerry has called for an investigation into whether Russia has committed war crimes against Syrian civilians.
But Mr Zhirinovsky said he thought Mr Trump's regime would keep out of foreign conflicts such as in Ukraine, Syria, Libya and Iraq. He added Mr Trump could even win a Nobel peace prize.
"Trump will have a brilliant chance to make relations more peaceful, Mr Zhirinovsky said. "He's the only one who can do this."
In 2013 Mr Zhirinovsky foreshadowed one of Mr Trump's much-touted proposals – a wall on the border with Mexico – with his own call to use a barbed wire fence to cut off the majority Muslim North Caucasus from the rest of Russia.
What did Donald Trump say during the second presidential debate?

Show all 8
Like the Republican nominee, he too has faced allegations of extreme misogyny. In 2014 he was threatened with criminal charges after he ordered an aide to rape a pregnant reporter.
The Russian tyrant was also criticised after he unleashed a barrage of deeply racist and sexist abuse on former US Secretary of State Condoleezza Rice.
In a 1993 Russian election, Mr Zhirinovsky promised that his party won power, Russian men would get cheaper vodka and Russian women would get better lingerie. The proposals appeared effective, and voters cast more ballots in favour of his Liberal Democrats than any other party.
During the interview with Reuters, Mr Zhirinovsky described Clinton as "an evil mother-in law" and said it was too great a risk for a powerful country to be led by a woman.
Mr Zhirinovsky has welcomed comparisons between he and Mr Trump and has even called for DNA testing to be carried out to see whether he and the Republican nominee are related.
Russia's president has also praised Trump as "very talented". The Republican candidate has reciprocated, claiming that Mr Putin is a better leader than Barack Obama.
Register for free to continue reading
Registration is a free and easy way to support our truly independent journalism
By registering, you will also enjoy limited access to Premium articles, exclusive newsletters, commenting, and virtual events with our leading journalists
Already have an account? sign in
Register for free to continue reading
Registration is a free and easy way to support our truly independent journalism
By registering, you will also enjoy limited access to Premium articles, exclusive newsletters, commenting, and virtual events with our leading journalists
Already have an account? sign in
Join our new commenting forum
Join thought-provoking conversations, follow other Independent readers and see their replies