Russia vetoes UN resolution to end bombing in Aleppo dividing Security Council
A rival measure put forward by Russia, which called for a ceasefire but made no mention of a halt to the airstrikes, was also rejected
Alexandra Sims
Saturday 08 October 2016 22:52 Comments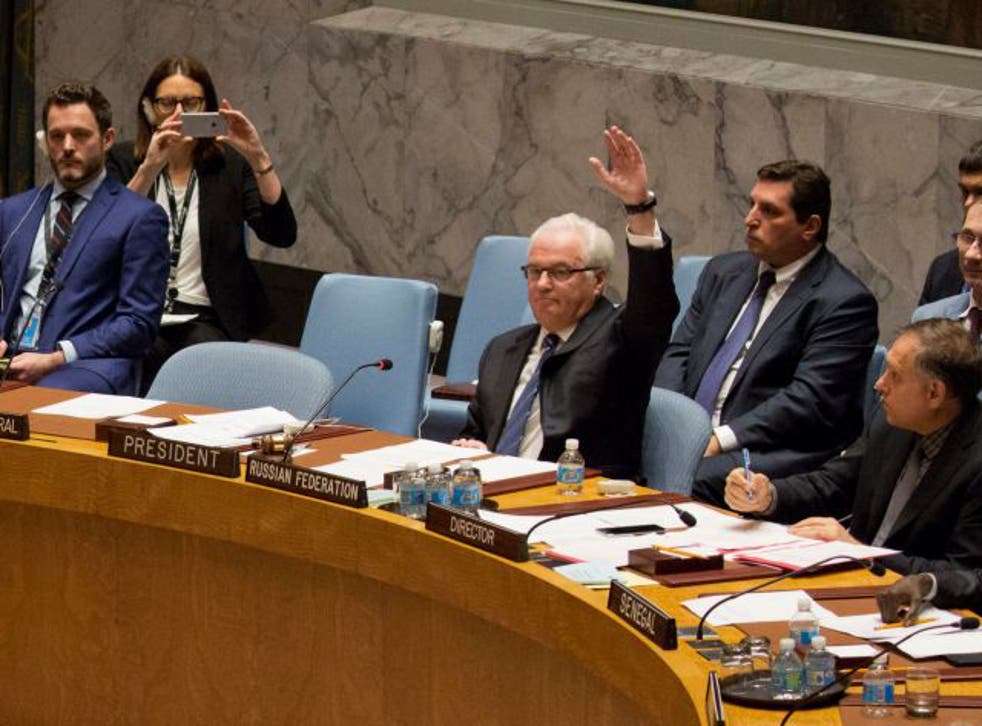 Tensions have deepened in the UN Security Council after rival resolutions on Syria backed by Russia and the West were both rejected – offering no respite for the country's besieged city of Aleppo.
Russia vetoed a UN resolution drafted by France, demanding an immediate end to the bombing campaign being carried out by Russia, the Syrian government's ally, in rebel-held districts of Aleppo.
A rival measure put forward by Russia, which called for a ceasefire but made no mention of a halt to the airstrikes, was rejected after failing to get nine votes from the 15-member council.
It was the fifth time Moscow used its veto to block UN action to end the five-year war in Syria, which has claimed 300,000 lives.
Russia's UN ambassador Vitaly Churkin, the current rotating council president, called the vote a "waste of time" and "inadmissible", claiming the Security Council met knowing that neither resolution would be adopted.
Nine countries, including the UK, France and the United States, voted against the Russian draft. Russia, China, Egypt and Venezuela voted in favour, while Angola and Uruguay abstained.
The measure presented by France won 11 votes, but Russia and Venezuela voted against. China and Angola abstained.
In pictures: Russian air strikes in Syria

Show all 19
The votes reflected the deep divisions in the UN's most powerful body which is charged with ensuring international peace and security but has failed to take action to end the five-year Syrian conflict which has killed more than 300,000 people and displaced millions.
As the council meeting got underway, the Syrian regime pushed its assault on rebel-held areas of Aleppo, where 125,000 people are living under siege and facing almost daily bombing, AFP reports.
French Foreign Minister Jean-Marc Ayrault urged the council to take immediate action to save Aleppo: "What is at stake today is first and foremost the fate of Aleppo and its people," told the council.
He compared Aleppo to Guernica during the Spanish Civil War in the 1930s, Srebrenica during the Bosnian war and the Chechen capital Grozny which was pummelled by the Russian army in the mid-1990s.
John Kerry says Russia and Syria should be probed for war crimes
Mr Ayrault warned the continued bombing of Aleppo was killing civilians and destroying hospitals and schools - "and has nothing to do with combating terrorism," as Syrian president Bashar Assad's government and ally Russia claim.
Mr Churkin said the demand for a bombing halt in Aleppo was "not fleshed out" and would affect the government-controlled western part of the city as well as the rebel-held east.
When Syria's UN ambassador Bashar Ja'afari started speaking a number of ambassadors walked out, including the representatives of the UK, France, Ukraine and the US.
The Syrian and Russian bombing campaign has escalated since the Russian-backed Syrian army launched an offensive to retake the city on 22 September.
Additional reporting by Press Association
Register for free to continue reading
Registration is a free and easy way to support our truly independent journalism
By registering, you will also enjoy limited access to Premium articles, exclusive newsletters, commenting, and virtual events with our leading journalists
Already have an account? sign in
Join our new commenting forum
Join thought-provoking conversations, follow other Independent readers and see their replies