Russia reveals plans for major military expansion in 2017
Defence ministry intends 'to reinforce the army groups in the western, southwestern and Arctic strategic areas'
Samuel Osborne
Thursday 22 December 2016 18:16 Comments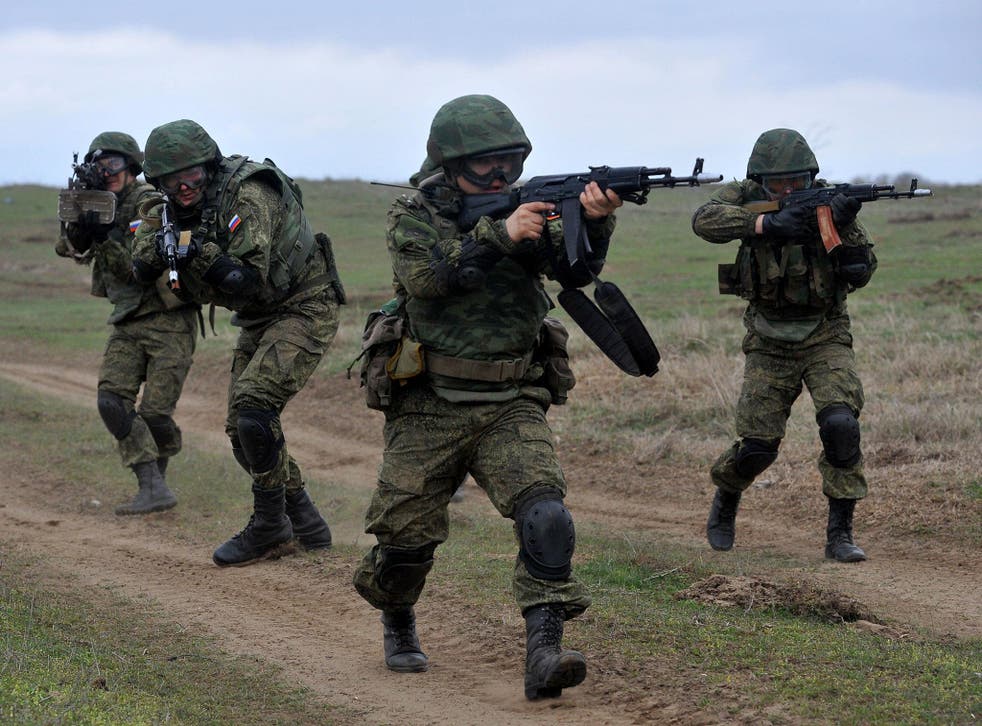 Russia has revealed plans for a major military expansion in the next year.
The army is expected to receive over 900 tanks and armoured vehicles, along with 170 aircraft, Defence Minister Sergei Shoigu said at the ministry's final board meeting, Russian state news agency TASS reports.
Eight surface ships and nine combat boats will be made operational for the Navy, the defence minister said, adding that the Russian Aerospace Force will receive five modernised strategic bombers.
"For the strategic nuclear forces, the task is to put three missile regiments armed with modem missile systems on combat duty in the Strategic Missile Force," Mr Shoigu added.
Russia shows off new weapons as Syria offensive resumes
The defence ministry also intends "to reinforce the army groups in the western, southwestern and Arctic strategic areas".
Six regiments armed with Yars intercontinental ballistic missiles were put on combat duty in 2015, and another four assumed combat duty in 2016, according to TASS.
The Russian Black Sea Fleet is due receive three new submarines and two frigates, Fleet Commander Alexander Vitko said.
Russia's military can overpower any potential foe, President Vladimir Putin told the annual end-of-year meeting with defence chiefs.
"We can say with certainty: We are stronger now than any potential aggressor," he told the meeting. "Anyone!"
Tensions between Russia and the West have been souring ever since Russia's 2014 annexation of Crimea and surreptitious support of separatists in eastern Ukraine. Relations dipped further last year after Russia launched an air offensive in Syria to support President Bashar al-Assad.
Both Russia and NATO members have conducted a flurry of military drills near Russia's borders this year. Russia insists it is responding to a growing NATO threat.
World news in pictures

Show all 50
Analysts say Russia's military forces remain materially weaker than Nato armies but are gaining technological ground, aided by Mr Putin's aggressive command.
Igor Sutyagin, a senior research fellow at London's Royal United Services Institute think tank, said the Russian military was not the world's strongest.
But he said Russian military performance was improving in part because Mr Putin wields more control over his military compared to Nato nations.
"The lack of restrictions makes them better equipped for combat," he said. "They are stronger because if Mr Putin wants to use them, he doesn't ask advice. He doesn't come to Parliament or to Capitol Hill."
Additional reporting by Associated Press
Register for free to continue reading
Registration is a free and easy way to support our truly independent journalism
By registering, you will also enjoy limited access to Premium articles, exclusive newsletters, commenting, and virtual events with our leading journalists
Already have an account? sign in
Join our new commenting forum
Join thought-provoking conversations, follow other Independent readers and see their replies