Russia claims to have weapon that could cripple the US Navy
State news report surfaces three years after alleged use of jammer against American destroyer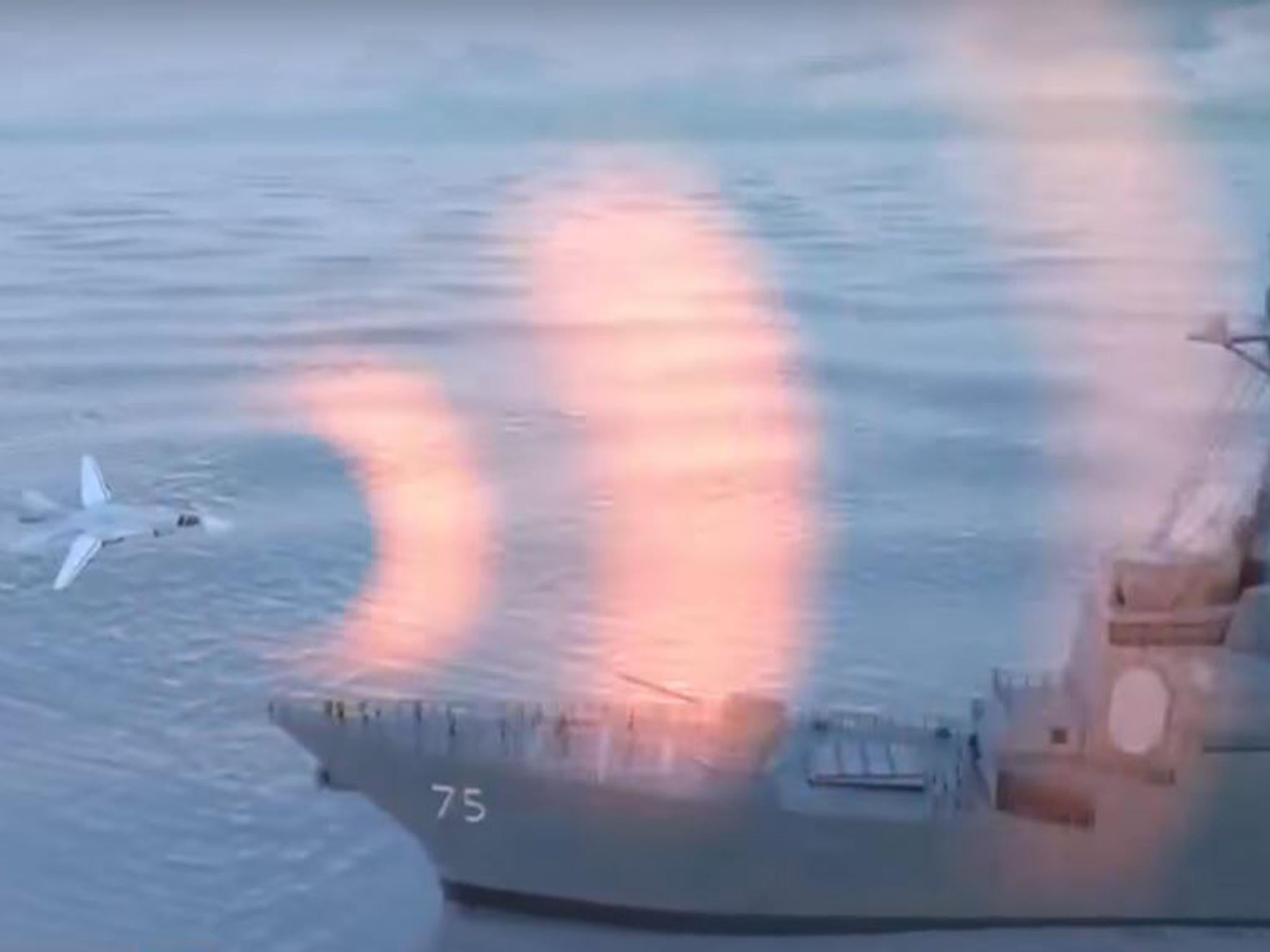 Russian attack jets carry electronic weapons that can cripple the US Navy's missile defence system, Russian state media has claimed.
Russia-1's Vesti programme said an electronic warfare device called "Khibiny" was used by a Russian pilot to completely deactivate the defence systems of the USS Donald Cook in a 2014 encounter in the Black Sea.
The US' Aegis system, manufactured by Lockheed Martin, is designed to protect a fleet against attacks by aircraft, and cruise and ballistic missiles.
But the state-controlled Vesti broadcast claimed the pilot of a Sukhoi Su-24 jet was able to deactivate "the whole ship's systems" with "powerful radio-electronic waves" during the fly-by incident three years ago, around the time of Russia's annexation of Crimea.
"You don't need to have expensive weapons to win [a war], powerful radio-electronic jamming is enough," it added.
At the time the US military confirmed the Donald Cook, a guided missile destroyer, had encountered a pair of Su-24s that repeatedly flew near it in the Black Sea.
But a spokesman, Army Col Steve Warren, said then: "The Donald Cook is more than capable of defending itself against two Su-24s."
The three-year gap between the weapon's use and the broadcast was not explained by Vesti, whose report came at a time of diplomatic tension between the US and Russia.
World news in pictures
Show all 50
Both President Donald Trump and his Secretary of State, Rex Tillerson, have admitted relations between the countries are at a low point.
During a tense visit with his counterpart, Sergei Lavrov, earlier this month, Mr Tillerson said the world's "two foremost nuclear powers cannot have this kind of relationship".
And ahead of an off-camera meeting with Mr Tillerson, Vladimir Putin noted in an interview that "one could say that the level of trust on a working level, especially on the military level, has not improved, but rather has deteriorated".
The US Department of Defence has been contacted for comment.
Join our commenting forum
Join thought-provoking conversations, follow other Independent readers and see their replies