Russian journalist arrested for 'illegal' voting after exposing fraud in Duma elections
Mr Korotkov reported being ferried around St Petersburg with other voters to cast multiple ballots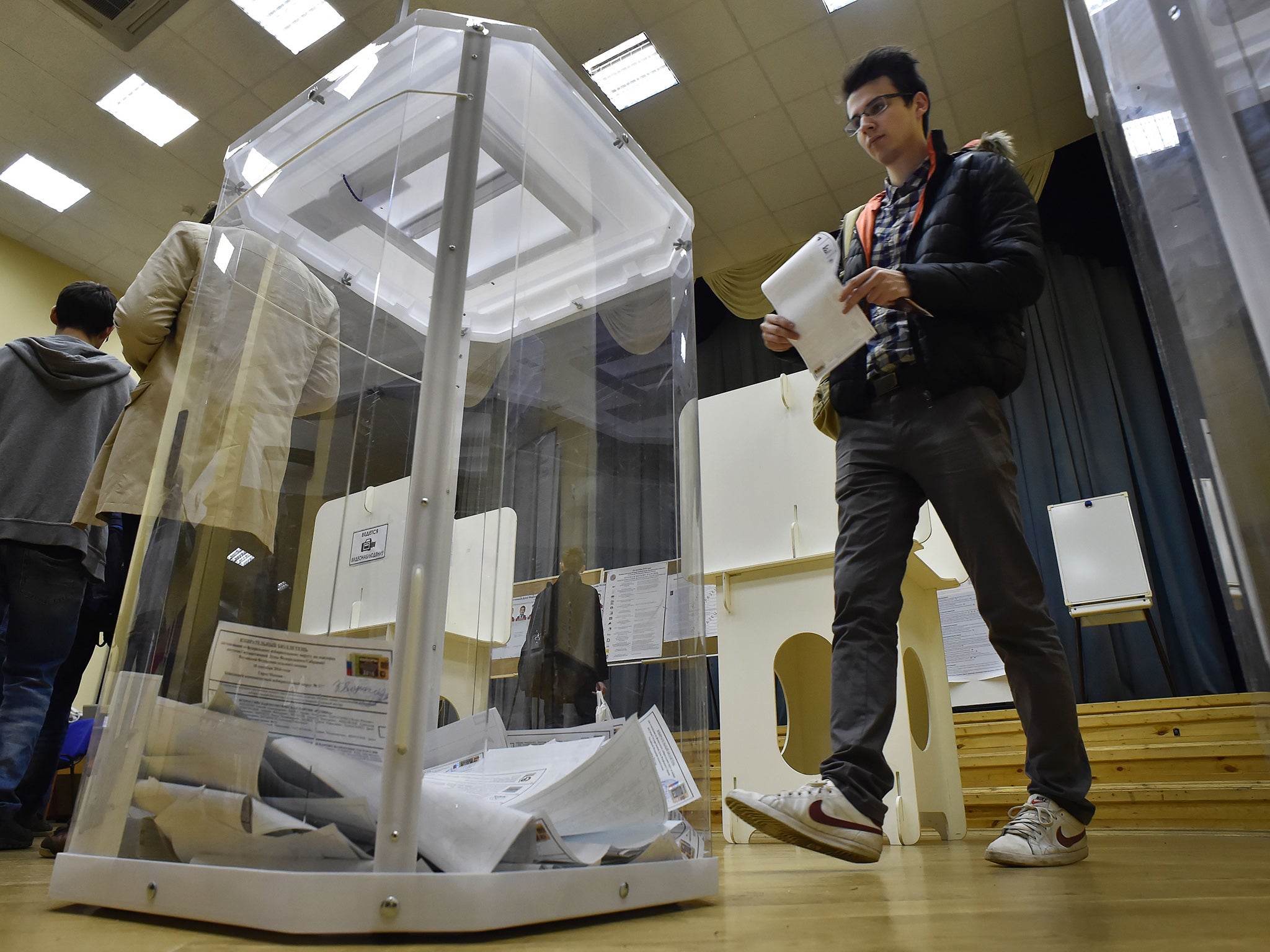 An award-winning journalist who exposed voting fraud during Russia's parliamentary elections has himself been arrested for alleged fraud.
Denis Korotkov, a correspondent for the independent news website Fontanka, was scheduled to appear in court in St Petersburg on Wednesday on charges of "illegally obtaining a ballot".
But campaigners say Mr Korotkov was working undercover to expose vote rigging in the Duma elections, which have provoked international concern, and is now being harassed for his work.
Mr Korotkov documented how he posed as a voter on 18 September and was given a sticker by polling station officials, who then arranged for him to be transported around St Petersburg with others to cast multiple ballots for specified candidates.
Video appears to show Russia vote rigging
The paid practice, known as "carousel" voting, has been documented in previous Russian and Soviet elections and was raised as a concern by monitors at the Organisation for Security and Co-Operation in Europe (OSCE).
After receiving four votes, Mr Korotkov said he revealed his identity and was detained by police and charged with the "illegal issuing and receiving of ballots", punishable by a fine of up to 3,000 rubles (£36) according to local reports.
The Committee to Protect Journalists is among the groups demanding the journalist's immediate release.
"We call on Saint Petersburg authorities to drop all charges against Denis Korotkov immediately and to allow him to do his job without fear of harassment," its Europe and Central Asia Program Coordinator Nina Ognianova said.
"Prosecutors would do better to investigate the troubling electoral irregularities he observed rather than trying him for voter fraud."
Mr Korotkov won the Union of Journalists of Russia's 2015 Golden Pen media award for an investigation into the hiring of Russian volunteers to fight in Syria, and also believes he has been targeted by hackers.
Elections for Russia's lower house of parliament, the State Duma, ended with a landslide victory for Vladimir Putin's former party, United Russia, which took 343 of 450 seats.
Mr Putin was leader of the party between 2008 and 2012, during his second term as Prime Minister, but stepped down after being elected President.
Vladimir Putin: Inside the Russian President's Daily Life
Show all 10
Golos, Russia's elections watchdog, reported "all major ways of falsification, such as transporting the voters [from one polling station to another], carousel, ballot-box stuffing, and others, including putting pressure on voters were observed" in St Petersburg and other cities.
More than 30 criminal cases have been opened into suspected electoral violations, while votes from nine separate polling stations have been annulled over alleged rigging, the Moscow Times reported.
An OSCE report found that although the Duma elections were "transparently administered by the Central Election Commission", numerous procedural irregularities were recorded.
Observers said the vote was affected by restricted "fundamental freedoms and political rights, firmly controlled media and a tightening grip on civil society", while there were few "distinct political alternatives" on offer as complex restrictions in candidate registration continue.
The British Government was among those expression concern, adding that it does not recognise Duma elections held in Crimea as legitimate after it was "illegally" annexed by Russia in 2014.
John Kirby, a spokesperson for the US State Department, said: "Russians deserve free, fair, and transparent elections, and leaders who are accountable to those they represent. We urge Russian authorities to take positive action."
The Russian Embassy in London has not yet responded to The Independent's request for comment.

Join our commenting forum
Join thought-provoking conversations, follow other Independent readers and see their replies