Russian Lib Dem leader tells party members to have sex only four times a year
Vladimir Zhirinovsky also called for films showing smoking and drinking to be banned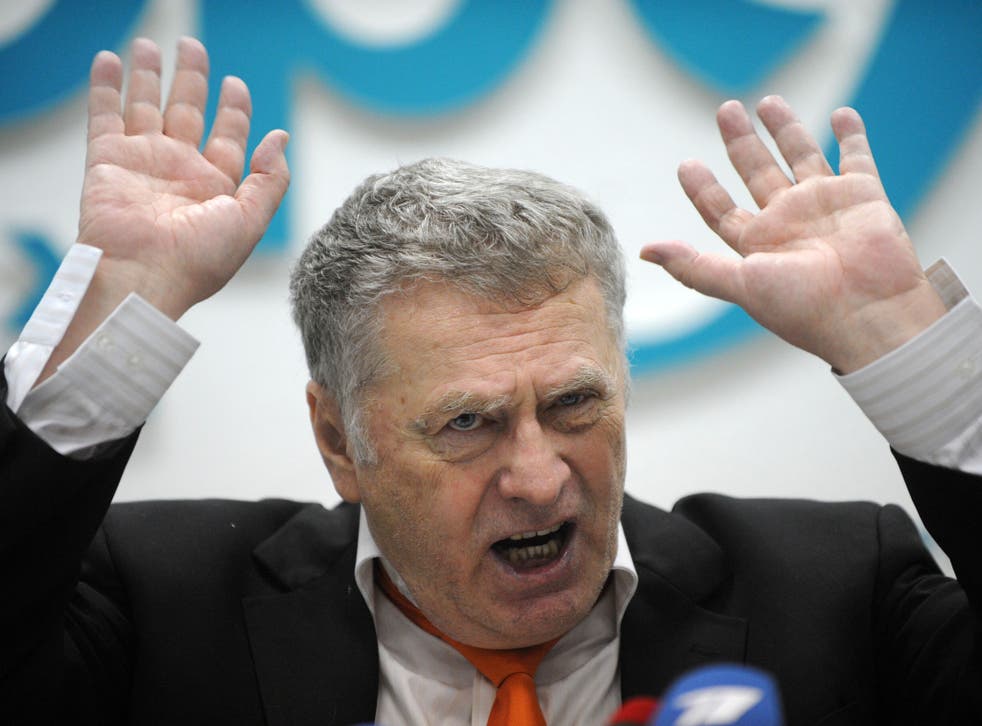 The leader of the Russian Liberal Democrats has said he would rather party members did not have sex more than three or four times a year, the country's press has reported.
At the State Duma, 67-year-old Vladimir Zhirinovsky responded to journalists that asked him how he spent his New Year holiday by saying that he didn't drink, smoke or eat meat. He added that he was "introducing norms for sexual activity [for party members]: once a quarter".
According to the RIA Novosti news agency Mr Zhirinovsky said: "Under the influence of pornography, porn cassettes and various frivolous films like that, the young generation has internalized a norm of the more [sex] the better."
The founder of the nationalist Liberal Democrat Party of Russia (LDPR), who is known for outlandish proposals, said: "The less [sex] the better. And only when there is mutual affection. Here's the standard: once a quarter, three or four times a year is enough."
He also suggested that parliamentarians should ban the depiction of alcohol and tobacco consumption in Russian movies, as well as all existing films containing the substances, according to Russian-based TV network RT.
RIA Novosti reported that LDPR Deputy Sergei Ivanov said the leader had made the comments in jest to amuse bored journalists.
"What is a normal person to make of this? What do you think, that Vladimir (Zhirinovsky) is so stupid as to tell a deputy, a member of the party or a regular citizen how much time they should engage with the opposite sex?" said Mr Ivanov.
Mr Zhirinovsky has made a string of extreme suggestions in his tenure as leader since 1991.
Last autumn, he proposed introducing birth control in Russia's predominantly Muslim North Caucasus region to prevent the spread of terrorism. Days after the New Year Volgograd bomb blasts, he suggested that the North Caucasus should be sectioned off with barbed wire.
Following an outcry from Russian media and heads of the North Caucasus republics of Chechnya and Karachay-Circassia, Mr Zhirinovsky said that what he offered was just one, and the most radical, solution to an acute problem.
Read more:
Register for free to continue reading
Registration is a free and easy way to support our truly independent journalism
By registering, you will also enjoy limited access to Premium articles, exclusive newsletters, commenting, and virtual events with our leading journalists
Already have an account? sign in
Register for free to continue reading
Registration is a free and easy way to support our truly independent journalism
By registering, you will also enjoy limited access to Premium articles, exclusive newsletters, commenting, and virtual events with our leading journalists
Already have an account? sign in
Join our new commenting forum
Join thought-provoking conversations, follow other Independent readers and see their replies