MH17: Russian missile-maker contradicts Dutch crash report
Results of Dutch investigation conclude that the plane was destroyed by a Buk surface-to-air missile
Howard Amos
Moscow
Tuesday 13 October 2015 10:40 Comments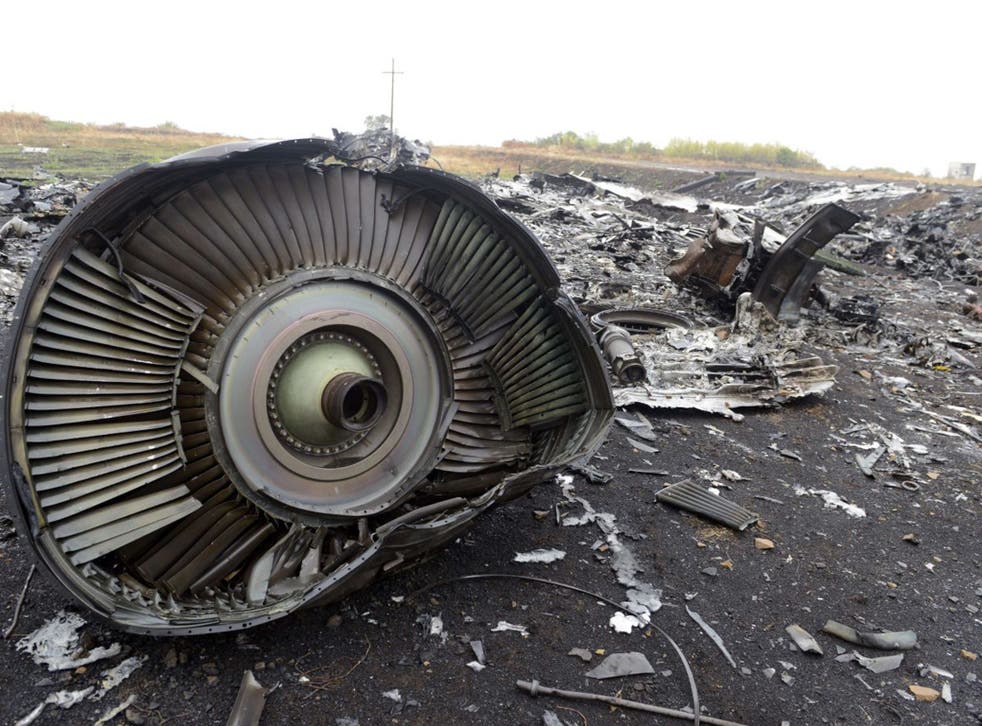 A Russian state-controlled missile-maker says its own investigation of last year's crash of the MH17 airliner over rebel eastern Ukraine contradicts conclusions from a Dutch probe.
Executives from defence contractor Almaz-Antei told hundreds of journalists that the type of Buk missile system used to down the flight was decommissioned by the Russian army in 2011. The arms maker showed dozens of detailed graphs in an attempt to prove the missile was fired from a site on territory likely to have been under the control of the Ukrainian army.
There was translation into five languages and multiple on-screen explosions at the press conference in Moscow hosted by the Russian company accused of producing the surface-to-air missile system responsible for bringing down the Malaysian Airlines passenger plane over eastern Ukraine.
The event came several hours before the Dutch Safety Board presented the results of their probe into the crash, which concluded that the plane was destroyed by a Buk surface-to-air missile on July 17th 2014. Western governments and experts believe it was hit by a missile launched by Russian-backed rebels. All 298 people on board the flight, most of them Dutch citizens, were killed.
Almaz-Antei said their investigation proved the missile was fired from in, or near, the eastern Ukrainian village of Zaroshchenskoe. Reports differ over whether Zaroshchenskoe was under the control of the Ukrainian army or insurgents at the time of the disaster.
"Everything is completely clear," said Almaz-Antei head Yan Navikov. "Every word has been proved both by mathematical models and real-time experiments."
As part of their investigation, Almaz-Antei blew up a Buk missile next to the side of a Soviet-designed Ilyushin Il-86 aircraft. They showed videos of the devastation wrought on the plane by the blast, including footage filmed from the point of view of passengers sitting in the business class section.
At one point during their presentation, executives cited a 1990s maths textbook for Russian school kids to explain the angle at which the missile was fired.
In pictures: MH17 final report

Show all 7
Damage on MH17 showed it was hit by a Buk missile not produced since 1986 and not in use by the Russian army, but to which the Ukrainian army had easy access, according to Almaz-Antei. The discovery of shrapnel in the bodies or baggage of those who died would be further proof that the missile was fired from Zaroshchenskoe, according to the company.
Russian versions of the destruction of MH17 have changed in recent months, moving away from a theory that it was deliberately brought down by a Ukrainian jet that was put forward by the Russian Defence Ministry in May. Russian officials have been accused of using doctored photographs in attempts to prove that rebel forces were not responsible for the disaster.
Register for free to continue reading
Registration is a free and easy way to support our truly independent journalism
By registering, you will also enjoy limited access to Premium articles, exclusive newsletters, commenting, and virtual events with our leading journalists
Already have an account? sign in
Register for free to continue reading
Registration is a free and easy way to support our truly independent journalism
By registering, you will also enjoy limited access to Premium articles, exclusive newsletters, commenting, and virtual events with our leading journalists
Already have an account? sign in
Join our new commenting forum
Join thought-provoking conversations, follow other Independent readers and see their replies