Russian plane crash in Sinai caused by 'engine explosion', Egyptian media report
Investigation sources say the information comes from a preliminary analysis of the Metrojet airliner's 'black box' flight recorders
Adam Withnall
Wednesday 04 November 2015 17:02 Comments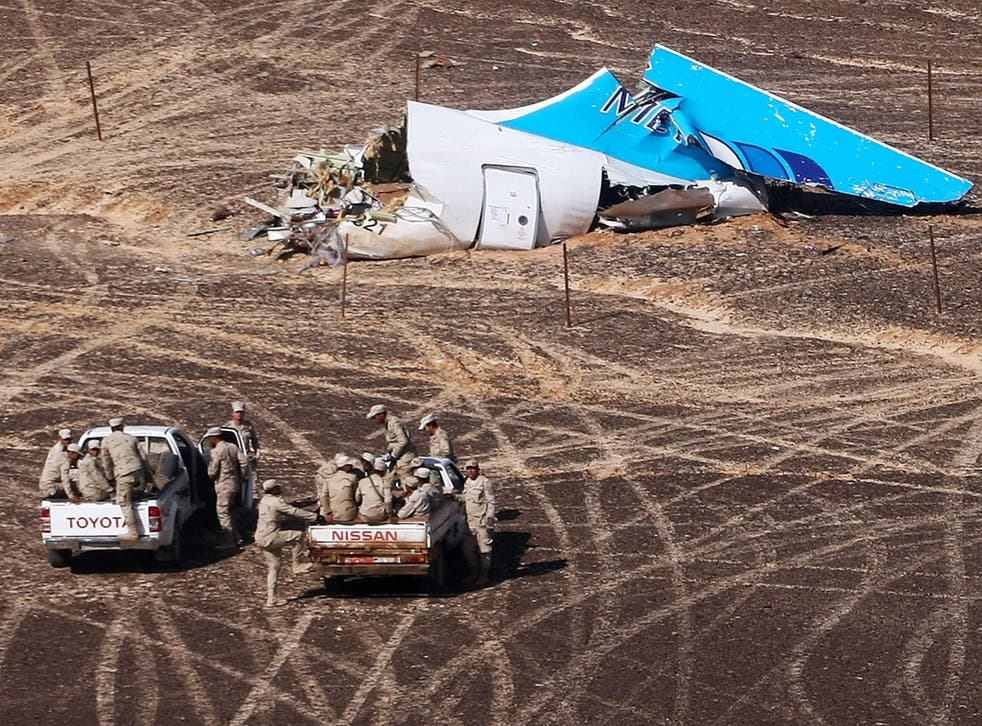 An "engine explosion" is thought to be the most likely cause of the Russian plane crash in Sinai on Saturday which killed 224 people, according to Egyptian and Russian media reports.
Investigators have been carrying out preliminary analyses of the Metrojet Airbus 321's two "black box" flight recorders since Tuesday morning, though damage to the equipment has slowed their progress.
But while an initial assessment of the evidence on the cockpit voice recorder seemed to show noises "uncharacteristic of a standard flights" just before the plane disappeared off radar screens, a first look at the other recorder has thrown up an explosion of the engine as the main lead.
That's according to a source close to the investigation, the Egyptian Al-Masry al-Youm newspaper reported. The source also said that the possibility of a catastrophic blast on the engine was first thrown up by an analysis of debris at the crash site.
While reports from investigation sources to Egyptian and Russian media have been common, official statements say that a proper analysis of both data recorders will take between one and four weeks.
Until then, conflicting reports as to the cause of the crash continue to emerge.
Data released by the flight-tracking website FlightRadar24 have given further insight into the final seconds of the St Petersburg-bound flight from Sharm el-Sheikh.
Russian passenger plane crashes in Egypt

Show all 20
It said the plane reached its cruising altitude before abruptly slowing down, after which it started plummeting to the ground at 300mph. It dropped from 31,000ft to 26,000ft in a matter of moments, after which its transponders stopped transmitting data.
Egypt: FIRST SHOTS of the crashed Russian plane in Sinai
Also today, the Isis militant group released a new audio message claiming responsibility for bringing the plane down – but failed to provide any evidence to back this up.
The message, released by Isis's branch in the Sinai Peninsula, instead challenged the Egyptian and Russian authorities to "prove we didn't do it".
While officials have not conclusively ruled out a terrorist incident, experts said it was unusual for Isis to claim an attack without providing some form of evidence to show it did so.
Early investigations appear to have also ruled out a ground-to-air missile or other external impact being responsible for the disaster, the worst in Russia's aviation history.
Register for free to continue reading
Registration is a free and easy way to support our truly independent journalism
By registering, you will also enjoy limited access to Premium articles, exclusive newsletters, commenting, and virtual events with our leading journalists
Already have an account? sign in
Join our new commenting forum
Join thought-provoking conversations, follow other Independent readers and see their replies