Russia withdraws request for warships to refuel in Spanish port of Ceuta on way to bomb Syria amid anger
Flagship aircraft carrier and supporting vessels were expected to take on fuel and supplies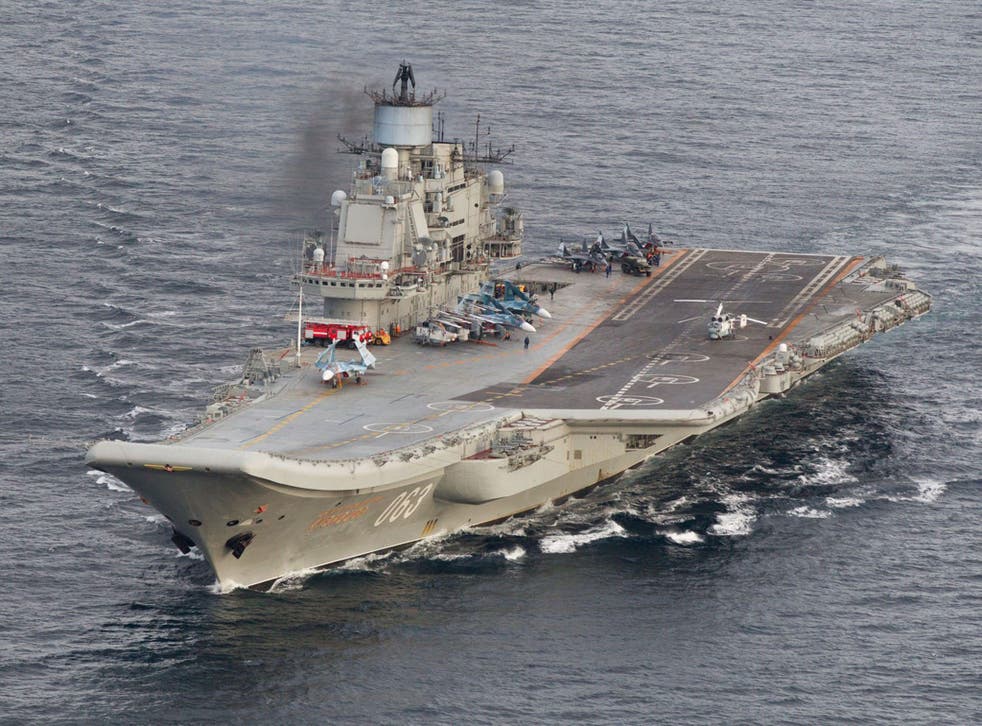 Russia has withdrawn its request for warships to refuel at a Spanish port on their way to bomb Syria amid international outrage.
Spain previously announced it would review its decision to allow a naval fleet headed by the Admiral Kuznetzov aircraft carrier to stop in the North African enclave of Ceuta.
The group, which passed through the English Channel last week, was expected to dock this morning to take on supplies.
But on Wednesday afternoon, the Spanish foreign ministry said Russia had withdrawn the controversial request, automatically cancelling the stop-overs.The Russian embassy confirmed the move but did not give a reason for the abrupt change.
Russian warships move through English Channel under Royal Navy watch
Nato, the British Government and EU politicians voiced their shock at the move just days after Spain signed a European Council statement saying it was "appalled" at the escalating violence in Aleppo and called on the Syrian government and its Russian allies to stop its "excessive and disproportionate" attacks on civilian areas.
The Russian ships are on their way to the eastern Mediterranean to boost Vladimir Putin's campaign supporting Bashar al-Assad, loaded with fighter jets, reconnaissance and combat helicopters and cruise missiles.
Asked about Spain's role in supplying the fleet, Jens Stoltenberg, the Nato Secretary-General, said he was "concerned".
"I have expressed that very clearly about potential use of this battle group to increase Russia's ability and to be a platform for airstrikes against Syria," he added.
"I repeat those concerns today and I believe that all Nato allies are aware that this battle group can be used to conduct airstrikes against Aleppo and Syria."
Guy Verhofstadt, president of the Alliance of Liberals and Democrats in the European Parliament, called Spain's decision "scandalous".
He wrote on Twitter: "Spain signed EU statement on Russian war crimes in Aleppo last week – today [Tuesday] helps refuel fleet on way to commit more atrocities. Seriously?"
The UK said that although access to Spanish ports was a matter for local authorities, concerns had been raised.
"Her Majesty's government has previously expressed concerns to the Spanish government about its hospitality to the Russian navy when we have concerns about Russia's military activity," a British Government spokesperson said.
As news of the planned stop spread, activist group Avaaz launched a campaign directing people to voice their opposition to the Spanish foreign ministry and the Prime Minister, Mariano Rajoy, sparking a flood of phone calls and tweets.
Patricia Martin Diaz, an Avaaz campaigner, said: "If Spain had allowed this Russian death fleet to dock, they would have literally been fuelling war crimes in Syria.
"Facing a massive public outcry in Spain, the Russians are now looking for new ports to refuel, and citizens across the Mediterranean are ready to call on their governments to refuse any help to Russian warships."
The convoy was expected to continue its journey past Malta, the Greek islands and Cyprus and it was unclear what stops – if any – it would make.
Amnesty International urged other countries to refuse any requests for refuelling stops or any other assistance.
The groups campaign manager for Syria, Kristyan Benedict said: "The Russian military's record of attacks on schools, hospitals and civilian homes in Aleppo and elsewhere in Syria is notorious.
"Third-party countries must avoid becoming complicit in any future Russian attacks on Syria carried out in the eastern Mediterranean."
In pictures: Aleppo bombing

Show all 14
Spain, a Nato member, regularly allows Russian war ships to stop in its enclave of Ceuta, which borders Morocco at the mouth of the Mediterranean Sea.
A spokesperson for the foreign ministry told El Pais that permission was granted on a case-by-case basis depending on the ship in question and possibly security risks.
"We are looking at the latest [supply] stops requested based on information requested by Russian authorities," he added.
Intense international media coverage has followed the fleet's progress from the Arctic Circle to the Mediterranean, with Royal Navy ships tracking it through the Channel.
Keir Giles, an expert on Russian security issues, told The Independent that bolstering the country's firepower in the Syrian conflict may not be the deployment's only objective.
"The biggest thing that worries me is that while there is all of this intense media focus not just in the UK but in Europe on this one action in one place, what are they [Russia] doing somewhere else?" he asked.
"They have achieved complete media and public opinion focus on one bright, shiny object that is being held up to potentially distract from more important things happening elsewhere."
The deployment includes the Admiral Kuznetsov, Pyotr Veliky (Peter the Great) battlecruiser, the Vice-Admiral Kulakov destroyer, Severomorsk destroyers and several supply vessels.
Join our new commenting forum
Join thought-provoking conversations, follow other Independent readers and see their replies