Sacking of Islamophobic television presenter provokes free-speech row in France
French left and right defend commentator after comments about deportation of Muslims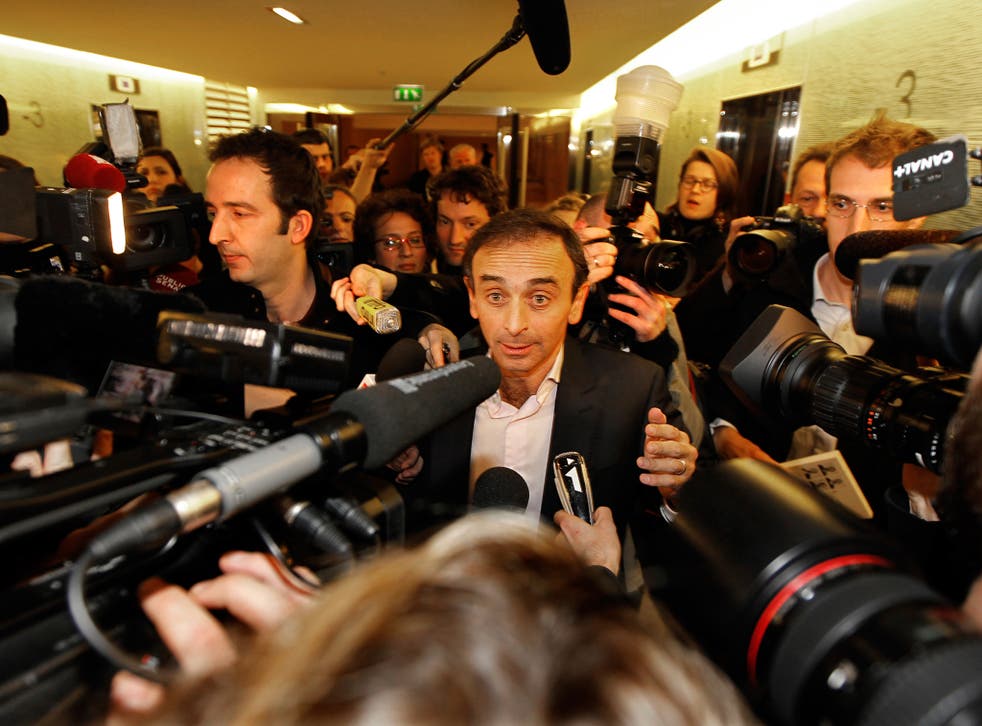 France has been split down the middle by the sacking of the nation's favourite – and at the same time most detested – hard-right, Islamophobe misogynist.
Eric Zemmour was dismissed by the 24-hour news channel i-Télé after telling – or seeming to tell – an Italian journalist that France's estimated five million Muslims should be "deported" to avoid "chaos and civil war".
The channel's decision was approved by anti-racist groups and some left-wing politicians. It was lambasted by senior figures on the right of French politics – who adore Zemmour – but also by some on the left – who detest him – on the basis of his right to free speech.
With the radio station RTL also under pressure to dismiss Zemmour from his twice-weekly commentary slot, the fate of the provocative journalist and author has become the hottest issue in French politics. Zemmour, 56, a Jew of Algerian origin, could therefore be said to have disproved his own pet theory.
His book Le Suicide Français has sold 250,000 copies in the past three months. It claims that France's core identity has been destroyed by immigration, feminism, homosexuality, Europe, free trade and excessive, unnecessary guilt about the persecution of Jews in the Second World War.
The controversy surrounding the scrapping of Zemmour's programme on i-Télé suggests that, au contraire, France remains France.
In few other countries would the sacking of a political commentator arouse such passions. In few countries, would politicians on both sides of the left-right divide have defended Zemmour's right to freedom of speech.
The row is also typically French in being partly semantic. In an interview with the Italian newspaper Corriere della Sera, Zemmour said the removal of France's Muslim population seemed "unrealistic" but might be necessary to avoid "chaos and civil war".
The interview went unnoticed until it was picked up and translated by the hard-left French politician Jean-Luc Mélenchon. On his blog, Mr Mélenchon said Zemmour had called for the "deportation" of all French Muslims, many of whom are second or third-generation French citizens.
In France, "deportation" carries dark overtones of the fate of hundreds of thousands of Jews and other French citizens sent to Nazi deathcamps during the war. Zemmour protested that he had never used the word.
The Italian journalist who conducted the interview pointed out that the word "deport" was in his question, as published, not in Zemmour's reply. The word in Italian – deportare – was the normal word for "repatriate", he said.
10 things immigration has done for Britain

Show all 10
Senior figures in the Socialist-led French government nonetheless questioned whether Zemmour should be allowed to remain in his three slots as a TV and radio commentator on current affairs. They pointed out that he was, in effect, raising the desirability of the forced repatriation of one in 12 of the French population.
Journalists at RTL radio suggested that the author and essayist had finally overstepped the limits of provocation and should be dismissed from his Tuesday and Thursday morning commentary slots. Zemmour complained that he was the victim of a "fantastic manipulation".
In the past 10 years Eric Zemmour, once a pupil of President François Hollande at Sciences Po, the politics school in Paris, has become a witty spokesman for the increasingly hard-right drift of French politics.
Islamophobia and a rejection of all immigration form the core of Zemmour's world view. He also argues that French men have been emasculated by feminism. It is "normal", he says, for men to have violent attitudes towards women (even though it is better if they control their urges most of the time).
He has managed to make himself look foolish on several occasions. On RTL earlier this year he said the barbarian "pillaging" of Europe after the fall of Rome was being re-enacted by "thieving violent gangs of Chechens, Romas, Kosovars, North Africans and Africans". During the World Cup in Brazil this summer he said Germany had no chance of winning because its team included players with Turkish and North African backgrounds. Germany defeated the favourites Brazil 7-1 in the semifinal and went on to win the competition.
Register for free to continue reading
Registration is a free and easy way to support our truly independent journalism
By registering, you will also enjoy limited access to Premium articles, exclusive newsletters, commenting, and virtual events with our leading journalists
Already have an account? sign in