Saint Lily of the Mohawks: Pope canonises first Native American
Tribe hails ascension of 17th-century Kateri Tekakwitha as a gesture of reconciliation
Michael Day
Sunday 21 October 2012 22:21 Comments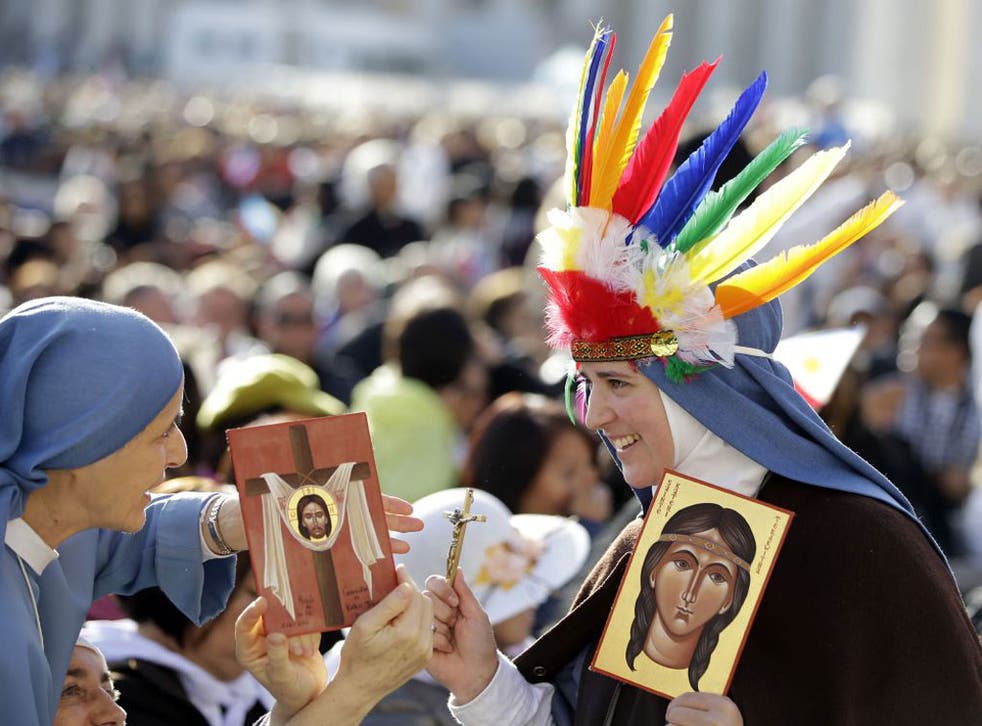 A 17th-century Native American woman and six other new saints were canonised yesterday, as Pope Benedict XVI kicked off the Catholic Church's "Year of Faith", which he hopes will mark a revival in the fortunes of the beleaguered institution.
Of the raft of canonisations at St Peter's Square, it was the Mohawk squaw Kateri Tekakwitha's ascension to sainthood that captured the imagination. Members of her tribe gathered to celebrate in traditional head-dress in front of the huge basilica.
Tekakwitha, also known as "Lily of the Mohawks," was born in 1656 in New York state, but died while serving the church in Kahnawake in Canada's Quebec province.
Following her conversion to Christianity by Jesuits, the young woman, who was left scarred and partially blind from smallpox, was said to have devoted her life to God. She died at the age of 24 after years of poor health and self-flagellation.
Tekakwitha was declared "venerable" by the Church in 1943 and beatified by Pope John Paul II in 1980. In 2006 came the event that Vatican authorities deemed evidence of the miracle required to recognise her sainthood – and her contact with God. According to the Catholic faith, saints are people who have lived so piously they are able to skip purgatory and go straight to heaven when they die.
It was reported that an 11-year-old Native American boy in Seattle, who was thought to be dying from a flesh-eating bacterial infection, made a full recovery after his parents prayed for Tekakwitha's intervention.
After five years' deliberation, the Holy See decided the evidence was sufficient for her canonisation. The current Pope has tended to dispense sainthoods less liberally than his crowd-pleasing predecessor.
According to reports from Canada from the Agence France-Presse, Mohawk leaders hailed Tekakwitha's canonisation, which has been seen as some as a gesture of reconciliation by the Church for past injustices. "Many of our people in the Mohawk community, the Mohawk nation, are very pleased that the Catholic church is finally looking to ascend her to her rightful place," said Michael Ahrihron Deslisle Jnr, a Mohawk Grand Chief.
Among the seven other people canonised were two martyrs: Father Jacques Berthieu, a French Jesuit who was killed for his faith in 1896 in Madagascar, and Pedro Calungsod, an 18-year -old Filipino missionary who met a similar fate in the Mariana Islands in 1672. Pope Benedict also canonised three other women who died in the last century: the Spanish nun Maria Carmen Salles y Barangueras, the German-born Franciscan nun Maria Anna Cope (known as Mother Marianne of Molokai because she looked after lepers on the Hawaiian island of Molokai) and a German lay preacher, Maria Schaeffer. Giovanni Battista Piamarta, an Italian priest who devoted his life to helping young people in the late 19th century, was the seventh person canonised.
After the seven were declared saints by the Pontiff, their relics were shown in the square before St Peter's Basilica, on whose walls their images will be hung. Pope Benedict then celebrated a High Mass with cardinals and the 262 bishops from around the world who have travelled to the Holy City for the Synod, the gathering that occurs every three years.
Register for free to continue reading
Registration is a free and easy way to support our truly independent journalism
By registering, you will also enjoy limited access to Premium articles, exclusive newsletters, commenting, and virtual events with our leading journalists
Already have an account? sign in
Join our new commenting forum
Join thought-provoking conversations, follow other Independent readers and see their replies