Paris 'mastermind' Abdelhamid Abaaoud believed dead in Saint-Denis raid, say security sources
Operation 'halted imminent attacks on Charles de Gaulle airport and shopping centre'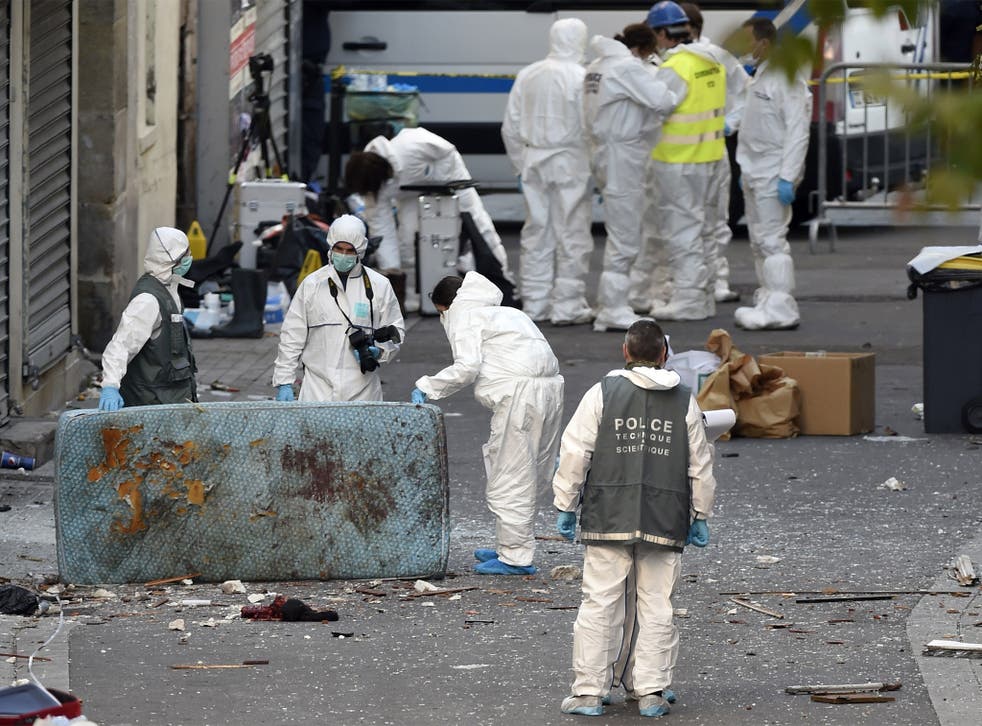 A long, ferocious and bloody battle that started in the pre-dawn darkness of a Paris suburb with gunfire, grenades and a suicide blast ended seven hours later with the deaths of two terror suspects, one a woman, and the arrest of eight others wanted in connection with last week's atrocity.
The raid, conducted by more than 100 anti-terrorist police and army special forces who fired 5,000 rounds of ammunition, was said also to have halted imminent attacks on Charles de Gaulle airport and a shopping centre in the business district, La Defense.
The authorities could not confirm widespread speculation that one of those killed was their chief target, the Isis commander Abdelhamid Abaaoud who is accused of organising the massacre. But security sources told The Independent that they believed the 27-year-old Belgian – previously said to have been in Syria – was dead.
François Molins, the Paris prosecutor, said that the bodies could not yet be definitely identified because they had been torn into "shreds" by explosions, and he could not even confirm for certain that there were only two. One of them was a blonde-haired woman whose suicide belt detonated during the raid. She is believed to have been Hasna Aitboulahcen, a 26-year-old first cousin of Abaaoud who was a French national and worked for a construction company at Épinay-sur-Seine, north of Paris.
Intelligence had indicated that Abaaoud was in the third-floor flat in Rue du Corbillon, Saint-Denis, when it was stormed, Mr Molins said. The jihadist was not among those arrested, he said, and nor was Salah Abdeslam, one of the suspected gunmen from last week's attacks, but he left open the possibility that either was among those killed.
Confirmation of the death of Abaaoud, the mastermind behind the murder of 129 people, would be a great victory for security forces.
But police and intelligence services, who have faced criticism for failing to follow up leads which may have prevented last week's carnage, face further questions over Abaaoud. Officials had repeatedly maintained that he was in Syria. But instead the high-profile Islamist had apparently been able to travel from Syria to Saint-Denis to plan the Paris attacks, and then remained behind in an area which was supposedly under intense police scrutiny, and where raids had already been conducted earlier in the week.
A couple connected with the flat were also taken for police questioning. Jawad Ben Dow, 30, said: "I was asked by a friend to look after two people he knew who came from Belgium. I said there was no mattress. They told me it was OK, they just wanted water and to pray. I was asked to do a favour and I said yes. I was not aware that it was terrorists." He and his partner were arrested minutes later.
In pictures: Saint-Denis raid

Show all 33
Police said official identification of all the detained would come after analysis of DNA samples. Forensic tests of the property were difficult because the structure of the building had been dangerously weakened by the blasts and had to be propped up.
"The Saint-Denis apartment might have been a retrenchment site for Abaaoud," said Mr Molins. "The investigators were led to this building after being given testimony that Abaaoud was in French territory."
Police focused on the flat after monitoring telephone calls and analysing text messages on mobile phones of those who had taken part in the attacks on 13 November, and of their associates. There had also been a number of tip-offs. Mr Molins said a telephone found in a rubbish bin behind the Bataclan hall, where 89 concert-goers were slaughtered, contained a text message reading: "We're off, we've started." Investigators say they do not yet know to whom it was sent. A woman at the flat had been under police surveillance for several days, suspected of sheltering Abaaoud, police sources said.
Saint-Denis raids heard from resident's balcony
There was said to have been a debate within the security agencies over whether to move in on the flat or wait for the jihadists to set out for their next targets. The latter was deemed to be too risky. The operation began at 4.20am on 18 November when a squad of 110 police officers from the anti-terrorist Raid and BRI units along with army special forces surrounded Rue du Corbillon and moved into No 8.
Those inside were well-prepared. The officers had to smash their way through a reinforced front door that resisted their fire, and then faced ferocious attack from assault rifles and handguns. In return they had to use assault guns, sniper rifles, grenades and explosives. "Around 5,000 rounds were fired," said Mr Molins. Five police officers were injured and a police dog was killed. Inside they found Kalashnikovs, explosives and suicide belts packed with explosives.
Terrified residents described how they tried to find the safest places in their own flats to hide and protect their crying children. "The noise was so loud I thought bullets would come through the walls. I just grabbed my little girls and lay on the floor," said 29-year-old Samira Ibrahimi. "My husband pulled out the mattress and put it against the door to stop anyone getting in. I thought, 'Even if we die, we must protect the children.'"
At around 6.15am, a neighbour, Christian, 20, recalled: "There was a lull in the shooting and then I heard a woman screaming 'Help me!' The police asked her to identify herself and show herself. But she only showed her hands and not her face. She was putting her hands up and down. The police told her to keep her hands up or they would shoot.
"The shooting resumed, the police were firing from the opposite rooftop. Suddenly there was an enormous explosion inside the flat. It was probably the woman who blew herself up. The windows shattered, things came flying into the street. There were pieces of flesh. You can see a bit of the head, a bit of skin, ribs."
Operations continued meanwhile to counter further attacks. Police raids were carried out in an Air France hangar and at a Fedex office, not far from Charles de Gaulle airport. The authorities said the raids "were not directly linked to the attacks" but they recovered "several objects with a particular link to radicalisation".
Join our new commenting forum
Join thought-provoking conversations, follow other Independent readers and see their replies