Salah Abdeslam: Video of Paris attacks suspect being shot by police marksmen during raid
Terror suspect is in police custody following the raid on Friday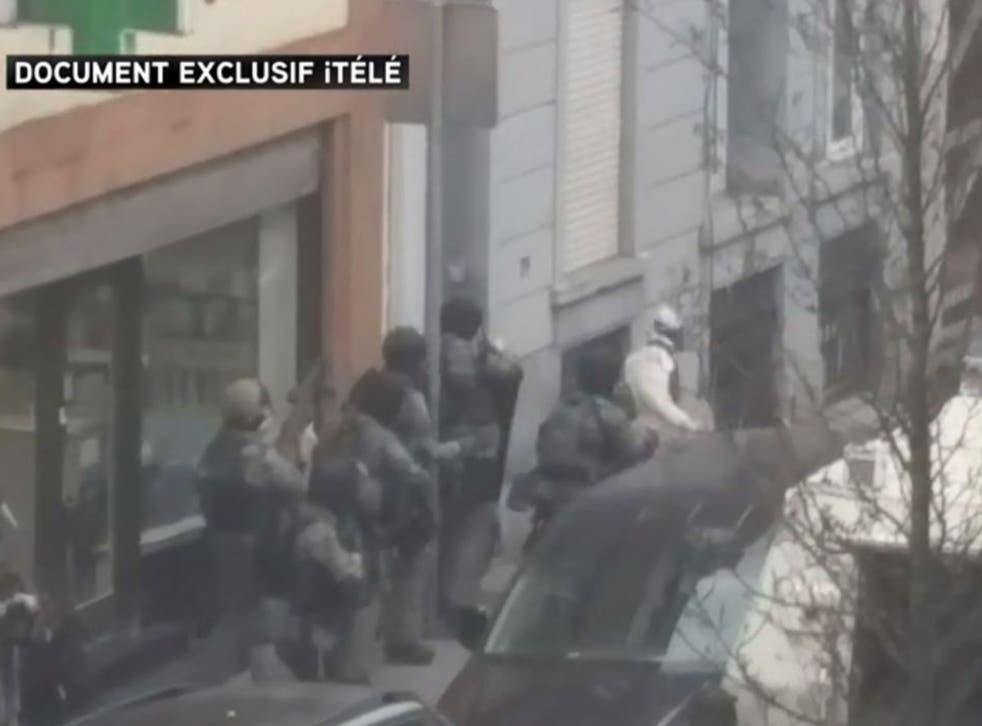 New footage has emerged of the moment Paris attacks suspect Salah Abdeslam was shot by Belgian police.
The terror suspect was shot in the leg during his attempted escape from a house the Molenbeek district on Friday.
The raid - which also arrested two other suspects - ends a five month manhunt to find one of two surviving members of the ten man gang who killed 130 people in a string of co-ordinated terror attacks on Paris in November.
The video obtained by French digital channel iTélé shows a man in a white hoodie and baseball cap - believed to be Abdeslam - attempting to run out the front door and down the street before being shot by a police marksmen.
It followed a similar botched raid on another house on Tuesday where Abdeslam managed to escape.
The Belgian-born son of Moroccan immigrants has remained at large since allegedly fleeing the capital on the night of the attacks.
Abdeslam's lawyer, Sven Mary, has said they intend to fight extradition to France where he will face trial for helping to plan and organise the attack.
He is accused of helping manufacture explosives, hiring cars, renting hideouts and transporting jihadists for the 13 November attacks.
The 26-year-old is believed to have participated in the attack on restaurants near the Bataclan theatre with his brother Brahim.
Brahim then went to Stade de France to blow himself up in a suicide attack but Abdeslam reportedly "backed out".
In pictures: Paris attacks

Show all 25
Abdeslam reportedly bought a SIM card from a shop in the 18th arrondissement in northern Paris an hour after the attacks and called two friends in Brussels to come pick him up.
After walking for near nine hours he is thought to have met them in Châtillon suburb on the other side of the city at around 7am.
An unused suicide belt was found in the suburb of Montrouge ten days after the attack.
Register for free to continue reading
Registration is a free and easy way to support our truly independent journalism
By registering, you will also enjoy limited access to Premium articles, exclusive newsletters, commenting, and virtual events with our leading journalists
Already have an account? sign in
Register for free to continue reading
Registration is a free and easy way to support our truly independent journalism
By registering, you will also enjoy limited access to Premium articles, exclusive newsletters, commenting, and virtual events with our leading journalists
Already have an account? sign in
Join our new commenting forum
Join thought-provoking conversations, follow other Independent readers and see their replies