Salisbury attack: Furious Kremlin accuses UK of 'manipulation' after Russian agents named as novichok suspects
'They say it's Alexander Petrov and Ruslan Boshirov, but they might as well have said John Smith and John Smith,' Viktoria Skripal says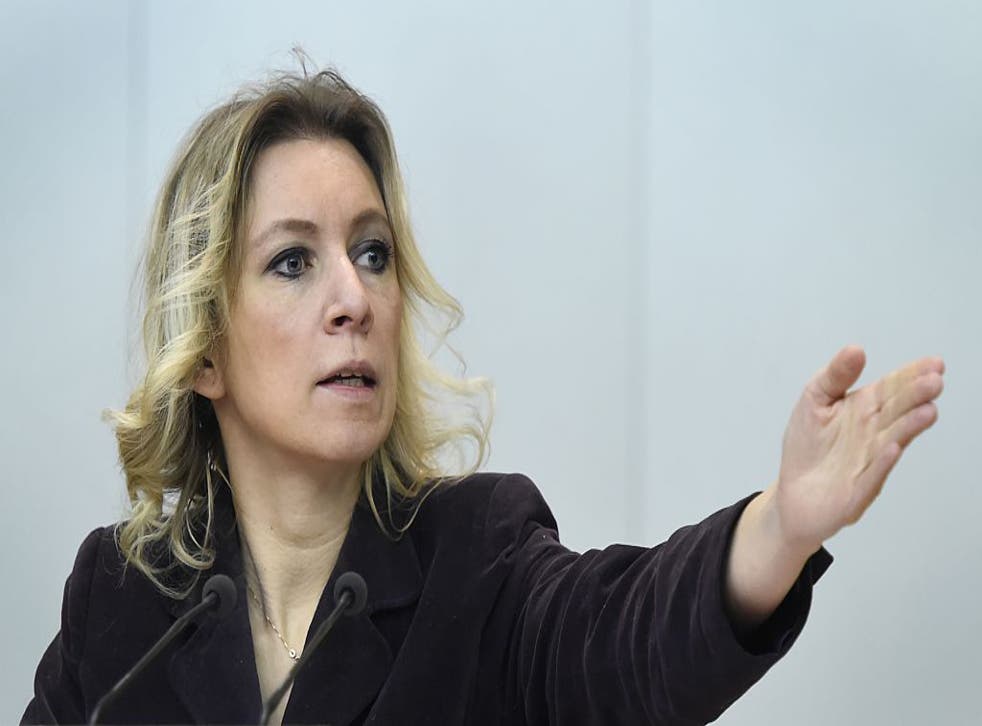 Russia's foreign ministry has accused Britain of "manipulating information" after two Russians were named as suspects in connection with the novichok poisoning of double agent Sergei Skripal and his daughter in Salisbury.
In comments to local media, spokesperson Maria Zakharova claimed the names and photographs of the two men released "revealed nothing".
"Once again we ask the British to move from public accusations and manipulating information to practical cooperation via the law enforcement agencies," she said.
Earlier Britain's Crown Prosecution Service announced it had collected "sufficient evidence" for a conviction of two Russian nationals. Two names were given, the commonplace Alexander Petrov and less common Ruslan Boshirov – both believed to be aliases.
In an oral statement at Westminster, Theresa May said the suspects worked for Russian military intelligence.
"This was not a rogue attack," she said. "It was almost certainly approved ... at a senior level of the Russian state."
Russia has reacted to the claims with a mixture of incredulity and sarcasm.
State television urged viewers to ignore the "flimsy" photographic evidence. Artyom Sheinin, host of the lunchtime talk show on Channel One, said pictures of the two supposed suspects using the London underground and near to Salisbury were images of "two ordinary citizens".
"Look at this one on the right, he has a red card in his hand," he said. "Obviously the British prosecutor will say that's his FSB staff card."
Mr Sheinin turned to his audience. Those who accuse need to show evidence, he said. "It isn't 1937."
It was a rare, but perhaps geographically suspect repudiation of Stalinist justice live on state TV.
Two Russian nationals identified and charged in relation to Salisbury attack
Government officials complained that Britain was acting as judge and jury in the case. According to spokesperson Zakharova, Moscow's "numerous" requests for information had gone unanswered.
Earlier, Kremlin spokesman Dmitry Peskov foreshadowed the expected announcement by returning to a common position: Russia had no basis for comment because the UK had rejected an offer of a joint investigation.
"We haven't given up hope about hearing something convincing," he added.
Viktoria Skripal, the controversial and estranged niece of the poisoned double agent, said she had yet to be persuaded by the British evidence. In comments to The Independent, she said she largely agreed with what she was hearing on state TV.
"They say it's Alexander Petrov and Ruslan Boshirov, but they might as well have said John Smith and John Smith," she said. "The only thing they have been imaginative with is the ethnic backgrounds."
Police release images of suspects in connection with Salisbury attack

Show all 19
She said that she did not recognise either man.
"I've never seen them in any of our circles," she said.
Register for free to continue reading
Registration is a free and easy way to support our truly independent journalism
By registering, you will also enjoy limited access to Premium articles, exclusive newsletters, commenting, and virtual events with our leading journalists
Already have an account? sign in
Register for free to continue reading
Registration is a free and easy way to support our truly independent journalism
By registering, you will also enjoy limited access to Premium articles, exclusive newsletters, commenting, and virtual events with our leading journalists
Already have an account? sign in
Join our new commenting forum
Join thought-provoking conversations, follow other Independent readers and see their replies