Deaths of sea creatures in eastern Russia 'likely caused by rocket fuel leaking into ocean'
Locals raised the alarm over yellow foam and an unusual smell in the water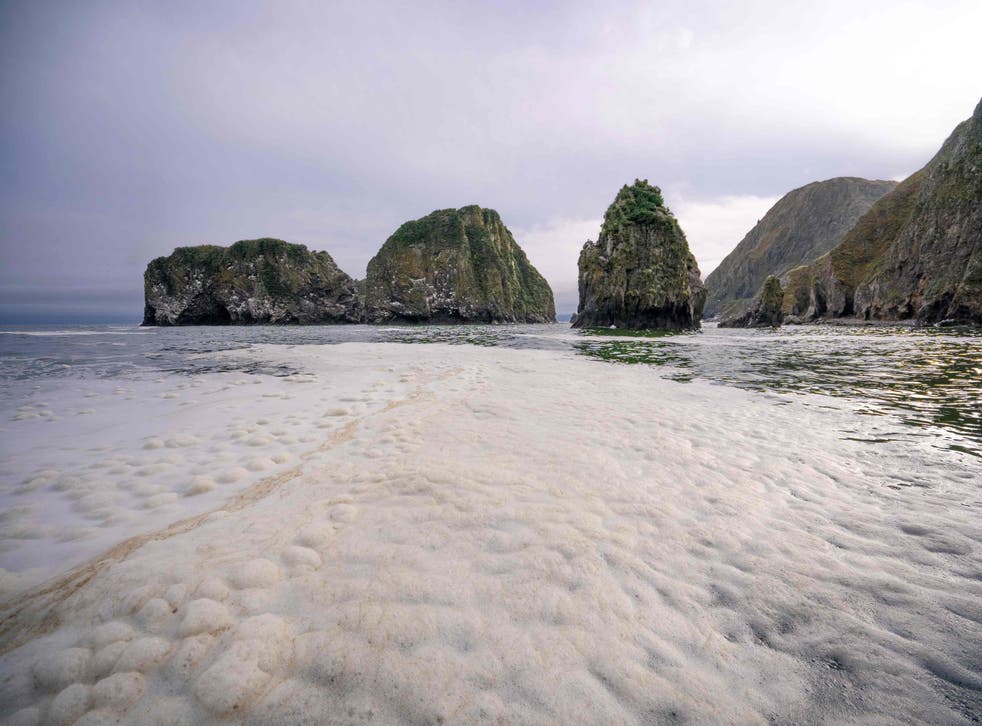 The deaths of sea creatures found washed up on beaches in far east Russia may have been caused by rocket fuel leaking out of storage facilities in military testing grounds, scientists have said.
Inspectors are to investigate two former army bases close to the ocean in remote Kamchatka peninsula, where environmental groups have warned of an "ecological catastrophe" that has also injured surfers.
Dead seals, octopi, starfish and urchins are reported to have washed up along a 25-mile stretch of coastline, where locals and environmental activists have noted yellow foam and an unusual smell in the water.
Surfers at the area's Khalaktyrsky beach have complained of falling ill in the past three weeks, with symptoms including chemical burns, eyesight problems, nausea, vomiting and weakness.
The Kamchatka Environmental Prosecutor's Office has begun an investigation, though the Kremlin has played down the scale of the problem and claimed the pollution was unlikely to be manmade.
"For us, there is no scale of disaster. No one has died, no one was hurt," natural resources and environment minister Dmitry Kobylkin was quoted as saying by RIA news agency.
But conservation groups have warned the pollution appeared to be a "highly toxic" and posed a threat to the "unique nature" of Kamchatka, a Unesco World Natural Heritage site known for its pristine landscape and active volcanoes, as well as human health.
"A slick, or rather some kind of volume as it's not only on the surface, but also deep down, is moving along the coast," said Greenpeace activist Vasily Yablokov.
Alexei Knizhnikov, of the WWF, said the pollution did not look to be the result of an oil spill.
"It's very likely to be a highly toxic contamination by a very soluble substance because organisms on the seabed were also affected," he added.
Vladimir Burkanov, a biological scientist at the Kamchatka Institute of Geography, pointed to the location of Radygino military base six miles from the polluted coastline.
"If old stocks of rocket fuel were stored or buried in Radygino … the containers could rust and the fuel, along with precipitation, flowed down into the ocean," he said in comments reported by Novaya Gazeta newspaper.
He noted a storm had swept over the region on 9 September, days before the first injuries were reported, and suggested that may have "brought fuel into the ocean with the rainfall".
Dmitry Lisitsyn, head of local NGO Sakhalin Environmental Watch, agreed it was "very likely that the waste disposal site there started to leak, maybe the storage tanks broke and a large amount of rocket fuel was washed into the ocean".
"The military base needs to be examined, as do the storage locations and all the streams of water that flow down from it into the ocean," he told news agency DW, warning that the components of rocket fuel are carcinogenic and could be "very harmful to people".
"I wouldn't recommend walking along this beach or breathing in the fumes there," he added.
The region's governor, Vladimir Solodov, said that two military testing sites, Radygino and Kozelsky, would be inspected on Tuesday.
Russia's enviornment minister tried to downplay the threat posed by the pollution, saying: "Eight surfers wrote they received cornea burns of the eye, but in fact this can be treated with eye drops. This is not a severe burn."
But surfer Dmitry Lyasov said he was struggling to see after entering the water and and many others at a local surf camp had also fallen ill.
"I didn't vomit, but dozens have done, and then they had fevers of up to 38C and body pain. And I'm now seeing double. I had good eyesight, but now after seeing a doctor I've been told my sight has got worse," he said.
Join our new commenting forum
Join thought-provoking conversations, follow other Independent readers and see their replies