Sea-Watch 3: Donations for arrested captain who defied Italy's Matteo Salvini by taking rescued migrants to port exceeds £500,000
Carola Rackete is under house arrest after breaking naval blockade to take rescued migrants to safety
Alessio Perrone
Sunday 30 June 2019 20:22 Comments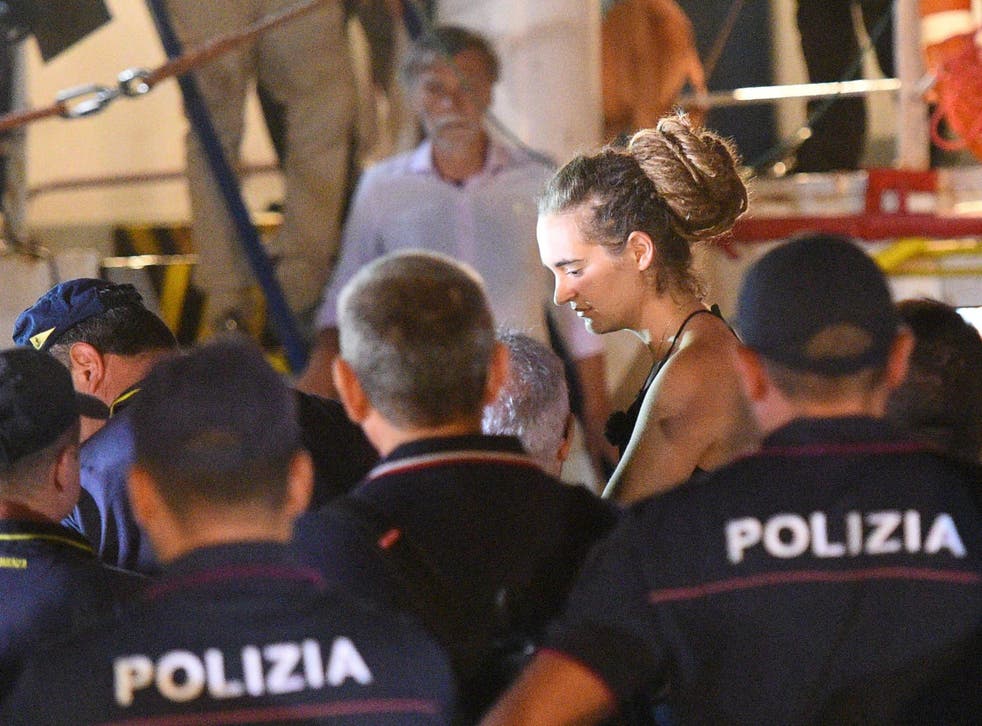 Almost 20,000 people have donated to support the captain of migrant rescue vessel Sea-Watch 3, who broke a naval blockade to bring rescued migrants to safety after a 16-day stand-off with Italian authorities.
Donations have surpassed €550,000 in less than 24 hours on the crowdfunding platform Leetchi after two German comedians created the campaign on Saturday night.
A parallel crowdfunder created by a factory worker in Milan has raised an additional £366,000 in four days, smashing its £312,000 target.
The boat's captain Carola Rackete, 31, from Germany, is under house arrest after she was taken into custody early Saturday.
The Sea-Watch 3, which was carrying 40 rescued migrants, rammed an Italian border police motorboat that was blocking the path to the dock.
Child refugees share their hopes and fears on World Refugee Day

Show all 25
No one was injured but the motorboat's side was damaged. If convicted, the 31-year-old risks up to 10 years in prison for resisting a warship.
Ms Rackete's lawyer, Salvatore Tesoriero, told reporters Sunday that she "had no intention of hurting anyone" and only wanted to help "desperate" migrants and get them safely to land. She has allegedly apologised to Italian authorities for ploughing into the boat.
Matteo Salvini, Italy's far-right interior minister and de-facto leader, called her a "criminal" who committed an "act of war" by ignoring orders to keep out of Italy's waters.
Salvini told RAI state radio that he also ordered that authorities sequester the ship, "which went around the Mediterranean breaking laws". He praised the Italian police units who "risked their lives" because of Sea-Watch 3's actions.
"For days they have been defending the legality and the Italian borders, forced to work overtime by a pirate ship," he tweeted.
Sea-Watch 3 had rescued 53 people on 12 June, but had since been waiting off the coast of the Italian island of Lampedusa after authorities prevented it from docking.
On 14 June, Italy passed a law backed by Salvini that criminalises private rescue boats. This means that Ms Rackete also risks a fine up to 50,000 euros.
But Sea-Watch, the NGO that owns and runs Sea-Watch 3, defended Rackete's actions. "She enforced the rights of the rescued people to be disembarked to a place of safety," it said in a statement.
The statement refers to the 1979 Hamburg Convention, which prescribes a duty to rescue boats in distress and take them to a place of safety.
But a Sicily-based prosecutor, Luigi Patronaggio, indicated otherwise. "Humanitarian reasons cannot justify inadmissible acts against those who work at sea for the safety of everybody," Italy's Ansa news agency quoted the prosecutor as saying.
German Foreign Minister Heiko Maas also appeared to criticise the Italian decision to arrest the captain.
"Saving lives is a humanitarian duty," he said on Twitter. "Rescue at sea must not be criminalised. It's up to the Italian justice system to swiftly resolve the allegations."
A judge will decide after closed-door hearings in coming days whether Rackete should be freed or stay under house arrest while the investigation continues.
The 40 refugees on board hugged the crew and kissed the dock when they arrived on Saturday morning.
"We are not relieved, we are angry," said Ms Rackete in a statement at the time. "This disembarkation should have taken place more than two weeks ago and it should have been coordinated instead of hindered by the authorities.
"European governments in their air conditioned offices have gambled with these people's lives for more than 16 days. Not a single European institution was willing to assume responsibility, until I was forced to do so myself."
Various research institutes, including the Institute for International Political Studies (ISPI) and the Forensic Oceanography department at Goldsmiths, University of London, have rebutted the theory that the activity of NGO rescue boats drive increasing refugee boat crossings.
The Leetchi crowdfunding campaign, which was started German comedian Jan Böhmermann, will remain open until 31 July.
Additional reporting by Associated Press
Register for free to continue reading
Registration is a free and easy way to support our truly independent journalism
By registering, you will also enjoy limited access to Premium articles, exclusive newsletters, commenting, and virtual events with our leading journalists
Already have an account? sign in
Join our new commenting forum
Join thought-provoking conversations, follow other Independent readers and see their replies