Serbian protesters accuse media of turning blind eye, as anti-corruption rallies continue
'We are here to demand more democracy, an end to Vučić's dictatorial regime and a better future'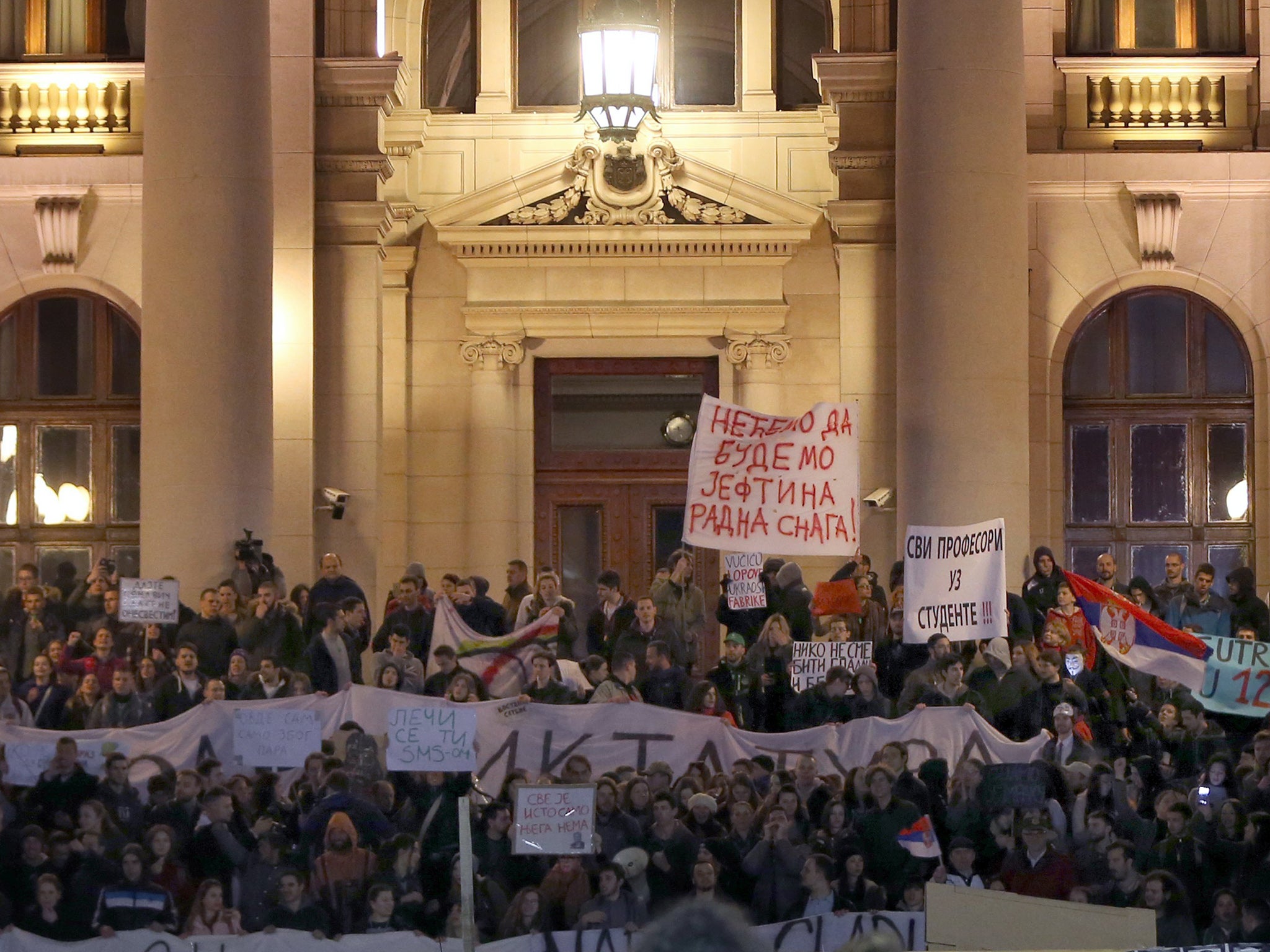 Thousands of protesters gathered outside the Serbian government headquarters in Belgrade on Saturday to rally against corruption, after the overwhelming election victory of Prime Minister Aleksandar Vučić.
The protesters, mainly students, stood outside the National Assembly building for the sixth day in a row, blowing whistles and banging pots, AP reported.
But despite the daily rallies, protesters claim they are not receiving widespread coverage due to a media blackout.
Protesters have called Mr Vučić, who has been Prime Minister of Serbia since 2014, an autocrat, and have accused the Serbian Progressive Party (SPP) of corruption and of being instrumental in what they say was a fraudulent election.
Mr Vučić, 47, won the presidential election last Sunday with 55 per cent of the vote, according to the state election commission's preliminary results data. He will succeed current President Tomislav Nikolić.
The runner-up, former rights advocate Sasa Jankovic claimed only 16 per cent of the votes.
The presidency in Serbia is considered to be largely ceremonial, but protesters fear that Mr Vučić will maintain a tight grip on power as the leader of the SPP.
Protesters have also accused the media regulator and top editors of the state-owned RTS TV for allegedly failing to facilitate a free and fair vote.
"We are here to demand more democracy, an end to Vučić's dictatorial regime and a better future, more jobs and a better education system," said Djordje Peric, 21, according to Reuters.
Government officials claim the demonstrations are organised by opposition leaders – an accusation that they have denied.
The opposition alleges the vote was marred by "irregularities", including muzzling of the media, as well as voter intimidation and bribes on election day.
Serbia ranks 59th out of 180 countries in the 2016 Press Freedom Index report compiled by Reporters Without Borders.
Media freedom in Serbia has "declined ever since Aleksandar Vučić, Slobodan Milosevic's former information minister, became Prime Minister in May 2014," the organisation says on its website.
It adds that media outlets in the country face "financial and editorial" pressures, with "hostile" media being subject to frequent arbitrary financial and administrative inspections. It also says journalists who are critical of the government are often publicly attacked.
Protests over the election have also been held in several other towns throughout the country.
Mr Vučić is expected to assume office on 31 May, 2017.
Join our commenting forum
Join thought-provoking conversations, follow other Independent readers and see their replies