Distress call from ship with 600 passengers because of 'armed men' on board near Corfu
The ship made the signal near the island of Othonoi, near Corfu
Lizzie Dearden
Tuesday 30 December 2014 13:49 Comments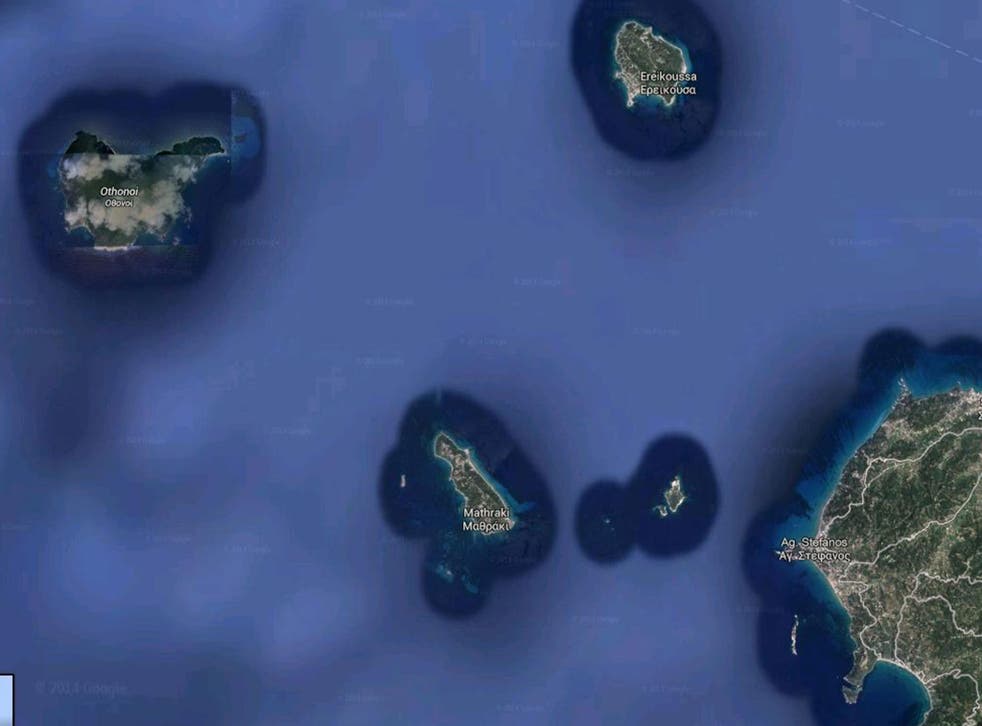 Italian authorities have sent two helicopters to meet a cargo ship believed to be carrying hundreds of migrants off the coast of Corfu, after a passenger sent a distress call.
A passenger is believed to have called an emergency number for help from their mobile. Official distress calls are usually made from a ship radio.
The passenger's phone call reportedly said: "We are without water, food and blankets."
The alarm was raised because of suspected armed people on board, Greek state television reported, claiming that "illegal immigrants" were on the ship.
But a coastguard official later said the Greek frigate had contacted the cargo ship's captain, who said the ship was not in any danger and was not requesting assistance.
Officials said a Greek frigate and a navy helicopter were heading to meet the Moldovan-flagged Blue Sky M, which is believed to be carrying about 600 migrants.
It was sailing in poor conditions near the island of Othonoi, north-west of Corfu when the call was made.
"We have information that it is carrying suspected migrants. It is sailing off Corfu," a shipping ministry official said.
The Marine Traffic tracking website lists the ship's last known port as Korfez, Turkey, and its destination as Croatia, but its record of the ship's movements shows a sharp turn to the west, towards Italy.
Roy Paul, from the Maritime Piracy Humanitarian Response Centre, told Channel 4 News that it could be a hijacking.
"Usually we deal with cases off the coast of Somalia to hold for ransom. This is in European waters. It's totally different. Our concern would be for the crew of the vessel," he said.
"If they want to take it to the Italian coast, one would assume the Italian navy would try to intercept them. Perhaps on board the ship there were illegal immigrants who may have taken control of the vessel."
Admiral Nikolaos Patrinos, head of the coast guard's security operations, said the passenger told them the ship was eight to 10 miles off Corfu with a large number of migrants "without water, food and blankets".
"We are trying to locate it and seeing what we have nearby" to offer assistance, he added.
The incident comes two days after a Greek passenger ferry caught fire in the same area, leading to a massive rescue operation by Italian and Greek coastguard and military officials.
In pictures: Norman Atlantic ferry fire

Show all 20
At least 10 people died in that incident and more than 400 were rescued. Authorities are still searching for potential missing passengers from the Norman Atlantic ferry.
Additional reporting by Press Association and Reuters
Register for free to continue reading
Registration is a free and easy way to support our truly independent journalism
By registering, you will also enjoy limited access to Premium articles, exclusive newsletters, commenting, and virtual events with our leading journalists
Already have an account? sign in
Join our new commenting forum
Join thought-provoking conversations, follow other Independent readers and see their replies