Showing friendship between a tiger and a goat could violate Russia's gay propaganda law
A lawyer has complained that coverage of the male animals' relationship could be harmful to children, who will 'question their sexual identity' as a result of the friendship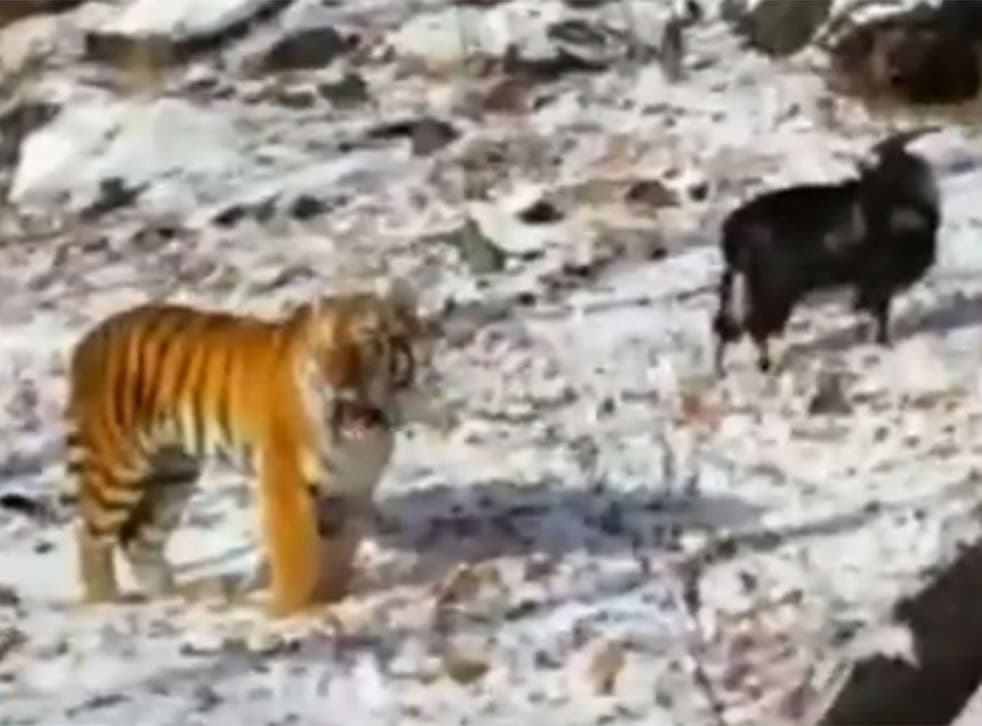 Media coverage of a tiger and a goat that delighted animal lovers after forming an unexpected friendship is being investigated for a potential violation of Russia's ban on 'gay propaganda'.
Prosecutors in the Primorsky region are investigating whether coverage of the relationship between Amur the tiger and Timur the goat, who are both male, infringes on laws protecting 'traditional values' following a complaint by a lawyer that the animals' friendship could harm children.
Alexei Krestyanov, a lawyer from Novosibirsk, wrote to prosecutors asking them to investigate the coverage of the relationship between the two animals at the Far East Safari Park, which have since had a falling out and are now living in separate enclosures.
Tiger and goat become friends
He wrote on his Facebook page: "Recently, the Russian mass media actively discussed the topic of the unconventional coexistence of animals of the male sex in the Seaside Safari Park: Amur the tiger and the goat Timur.
"I believe that the positive coverage of this topic is nothing but an interference with the privacy of underage Russian citizens, which is a hidden propaganda, as a public, active solicitation of homosexuality and the information on it."
Krestyanov added that the contents of the coverage could "have a negative impact on the formation of the child's personality, including questioning his sexual identity and generating an interest in non-traditional sexual relations".
The animal pals made international news after Amur the tiger refused to eat Timur the goat, instead forming a friendship with what would usually be his prey, although zookeepers warned that this may change at some point.
But the extensive coverage prompted Krestyanov to complain that it was promoting non-traditional relationships.
Demanding authorities take action, he cited paragraph 1, article 14 of the federal law N 124-FZ, which says state authorities in Russia should take measures to protect children from information, propaganda and agitation that harms their moral and spiritual development.
In an earlier Facebook post, he wrote: "Need to prohibit the dissemination of information about the Timur the goat and Amur the tiger."
Prosecutors are now believed to be investigating the claim, with Krestyanov sharing am official letter from the prosecutor general with his followers.
Join our new commenting forum
Join thought-provoking conversations, follow other Independent readers and see their replies