Far-right protesters brandish flares outside French black MP's office
'I am more determined than ever!' says MP who was targeted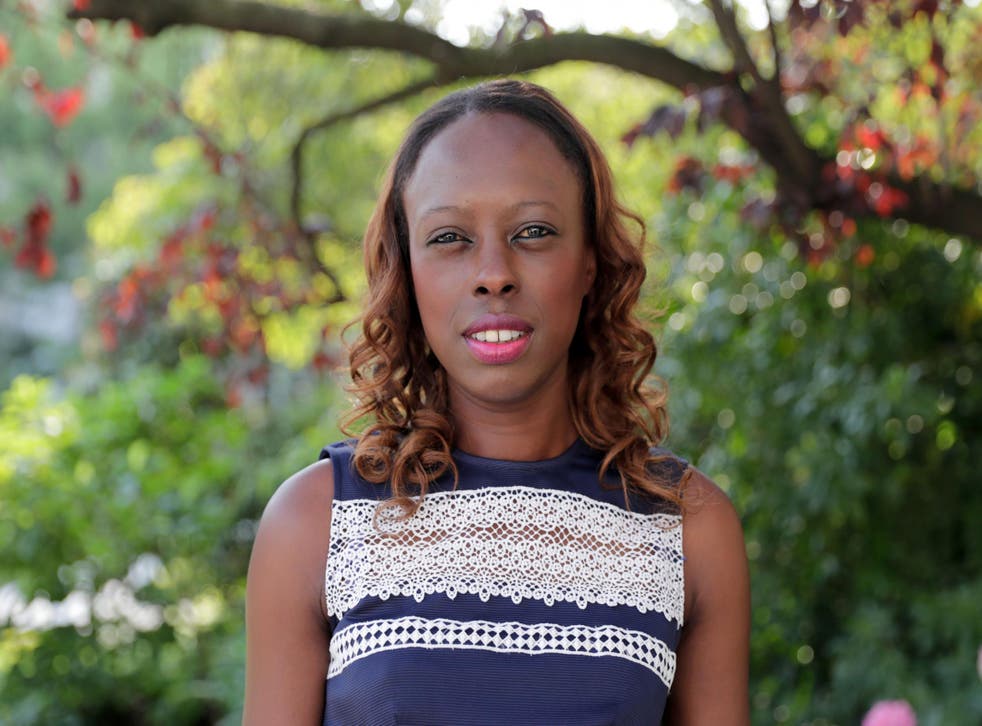 Far-right activists held burning flares as they staged a racist demonstration outside the office of a black female politician in France.
The demonstrators, who are from the Normandy offshoot of a far-right extremist group called Generation Identity, held racist signs and waved burning flares outside Sira Sylla's office.
Five white men could be seen clutching placards and a banner that read "Help the French, not the Africans" in a photo of the protest shared by Ms Sylla.
The placards called for forcibly making people go back to their countries of origin – saying: "Think about our jobs, not the diaspora."
Ms Sylla, who has been a member of the French National Assembly since the 2017 elections, told demonstrators they "will never affect" her as she posted an image of the protest on Twitter.
The MP is part of the Republic On the Move party – the centrist liberal political party created by Emmanuel Macron in April 2016.
Ms Sylla, a lawyer who lives in Rouen, the capital of the Normandy region, tweeted: "I am very proud of the work that I have carried out with conviction as a French MP for three years, particularly for my constituency and African-French relations. I am more determined than ever!"
Prime Minister Jean Castex backed her as he called for condemnation of the protests outside her office.
"The unworthy attacks Sira Sylla demand unanimous and unambiguous condemnation," he said. "I have sent her my support and the solidarity of the whole government. In the face of hatred, the Republic must unite and act."
Interior Minister Gerald Darmanin branded the treatment of Ms Sylla as "vile" – saying France would not "cede an iota to the hateful ideology of these extremist groups".
Ms Sylla has asked government to lower in the amount it costs to transfer money to African nations – with the signs explicitly referencing this policy proposal.
The posters and the banner displayed the name "Génération Identitaire" – referencing the far-right group which was set up in France around seven years ago before it expanded further afield. Internal conflict caused the pan-European group's UK branch to formally disband in January, with the group breaking apart from European leaders.
Register for free to continue reading
Registration is a free and easy way to support our truly independent journalism
By registering, you will also enjoy limited access to Premium articles, exclusive newsletters, commenting, and virtual events with our leading journalists
Already have an account? sign in
Register for free to continue reading
Registration is a free and easy way to support our truly independent journalism
By registering, you will also enjoy limited access to Premium articles, exclusive newsletters, commenting, and virtual events with our leading journalists
Already have an account? sign in
Join our new commenting forum
Join thought-provoking conversations, follow other Independent readers and see their replies