Quarter of a million songbirds killed illegally at UK military base
Birds such as black caps and robins are trapped and killed at the British facility
Emily Beament
Wednesday 07 March 2018 00:47 Comments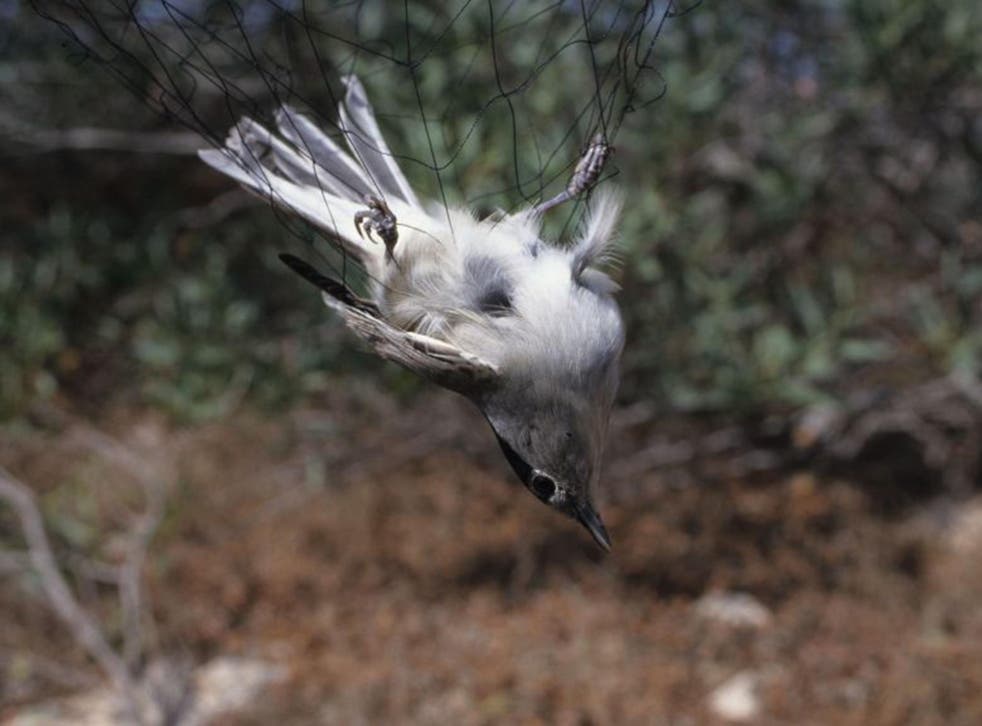 More than 260,000 songbirds were illegally killed on a UK military base in Cyprus to supply restaurants, wildlife experts have said.
Birds such as black caps and robins are trapped and killed at the British facility, as it the main ingredient for the local delicacy ambelopoulia - a plate of cooked songbirds.
The figure is down 70 per cent on the previous year's estimate of 880,000 songbirds illegally killed. The illicit activity is being driven by organised crime gangs who make millions from selling the birds to restaurants via the black market, the Royal Society for the Protection of Birds (RSPB) said.
The reduction in trapping is the result of work by RSPB Investigations and the Sovereign Base Area Police using covert surveillance methods such as filming to catch trappers and secure stronger court sentences, the charity said.
Increased patrols coupled with heavier sentences mean hunters now face a double deterrent.
In 2016, 19 trappers were covertly filmed at seven sites and all were prosecuted with fines of up to €6,600 (£5,900) and several received suspended jail sentences. More cases are ongoing from 2017.
The RSPB called on the UK Government to ensure the removal of non-native Australian acacia trees, planted to lure the birds, continues to sustain the success in curbing the trapping.
Birds are trapped with fine "mist" nets suspended between acacia bushes, and speakers playing bird calls are used to attract the birds down as they migrate.
Wildlife experts also urged the Republic of Cyprus to crack down on black-market restaurants which still serve songbirds, which has been illegal for more than 40 years, though enforcement action is rarely taken.
Martin Harper, RSPB conservation director, said: "The reduction in the numbers of birds being illegally killed is a direct result of on-the-ground work by RSPB and Sovereign Base Area staff.
"The enforcement and the severity of sentences is also adding to the risks that would-be trappers take.
"We now need to finish removing the remaining non-native acacia bushes to make sure that there are no longer places where trappers can hide their nets. This is the long-term solution needed for these migrant birds."
He added the Sovereign Base Area authorities should be congratulated for taking measures including exclusion orders, vehicle impoundments and removing illegal irrigation pipes used to boost the growth of acacia trees.
World news in pictures

Show all 50
Martin Hellicar, director of BirdLife Cyprus, said: "Now is the time to re-double efforts and make sure we see a permanent end to large-scale trapping and the massive impact it has on our migrant birds.
"Increased and consistent enforcement action must be taken against law-breaking restaurants."
An Ministry of Defence spokesman said: "The Sovereign Base Area Administration is pleased that the enhanced efforts to counter bird trapping has finally resulted in a reduction in the number of bird deaths estimated by Birdlife.
"We are not complacent and recognise there is still much work to do. The MoD is, and will continue to be, actively committed to tackling illegal bird trapping inside the Sovereign Base Area."
Press Association
Register for free to continue reading
Registration is a free and easy way to support our truly independent journalism
By registering, you will also enjoy limited access to Premium articles, exclusive newsletters, commenting, and virtual events with our leading journalists
Already have an account? sign in
Join our new commenting forum
Join thought-provoking conversations, follow other Independent readers and see their replies