'Spain has turned a corner': Four decades of socialist rule come to an end in Andalucia
For first time since death of General Franco, a regional government will be formed with support of an extreme right-wing party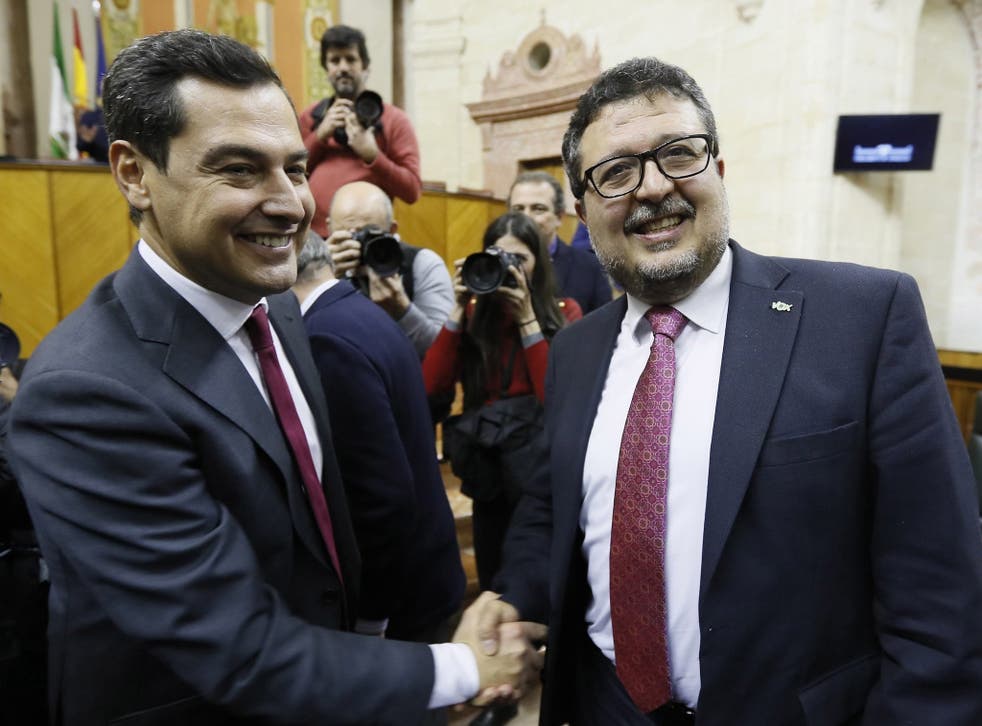 On Wednesday afternoon in Seville, as Juan Manuel Moreno Morilla of the Partido Popular (PP) was voted into office as Andalucia's seventh president, a key invisible borderline will have been crossed in Spain's modern-day politics.
For the first time in Spain since the death of General Franco in 1975 and the restoration of democracy, a regional government will be formed with the support, if not the direct participation, of an extreme right-wing party, Vox.
In last December's elections in Andalucia, Vox had already made history by becoming the first far-right party to gain seats in a regional parliament in post-Franco Spain, with Marine Le Pen the first politician outside Spain to congratulate them.
But the unexpectedly high number of seats which Vox took – 12 out of Andalucia's 109-strong parliament – when neither of the traditional top parties, the right-wing PP or the Socialist Party, garnered an absolute majority, suddenly meant that Vox's "very significant result", as Ms Le Pen called it, gained even greater significance.
After some tumultuous haggling in which Vox first insisted some of its more controversial policies – such as the deportation of tens of thousands of "illegal" migrants and the repeal of a gender violence law – be respected, Vox finally agreed to vote in favour of a new regional government run jointly by the PP and Ciudadanos, a centre-right party.
Ciudadanos has expressed more or less public misgivings about Vox's backing, and insisted its deal with the PP in Andalucia will take precedence. But the fact remains that a party which as recently as two months ago was largely written off as an ultra-conservative splinter group has suddenly, and unprecedentedly, gained a role of powerbroker in Spain's most heavily populated region.
That this should happen in Andalucia, long considered the bastion par excellence of Spanish socialism, only emphasises what a massive change this represents for a country where memories of four decades of right-wing dictatorship are still relatively fresh.
And with a spate of elections due in Spain this year – municipal, regional and European in May, as well as possible general elections this autumn – after years of domination by the Socialists and Partido Popular, the sensation in Spain is that politically, the country is moving into seriously uncharted waters.
In the streets of Granada, eastern Andalucia's biggest city, on a freezing cold Wednesday morning and with the usual throngs of tourists jamming the city centre, there is little to indicate such a massive seachange in Spanish politics could be underway in the region's parliament.
But shoppers and workers alike in this Socialist-run city are quick to express their concern about having a right-wing party like Vox prowling Andalucia's corridors of power.
"We needed change, it's not good for anywhere to have the same government as we have done here in Andalucia for so long, but not change in this way with the hard right coming in," says Sergio Ruiz de Valdivia Roldan, a middle-aged builder, as he takes time off fixing a drain.
Vox's success "is particularly disturbing", adds Carmen Martinez Gomez, a nurse in a Granada hospital, "given their attitude towards women".
"I'm incapable of understanding what kind of women could vote for them. There have always been a few people who thought like this in Spain, but we were used to hearing others talk more loudly and effectively."
"This is a point where Spain has turned a corner," says Raul Esgueva, a manager with a Granada insurance company, "that's worrying both here in Andalucia and further afield."
But there seems to be little doubt that Vox is here to stay.
Spanish far-right party Vox celebrates election win in Andalusia
"I am convinced Vox can get people elected in all the municipalities and regions where it will present candidates," Pablo Simon, a political science professor at Madrid's Carlos III University, told Reuters in December.
"Spain now has a multi-party system with a far right like other European countries."
Furthemore, just as it did during Catalonia's ill-fated bid for independence in 2017, the imminent trial of a dozen pro-independence leaders for rebellion this spring seems certain to polarise political opinion across Spain again – something which would play into Vox's hands.
The strength of opposition to Vox is already making itself felt, with thousands of protesters, mainly women, gathering in 140 different marches across Spain on Tuesday evening to rally against the new right-wing party.
But so too, is the apparent effect of its success on the larger formations, with the PP's recently elected leader, Pablo Casado, notably toughening up his tone on migration and Catalonia since Vox's emergence. So the question, it seems, is not whether Vox's surge of popularity will dominate Spain's political agenda – but for how long it may continue to do so.
Register for free to continue reading
Registration is a free and easy way to support our truly independent journalism
By registering, you will also enjoy limited access to Premium articles, exclusive newsletters, commenting, and virtual events with our leading journalists
Already have an account? sign in
Register for free to continue reading
Registration is a free and easy way to support our truly independent journalism
By registering, you will also enjoy limited access to Premium articles, exclusive newsletters, commenting, and virtual events with our leading journalists
Already have an account? sign in
Join our new commenting forum
Join thought-provoking conversations, follow other Independent readers and see their replies