Spain 'to force Catalonia to stage January elections' as details of direct rule revealed
Opposition backs Rajoy government in taking away Catalonia's self-governance, as long as there is a deadline for it to be restored
Alasdair Fotheringham
Madrid
Friday 20 October 2017 16:27 Comments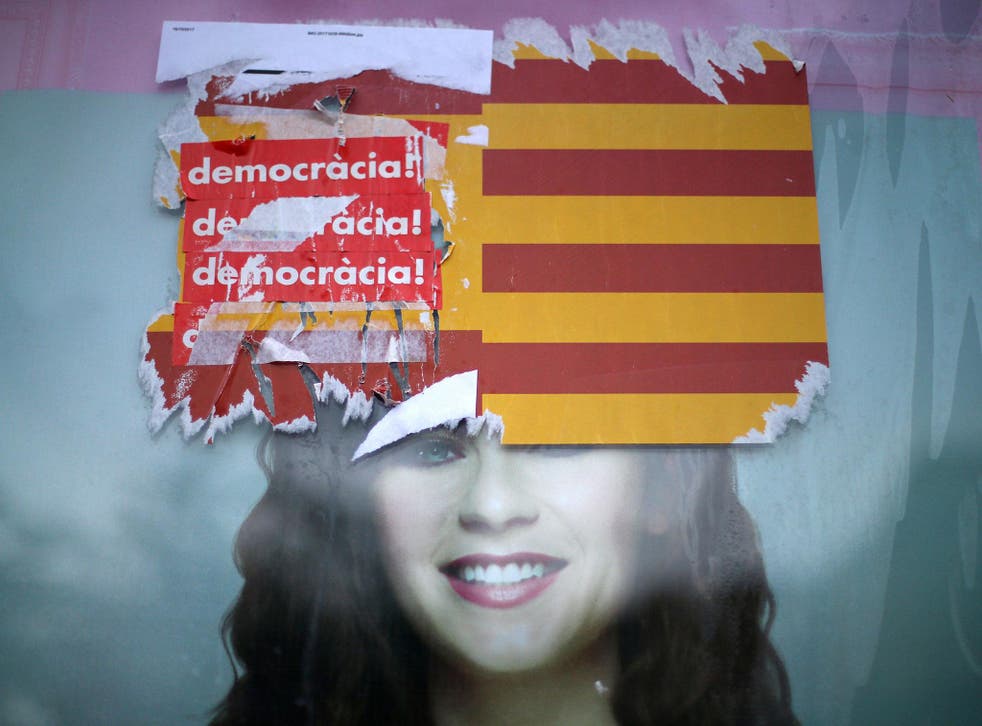 A top member of Spain's opposition Socialist Party has said they have hammered out an agreement with Mariano Rajoy's government to hold local elections in Catalonia early next year, as part of a series of measures to impose direct from Madrid on the troubled region.
Cabinet ministers will hold an emergency meeting on the crisis on Saturday morning, after which Mr Rajoy will reveal the full extent of Madrid's plans for central control of Catalonia, enforced through the unprecedented application of Article 155 of the constitution.
The government would neither formally confirm nor deny on Friday that regional elections formed part of those measures, but a spokesman conceded they could well form part of their future plans.
"It's too soon to give a date, but finally, once legality is restored, there would have to be elections," said government spokesman Inigo Mendez de Vigo.
The government has previously said it would be vital to achieve the greatest degree of cross-party support possible for Madrid's use of Article 155, and both the opposition Socialist Party and Ciudadanos, Spain's second and fourth largest political groupings, have now agreed to back its use.
"It [155] is to be used to restore legal and institutional normality," Mr Rajoy insisted on Friday. He stressed that all measures would be agreed in advance with the Socialists and Ciudadanos.
The use of Article 155 will need to be given the green light by Spain's Senate. A definitive schedule for when that might happen is also expected to be published on Saturday.
​Ciudadanos, currently the largest opposition party in the Catalan parliament, have been pushing for regional elections for weeks. And the former Socialist minister Carmen Calvo, who has been leading the bulk of negotiations over Article 155 with the government, told Spanish state TV on Friday that her party's leader, Pedro Sánchez, "has been very clear that this [direct intervention] is to go for elections in Catalonia".
Apart from regional elections – possibly as soon as January – there is widespread speculation that the government could use Article 155 take control of Catalonia's main regional TV channel, finances and the local police. Mr Rajoy, however, refused to confirm or deny any of these measures.
Should the planned round of Catalan elections go ahead, it would be the first time in Spanish democracy that the constitution has been used to dissolve regional government then call for a new vote.
Catalonia independence referendum: Riot police clash with voters

Show all 17
The ruling nationalist party in Catalonia on Friday underlined their opposition to fresh regional elections. And they will hope to be bolstered by a massive pro-independence rally, focussed both on the rejection of Article 155 and the release of two grassroots separatist leaders jailed earlier this week on charges of sedition, on Saturday afternoon.
Register for free to continue reading
Registration is a free and easy way to support our truly independent journalism
By registering, you will also enjoy limited access to Premium articles, exclusive newsletters, commenting, and virtual events with our leading journalists
Already have an account? sign in
Join our new commenting forum
Join thought-provoking conversations, follow other Independent readers and see their replies