Spain: Election uncertainty spooks markets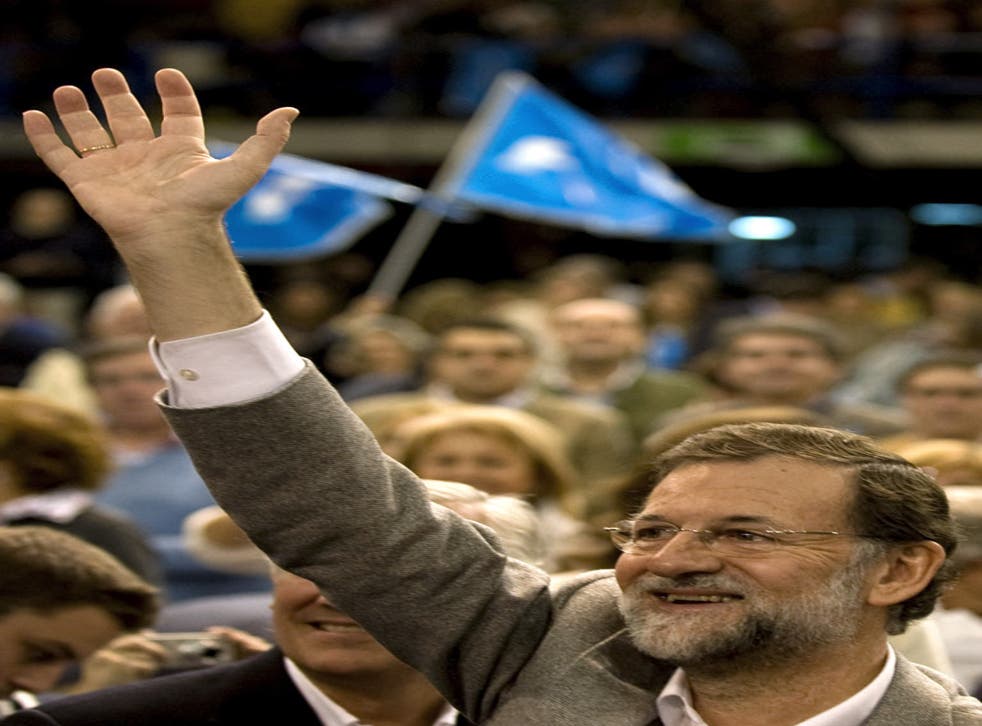 The panic that has gripped financial markets in Europe spread to Spain yesterday when yields on 10-year government debt rose to within a whisker of 7 per cent, the level that has triggered bailouts in other struggling eurozone countries.
Like Italy, which has also seen the interest rate it has been forced to pay on its bonds rise beyond the psychologically important 7 per cent barrier in recent weeks, Spain is considered "too big to save" with a bailout package, given the size of the eurozone or International Monetary Fund rescue reserves.
The Spanish Treasury sold €3.6bn (£3.1bn) worth of 10-year bonds yesterday, paying an average yield of 6.98 per cent. As recently as July, Spanish debt sold at 5.99 per cent, suggesting that, in just three months, the market's perception of Spain's ability to meet its liabilities has dramatically diminished.
There is also uncertainty in markets about Sunday's general election, which polls suggest is likely to sweep aside the Socialist government and replace it with the right-of-centre Partido Popular (PP) party, which has been out of office since 2004. Mariano Rajoy, who is expected to become Prime Minister, has promised to slash public spending "in all areas, barring pensions".
Despite the apparently tough line, Mr Rajoy has refused to offer any details on his party's package of austerity measures, which has spooked markets. Spanish bond yields have been rising steadily during the campaign. The record bond yield level is considered to be a shot across the bows to a PP government – any political benefits they may reap with their current reticence over projected future cuts in public spending could have a potentially disastrous economic price-tag.
Asked what was causing such unstable markets, Professor Pablo Fernandez, a specialist on bond yields with the IESE Business School in Madrid, told The Independent: "There is total uncertainty about the cuts. We know there'll be cuts but we don't know where or how deep. If Mr Rajoy announced who his Minister of Finance and economic team will be, that would be one less doubt for the markets, too." In an interview with El Pais, Mr Rajoy made his firmest promise to date that he would make cutbacks "in all areas".
Professor Fernandez said: "This insecurity about the measures he will take will continue to trouble investors, certainly until he names his economic team... and we mustn't forget that some people are interested in the instability continuing, when the values rise and fall like this it's where they make their money."
Spanish growth is at a near standstill, its toxic banking debts have been estimated at €176bn and the EU may have further inflamed market nerves last week when it predicted that Spain would miss its 2011 budget deficit target of 6 per cent.
Protests turn violent from Athens to Milan
Confrontation and violence marred street demonstrations against the economic crisis yesterday, as showdowns between police and protesters flared in Italy and Greece. Italian students armed themselves with firecrackers, rocks, eggs and smoke bombs during disturbances in Milan, Turin and Palermo.
Meanwhile, fire bombs and tear gas left clouds hanging above Athens last night. Between 20,000 and 50,000 protesters were met by 7,000 police in the Greek capital on the anniversary of the 1973 Athens Polytechnic uprising, when Greece's military junta deployed troops to put down a student demonstration.
Rob Hastings
Join our new commenting forum
Join thought-provoking conversations, follow other Independent readers and see their replies