Spain elections Q&A: What do results mean for Catalonia? Is independence around the corner?
Catalonia's pro-independence parties secured a narrow majority of seats in regional elections to kickstart their bid to break away from Spain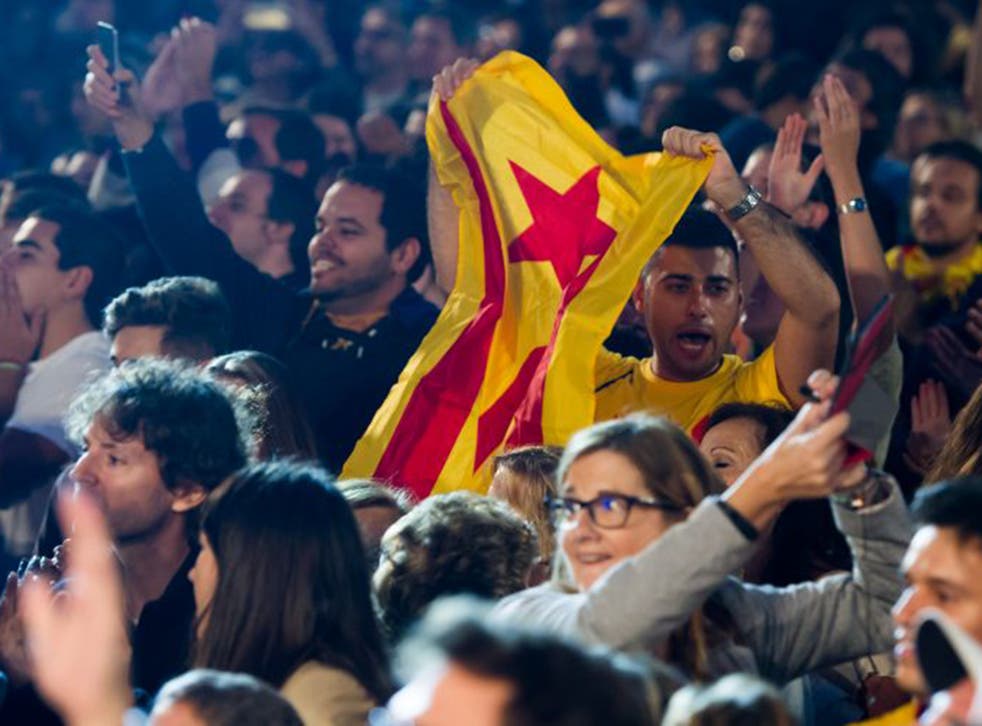 What does the vote mean for Catalonia in the short term?
The pro-independentists will argue they have won the elections so they have a mandate for putting their plans to break away from Spain into motion. Indeed, the counting of votes had barely started on Sunday evening before Antonio Baños, a leading figure in the pro-independence party CUP, had Tweeted "To the Spanish state: With no resentment, Goodbye," underlining his point with a link to a famous Spanish pop song called "Adiós Papa."
However, Madrid government and those in favour of the status quo are already planning on a battery of legal measures to stop any kind of pro-independence plans from materalizing. Those in favour of continuing unity with Spain will also probably underline the lack of a majority of votes, if not of seats, in Catalonia in support of the separatist campaign. The ruling Partido Popular already are arguing that "tomorrow, everything will be the same," and highlight the failure of President Artur Mas and the Junts Pel Sí coalition to secure an absolute majority in the elections on their own account, too.
What is the next step for the pro-independence movement in Catalonia?
Artur Mas has said that within days of taking office he will make a formal announcement that the process of breaking away from Spain has begun. Beyond that, the next battles for independence, though, may well be fought out not in elections or parliament, but - as has happened in the past in Catalan pro-independence politics - in the courts.
What does this latest election mean for the pro-Catalan independence movement as a whole?
The elections suggest that its supporters could be becoming increasingly hardline. In the 2012 elections, Artur Mas party, the CDC (then known as CiU) lost out to the more left-wing ERC, this time both the ERC and the CDC - running together the coalition of Junts Pel Sí, have lost out to the anti-capitalist, pro-independence CUP, who now hold the keys to power in the Catalan parliament. At the same time, Mr. Mas former ally, the centrist, traditional nationalist Unió, running separately in these elections, has lost all its seats in Catalonia's Parliament.
How will it affect the general elections in December?
Catalan politics are a very different kettle of fish to Spanish politics as a whole: there are several more well-established political parties than in the rest of the country, and the independence question adds a series of ingredients to the mix that are not present across Spain as a whole, either.
However, the excellent showing for Ciutadans (C's for short), a comparatively new player on Spain's political scene which has taken up much of the political space formerly occupied by Mariano Rajoy's Partido Popular (PP) in Catalonia, will certainly boost C's morale countrywide. On top of that, C's taking 25 seats in the regional parliament mean they are now the main party of opposition in Catalonia. How they handle this role will be closely watched.
The failure of Podemos, even in coalition with another, longer-standing left-wing party, Iniciativa, to impact in Catalonia's regional elections, will also not go un-noticed further afield. Their leader Pablo Iglesias has already recognised their total of 11 seats constituted a "deeply disappointing" result. For Mariano Rajoy's PP, the results were certainly worse than expected (they had hoped to take around 16 seats and ended up with 11, nine less than in the 2012 regional elections.) But given the idiosyncracies and severely fragmented nature of the Catalan political scene, it would be a major error to assume a setback in Catalonia for the PP will automatically extend into Spain as a whole in December's general elections.
Join our new commenting forum
Join thought-provoking conversations, follow other Independent readers and see their replies