Spain legalises euthanasia and assisted suicide
'Today we are a more humane country.' said the Spanish PM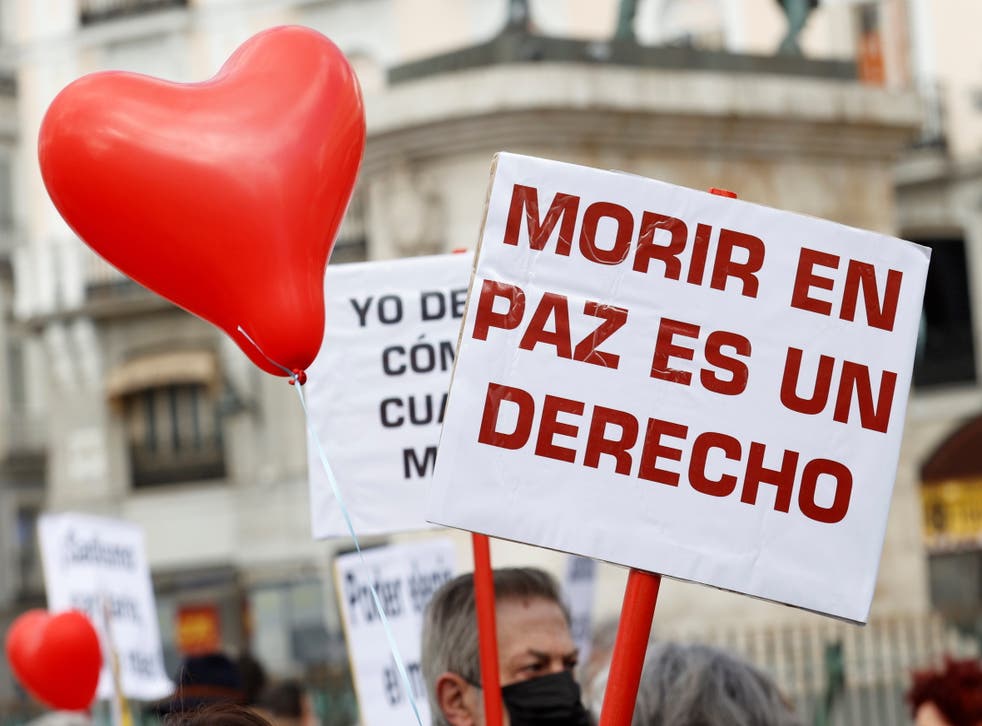 Spanish MPs on Thursday legalised euthanasia and assisted suicide for people with serious and incurable or debilitating diseases who want to end their life, despite facing strong opposition from religious groups and the far-right.
"Today we are a more humane, just and freer country. The euthanasia law, widely demanded by society, finally becomes a reality," tweeted Spanish prime minister Pedro Sánchez.
"Thanks to all the people who have fought tirelessly so that the right to die with dignity was recognized in Spain."
A long round of applause rang out after the lower house of parliament passed the law, with 202 votes in favour, 141 against and with two abstentions.
Until now, helping a person to end their life in Spain was punishable with a jail term of 10 years.
The law, which applies to Spanish citizens and foreign nationals, including any of the 290,000 British citizens who have legal residence in Spain, will come into force in threemonths while regional committees assess requests.
Read more:
Outside the parliament in Madrid, pro and anti-euthanasia groups demonstrated during the debate and the vote.
The law faced determinedopposition from religious groups and the far-right Vox party.
"Let's not forget that the first to practice euthanasia on the weakest ended up carrying it out as part of the final solution in Nazi Germany," said Polonia Castellanos, of the Spanish Association of Christian Lawyers.
Vox has said it will challenge the law in the Constitutional Court.
The law allows anyone with a "serious or incurable illness" or a "chronic or incapacitating" condition to request help dying to avoid "intolerable suffering".
The patient must be fullyaware and conscious when they make the request which must be submitted twice in writing, 15 days apart.
A doctor can reject the request if the requirements have not been met and it must be approved by a second doctor and an evaluation body. Any medic can withdraw on grounds ofconscience.
The issue of euthanasia grabbed public attention in Spain since the 2004 Oscar-award winning film The Sea Inside, starring Javier Bardem, which told the true-life story of Ramon Sampedro, a paralysed former sailor who wanted to end his life.
Sampedro recorded his assisted suicide in 1998 after being denied that right by courts.
A 2019 opinion poll showed that almost 90 per cent of Spaniards supported decriminalising euthanasia.
Spain has become the latest country to legalise euthanasia nationwide, along with the Netherlands, Belgium, Luxembourg and Canada, while some US states also permit it or assisted suicide.
A similar bill in Portugal was thrown out on Monday when the country's top court ruled that it was unconstitutional.
Last year, New Zealand also approved an assisted dying law.
Switzerland allows assisted suicide but not euthanasia.
Register for free to continue reading
Registration is a free and easy way to support our truly independent journalism
By registering, you will also enjoy limited access to Premium articles, exclusive newsletters, commenting, and virtual events with our leading journalists
Already have an account? sign in
Register for free to continue reading
Registration is a free and easy way to support our truly independent journalism
By registering, you will also enjoy limited access to Premium articles, exclusive newsletters, commenting, and virtual events with our leading journalists
Already have an account? sign in
Join our new commenting forum
Join thought-provoking conversations, follow other Independent readers and see their replies