Spanish bus campaign against 'feminazis' features image of Hitler in makeup
Hazte Oir are calling on Spain's conservative political leaders to repeal the 2004 gender violence law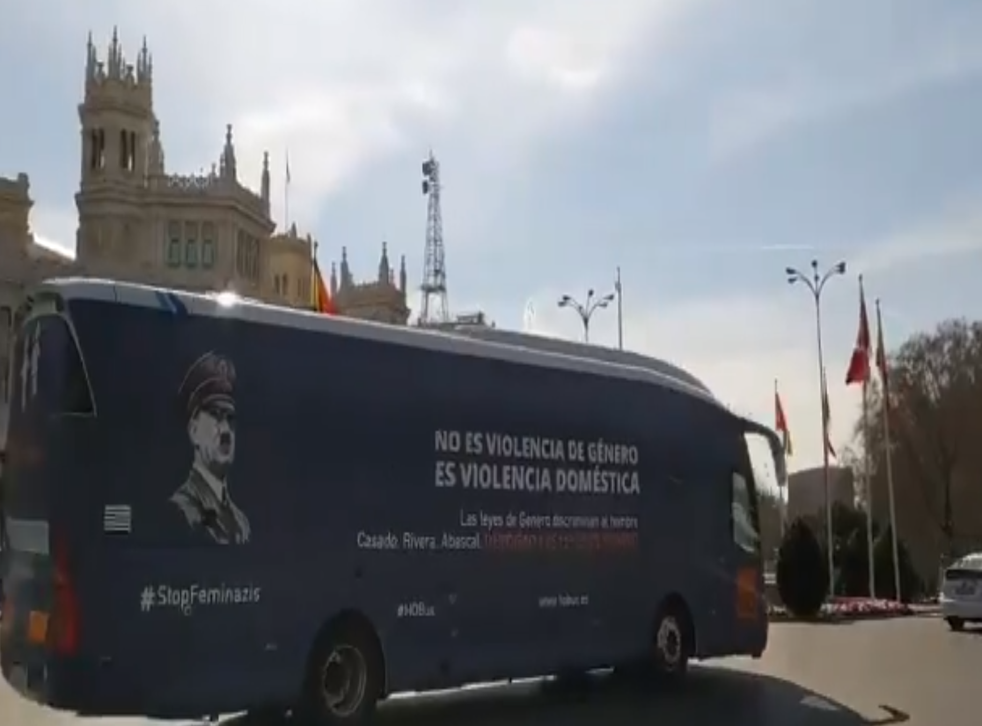 An ultra-conservative Spanish group has used an image of Adolf Hitler in makeup to launch a bus campaign against feminism – branding women's rights campaigners "feminazis".
Hazte Oír, which means Make Yourself Heard, are calling on Spain's conservative political leaders to repeal the 2004 gender violence law and legal protections granted by Spanish regions to the LGBT+ community.
The bus will make its way through several Spanish cities – such as Barcelona, Valencia, Seville, Cadiz and Pamplona – until International Women's Day this Friday when a women's strike and demonstration have been planned.
The bus includes an image of Hitler, who was responsible for the mass-murder of six million Jews during the Second World War, wearing makeup and the symbol of feminism on his military cap.
"It is not gender violence, it is domestic violence. Gender laws discriminate against men," reads the slogan on the side of a bus. It is accompanied by the hashtag #StopFeminazis.
International Women's Day: groundbreaking figures from history

Show all 17
The Catholic group called on Spain's conservative political leaders – Pablo Casado from the Popular Party (PP), Albert Rivera from Ciudadanos (Citizens) and Santiago Abascal from the far-right party Vox – to commit to repealing Spain's gender violence laws for "violating equality".
The laws, including a €1 billion, five-year programme passed in 2017, implemented measures to protect victims of domestic violence such as processing suspected cases within 72 hours and providing legal, psychological and social help to victims.
"There is a real problem with violence but some, for ideological reasons, only want to talk about 'gender violence' to discriminate against men, children, older people and teenagers who suffer mistreatment and attacks," Hazte Oir spokesperson Luis Losada said.
Hazte Oir had its status as a public service group stripped by the Interior Ministry this year because it felt the organisation's campaigns went against the public interest.
The group made headlines in 2017 when it launched an aggressive, discriminatory bus campaign against the transgender community.
"Boys have penises, girls have vulvas. Don't let them fool you. If you're born a man, you're a man. If you're a woman, you will continue to be so," read a message plastered on the bus.
The group's new campaign comes as Spain sees a lurch to the far right. The country was left stunned in December last year after Vox claimed 12 seats in Andalusia in a regional vote – the far-right's first electoral success since the country's return to democracy in the late 1970s.
The anti-immigrant, nationalist party has never held any seats in any of the country's legislative bodies since it was founded five years ago, but it now holds the key to forming a right-wing government in the country's most populated region.
The Socialist Party, which has governed in the region since the death of military dictator Francisco Franco, lost its majority in Andalusia's 109-seat regional assembly.
Since its surprise gains, Vox has used its position to request the names of government workers who deal with gender violence.
The mounting popularity of Vox has led the PP to take a tougher attitude to topics like gender violence and immigration to curb voters casting a vote for Vox in the forthcoming general election at the end of April.
Spain's gender violence laws recently grabbed headlines when Vox said it would only support a coalition if its right-wing partners agreed to repeal the laws.
Between 2008 and 2015, 58 men were killed by their partners or ex-partners in Spain, compared to 488 women, a study by Spain's highest judicial body, the CGPJ, shows.
Figures show 2017 was the worst year on record for violence against women – 158,217 women were subjected to domestic violence, an 18 per cent year-on-year rise. Some 47 women were killed by their partners in 2018.
Women in Spain marked International Women's Day last year by deserting paid and unpaid labour to take part in the country's first nationwide "feminist strike". The 24-hour walkout, aimed at drawing attention to domestic violence, sexual discrimination and the gender pay gap, substantially disrupted the country's train network.
Feminist groups called for women to abandon their domestic chores for the day and not spend any money in an attempt to show how integral women are to the economy. Activists marched to call for an end to gender disparities in salaries, gender violence and the nation's "macho" culture.
Join our new commenting forum
Join thought-provoking conversations, follow other Independent readers and see their replies