An anonymous auction, mysterious jewels and the ghost of Spanish dictator Franco
Anonymous lot at London auction house belongs to heirs of Spanish dictator, claim relatives of his victims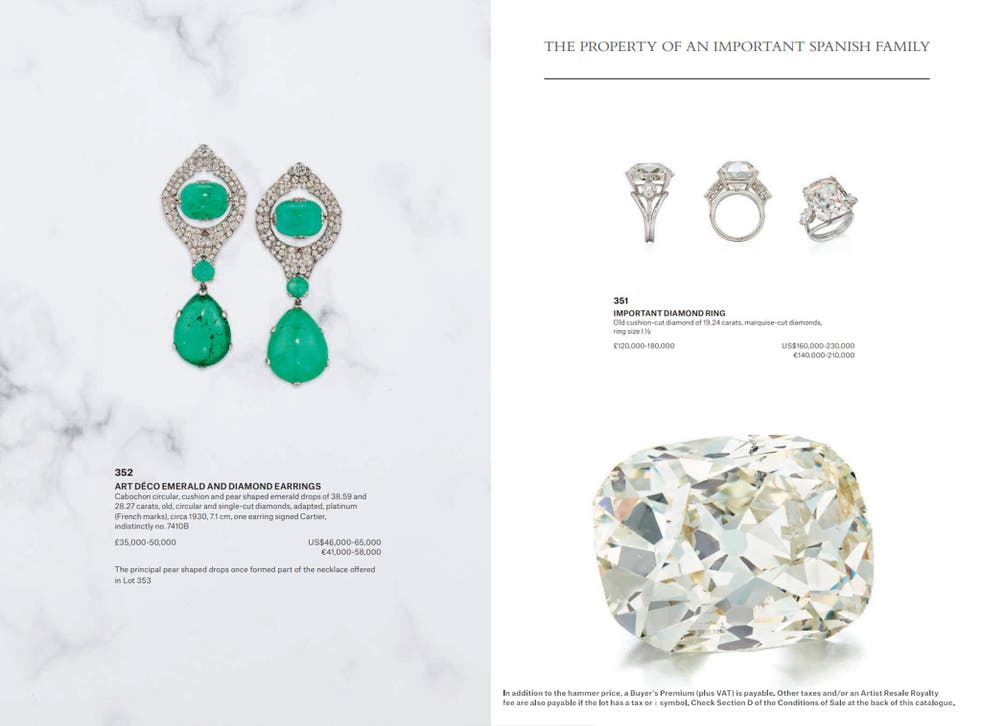 An Art Deco-style emerald necklace and earrings made by Cartier and a large diamond engagement ring are among a glittering array of jewellery to be auctioned at Christie's in London later this month.
The collection, entitled Important Jewels, which includes gems which once adorned members of the British aristocracy or European royal families, will go under the hammer on 27 November.
The catalogue makes much of some of the blue-blooded owners but oddly, perhaps, there is little hint as to the identity of who is selling items 351-353, except that they are the property of "an important Spanish family".
However, families of victims of the Spanish dictator Francisco Franco are certain these three pieces of jewellery, which together are valued at £350,000, were put up for sale by the heirs of the man who ruled Spain with an iron fist for 36 years between 1939 and his death in 1975.
The Association for the Recovery of the Historical Memory (ARMH), which fights for the rights of the victims of Franco, has demanded Spain's socialist government investigates the provenance of this jewellery before allowing dictator's family to benefit from its sale.
ARMH has written to the Spanish embassy in London to demand that Christie's disclose the documents which accredit the Franco family with ownership, adding that if it does not it could be "accessory" to an illegal sale.
According to campaigners, the jewellery is the latest example of how during Franco's long rule, he exploited his position as the undisputed caudillo (leader) of Spain to plunder the state and private businesses as he pleased. They say this fortune has been passed on to his seven grandchildren, who dispute this assertion.
The last time the emerald necklace and earrings were seen in public was 2016 when they were worn by Margarita Vargas, the wife of Luis Alfonso de Borbon, one of the dictator's great grandchildren.
However, the jewellery, which dates from the 1920s or 1930s, was originally owned by Carmen Polo, Franco's wife, who died in 1988. She was renowned for her taste in rings, necklaces and earrings but was not so well known for paying her bills.
"Jewellers in Madrid had to be prepared because when Franco's wife came to visit, she took what she wanted and never paid for anything," said Emilio Silva, president of ARMH.
Historians question how in 1940, shortly after emerging victorious from the bitter civil war between 1936-1939, Franco was only paid the equivalent of €300 (£260) per year but later managed to build up a vast fortune.
Mariano Sanchez Soler is the author of Los Francos S. A., a book which asserts the dictator was corrupt.
"The main business deals were done at the Pardo Palace (the residence of Franco) which was a major centre of influence trafficking, an offence which at the time did not exist," he said.
He has spent 30 years investigating a labyrinth of companies, secret deals and irregular acquisitions relating to Franco.
Mr Sanchez said it was impossible to estimate the true value of the Franco's family's worth but he put it at €200m.
He asserts that during the 1950s, when Spain was recovering from the ravages of the civil war, the Franco family promoted themselves as a model of austerity.
However, in reality, Mr Sanchez says, they were exploiting their privileged position to enrich themselves.
Pazo de Meiras, a palace in Galicia, in northwestern Spain, is among the Franco family's most controversial possessions.
Once a summer retreat for the dictator, it was put up for sale by Franco's grandchildren for £7m last year.
'Last necklace made by Neanderthals' from eagle tow bone discovered by archaeologists in Spain
However, the spacious building is at the centre of a dispute over whether it constitutes a private or state property.
The socialist government is fighting through the courts to reclaim the palace as a state building, alleging it was illegally gifted to Franco by local businessmen after the civil war.
A recent investigation by El Pais newspaper claimed that the dictator's grandchildren between them own a palace, 22 homes, 195 garage spaces, 29 country estates, five commercial premises and three rural plots of land.
The combined value of the family estate was put at around €102m, according to the newspaper.
From public relations to daycare and hotels, the family oversees a complex web of businesses. Some include transport firms and property firms in the United States.
One such company is Dulcinea Nutrition SL, a catering company of which the family owns 17 per cent. It has contracts with the cafeteria at La Moncloa, the official residence of Pedro Sanchez, Spain's socialist prime minister, as well as with various other ministries.
Another lucrative source of income is car parks, mostly in the centre of Madrid. At one establishment it costs €181.50 per month to leave a car.
At the heart of the Franco family empire is a huge house in Salamanca district, one of Madrid's most exclusive areas, which is valued at €50m. Many of the family's businesses are registered at this property which measures 4,800sq m.
Francisco Franco y Martinez Bordiu, 64, the dictator's eldest grandson who acts as a spokesperson for the family, was said to have a fortune worth €44.7m. He controls 225 properties, 18 homes, warehouses in Madrid and five commercial premises.
Mr Franco admitted he had not read the report by El Pais but insisted it was "full of inaccuracies".
"They have grouped together businesses owned by distant relatives by marriage and made lots of erroneous claims," he told The Independent.
Asked about the jewellery sale at Christie's, a Spanish government spokesperson said: "We do not wish to comment on this matter at this stage."
A spokesperson for Christie's said: "We respect and maintain the confidentiality of our clients out of courtesy to them and in line with market practice. We have no further comment."
Join our new commenting forum
Join thought-provoking conversations, follow other Independent readers and see their replies