Spain, the world capital of prostitution?
Europe's largest brothel has just opened in a land where no fewer than 39 per cent of men admit to visiting sex workers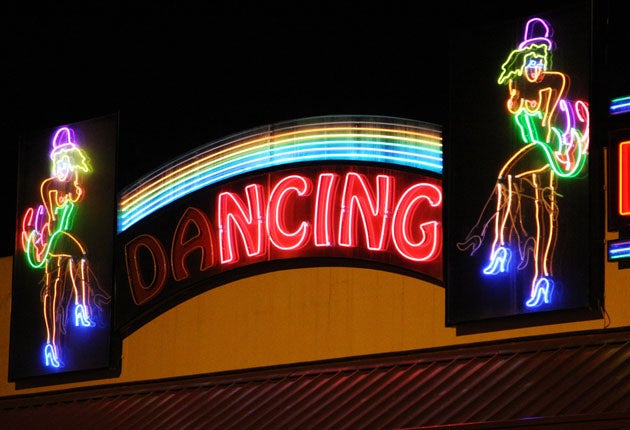 The Spanish economy may be dangerously close to meltdown this week but one area at least – prostitution – appears to be doing very nicely, thank you.
"Don Jose – cleanliness; Don Jose – discretion; Don Jose – security, and a patrolled car park," half-whispers the calm female voice on a Granada radio station throughout the day. It is an advertisement for the city's biggest and best-known brothel.
Cut to a Saturday night inside the said Don Jose "club" – three storeys high, flashing neon lights, two bars, a VIP zone and some 70 sex workers, clad in everything from nightgowns to G-strings to the very briefest of shorts – and, according to local regulars, business is booming. "The place is heaving every weekend," comments "Alvaro", an experienced brothel-goer in his late forties. "These days in the afternoons and early evenings, you'll get businessmen who've told their wives they're at meetings. Then later on, there are hordes of 18- or 19-year-olds, just there to have a laugh and, if they want, have a quick lay as well."
This is no exaggeration. Prostitution is so popular (and socially accepted) in Spain that a United Nations study reports that 39 per cent of all Spanish men have used a prostitute's services at least once. A Spanish Health Ministry survey in 2009 put the percentage of one-time prostitute users at 32 per cent: lower than the UN figure, perhaps, but far higher than the 14 per cent in liberal-minded Holland, or in Britain, where the figure is reported to oscillate between 5 and 10 per cent. And that was just those men willing to admit it.
To meet this vast demand, an estimated 300,000 prostitutes are working in Spain – everywhere from clubs in town centres to industrial estates, to lonely country roads to roadside bars, the last often recognisable by gigantic neon signs of champagne bottles or shapely females, flashing away in the darkness. And recently, on the French border, Club Paradise opened with 180 sex workers, making it the biggest brothel in Europe.
As the clubs get larger, the clients get younger. According to studies carried out for the Spanish Association for the Social Reintegration of Female Prostitutes (Apramp), back in 1998 the typical client was a 40-year-old married male. By 2005, however, the average age had dropped to 30 – and it appears to be getting lower. "The kids are going because they see it as a quick way of getting what would take a lot longer to happen if they went to a disco," Alvaro says. "You've got the money, you choose the woman you want and it's all over and done with." His own logic is even more brutal: "I go when I don't have a girlfriend."
There is no single reason, though, why prostitution should be so popular in Spain. Historically it has long been seen as an expression of individual freedom – first as a pressure valve for the strait-laced family-focused environment of the Franco years (when prostitution was quietly ignored), and then consolidating itself after the dictator died. Then, as now, brothels would be listed in the yellow pages, albeit under the coy title of "nightclubs", and nobody batted an eyelid. Among the young men of the Spanish provinces, even in the late 1980s, sleeping with a prostitute was no longer something you did as way of losing your virginity: it could actually be seen as cool.
In the 1990s, magazines such as Interviú, which prides itself on its investigative journalism, would think nothing of publishing "erotic guides to Spain". Even today, all-male business dinners can end up in the local "club". "Every now and then I have to take clients," says one accountant who did not want to be named, "but it's OK. They take credit cards."
If the roots of Spain's acceptance of prostitution ultimately lie with the sexual and personal repression of the Franco years, the most curious hangover from the sexual revolution is that, even today, most "'serious" newspapers carry adverts for prostitutes. In the Madrid issue of one major national daily, 75 or 80 per cent of small ads are for prostitutes, offering all manner of services with prices from ¤20 to ¤200. Plans to eliminate the so-called "contact ads" appear to be on a kind of permanent hold, partly justified by the precarious economic state of Spain's print media.
However, the underbelly of a trade which is legal in Spain but not recognised as an actual job is far from pleasant, with human trafficking constantly rearing its ugly head. In 2009 alone, Spain's Ministry of the Interior detected 17 international crime rings involved in sexual trafficking in Spain. Between January and April of this year, according to the newspaper El País, the authorities identified 493 cases of women sold into sexual slavery.
Yet that makes no difference, it seems, to the clients who pour through the doors of the brothels. "There is a clear lack of awareness as to what is going on," says Marta Gonzalez, a spokeswomen for the Madrid-based NGO Proyecto Esperanza, which helps women who have been victims of trafficking. "Clients don't realise that many of these women could be victims of trafficking. Lots of people would be more wary if the prostitutes were clearly under lock and key or had obviously been subject to physical abuse. They don't realise that all it takes is a death threat to their families back in Nigeria or Brazil, and the woman is already being coerced into prostitution."
The laws in Spain are of little help either, with prostitution currently a permitted activity – but with no labour rights. "They're already frequently leading a double life or are considered social outcasts and often are in dire need of money," said a Spanish Red Cross social worker running a healthcare programme for prostitutes. "Add the lack of legal rights, and they're a clear target for exploitation."
On top of that there's Spain's recession. "Economically the women I'm dealing with are at the end of their tether, and the lack of other employment possibilities makes everybody more nervous about keeping clients. In the process they put themselves at risk, too. They'll be more willing to accept it when a client doesn't want to use a condom, for example, to be sure they get him to sleep with them."
When prostitution and trafficking overlap, the legal situation grows even more discouraging. "Glitches in the legislation mean that an identical crime is punished less severely here than, say, in Germany." Ms Gonzalez says. "Forcing someone to prostitute themselves in Spain gets from two to four years in prison here, while human trafficking gets five to eight. But because the latter charge often can't be proved effectively because of poor legislation, the criminal gets the lower sentence."
Meanwhile, Spain's sex trade continues to flourish. And, in one way, it is literally more visible than ever: recently, in an attempt to cut the number of road accidents, the police in Lerida, Catalunya, issued the prostitutes working in out-of-town lay-bys with fluorescent waistcoats.
Join our commenting forum
Join thought-provoking conversations, follow other Independent readers and see their replies