Spanish PM Mariano Rajoy praises heroic farmers who pulled crew from burning A400M wreck
Mr Rajoy met those who ran to the scene of the crash to help the crew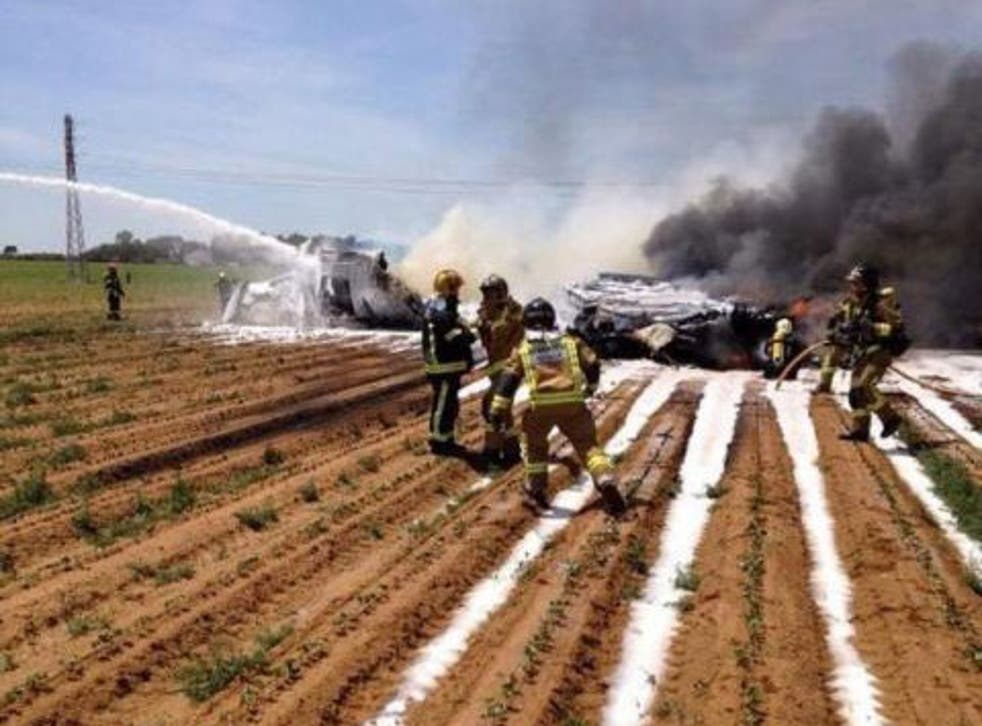 Spanish authorities praised farm workers who pulled two survivors away from the burning wreckage of an Airbus A400M.
Prime Minister Mariano Rajoy posted a photograph of himself on Twitter talking to a farmer who had helped save the crewmen injured in Saturday's crash. Rajoy called the man "a hero for us all."
The farmer, Francisco Miranda Escudero, told Spanish media how he and three others saw two people coming from the broken fuselage and jumping four to five metres to the ground.
"The flames were horrifying and the continuous explosions tremendous," said Mr Escudero.
The plane, which was undergoing flight trials, destroyed a high-tension electricity pylon as it smashed into the field, killing four people on board. Airbus spokesman Kieran Daly said it had been crewed by two pilots, three flight test engineers and a technician.
The A400M was developed by Airbus to replace aging Hercules transport planes. The machine that crashed had been due for delivery to Turkey in June.
The MoD said that it would not be allowing its A400Ms to fly while an investigation into the Spanish crash is underway.
"Our thoughts are with the family and friends of those involved in the incident," a spokeswoman said in a statement.
The Royal Air Force took delivery of its first Airbus A400M in an official ceremony at RAF Brize Norton last November.
In all, 22 have been ordered, to be delivered over the next few years.
The A400M is a large, propeller-driven transport aircraft that is being assembled in Seville. It is thought to be the ideal airlifter to fulfil the requirements of military and humanitarian missions.
It was launched in 2003 to respond to the combined needs of seven European nations (Belgium, France, Germany, Luxembourg, Spain, Turkey and the UK), with Malaysia joining in 2005.
Its maiden flight took place in December 2009 and the delivery of the first A400M was on August 1 2013 to the French air force.
Additional reporting Press Association
Join our new commenting forum
Join thought-provoking conversations, follow other Independent readers and see their replies