Spanish train crash: Driver facing 80 homicide charges, but rail bosses cleared
Francisco José Garzón Amo was on his mobile phone just before the crash in July 2013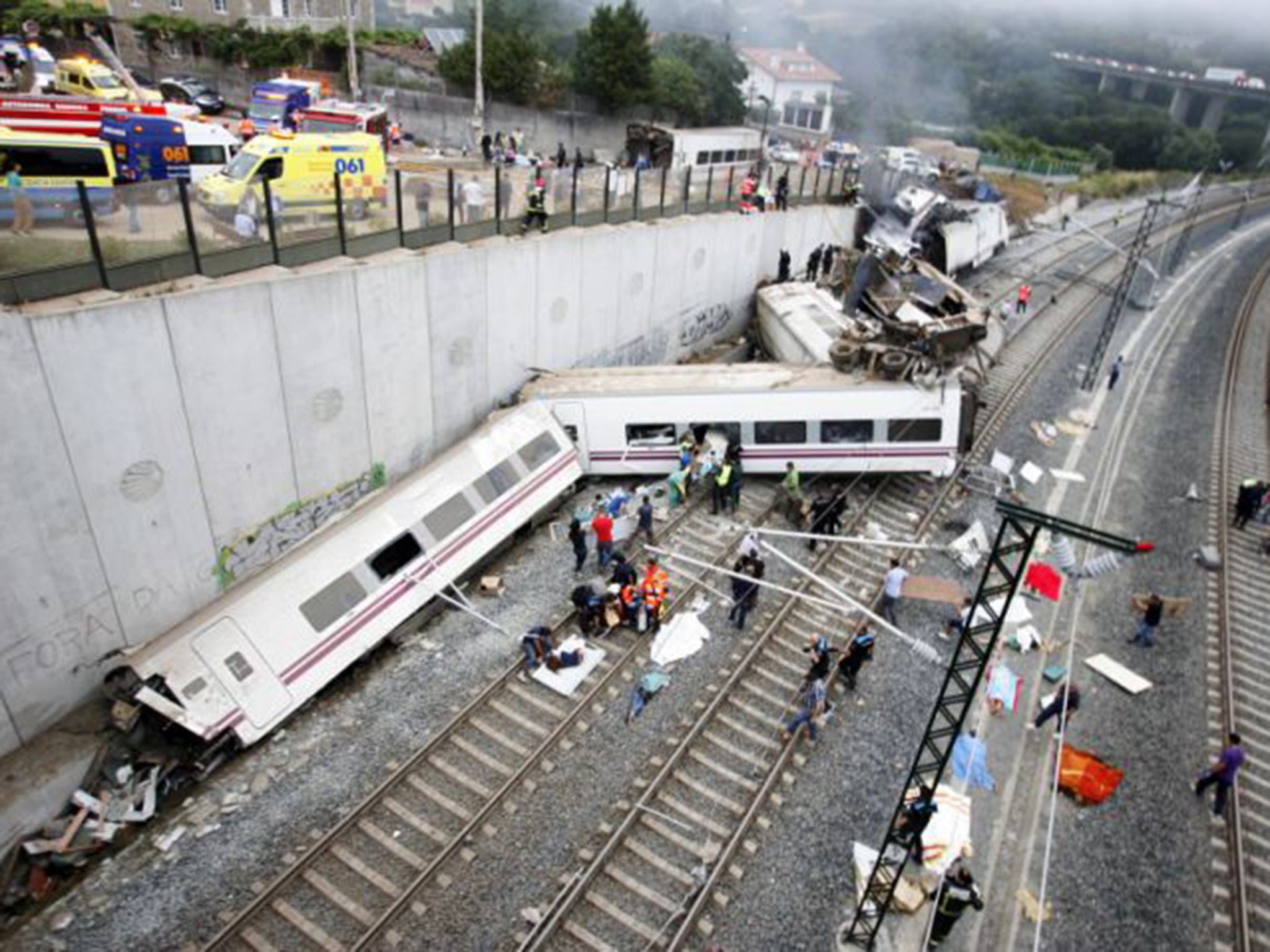 The driver of a train that crashed in northern Spain two years ago, killing 80 people, is set to be the only person to face criminal charges over the accident, prosecutors have announced.
Francisco José Garzón Amo was on his mobile phone just before the crash in July 2013, as the high-speed train left the track on a sharp bend at 110mph– twice the speed limit for that section of the route, less than three miles from Santiago de Compostela.
Mr Garzón will face 80 charges of causing reckless homicide after a preliminary investigation into Spain's worst rail disaster for 40 years found that excessive speed was the only factor.
Last year he wrote an open letter to the families of the victims and to the injured, begging their forgiveness. He said he had been "destroyed" by the crash.
The investigation found that the state-owned rail infrastructure company, Adif, cannot be held liable for the fact that the track was not fitted with the latest speed-limiting technology. It acknowledged that "safety on the line could have been better", and the decision is likely to infuriate the victims' families, many of whom believe the Adif should at least share responsibility for the accident.
After interviewing several senior executives at the company, all criminal investigations were dropped. "The direct and immediate cause, which decidedly set in motion the unfortunate accident… was excessive speed," the inquiry found.
In the initial aftermath of the crash, in which 144 people were injured, many asked how the train could be allowed to travel so quickly through a well-known tight bend.
The decision of the inquiry could be subject to an appeal by Mr Garzón, and some of the families affected have already indicated their dissatisfaction at the decision that only the driver is responsible. A demonstration is planned for this evening.
Mr Garzón had reportedly previously boasted of the speeds he had reached while driving trains. In a Facebook post a year before the crash in Santiago de Compostela, he apparently shared a picture of a speedometer that showed the train he was then driving travelling at 124mph. "I'm at the limit and I can't go any faster or they will give me a fine," he wrote. His Facebook page has since been blocked.
In another post, he apparently wrote: "What a blast it would be to go parallel with the Guardia Civil [Spanish police] and go past them triggering the radar. Haha what a fine for Renfe [the Spanish trains operator] haha."
Mr Garzón had worked for Renfe for 30 years, and had been a fully qualified train driver for 10 years before the accident.
* High-speed train services throughout Catalonia were suspended for hours On Thursday after thieves stole fibre-optic cable alongside the tracks that officials said was critical for maintaining train safety. Thousands of stranded passengers endured long waits in Barcelona's main railway station.
Join our commenting forum
Join thought-provoking conversations, follow other Independent readers and see their replies