Spanish village happy to be left feeling blue by Smurfs
Residents in Juzcar vote to keep paint job after tourist boom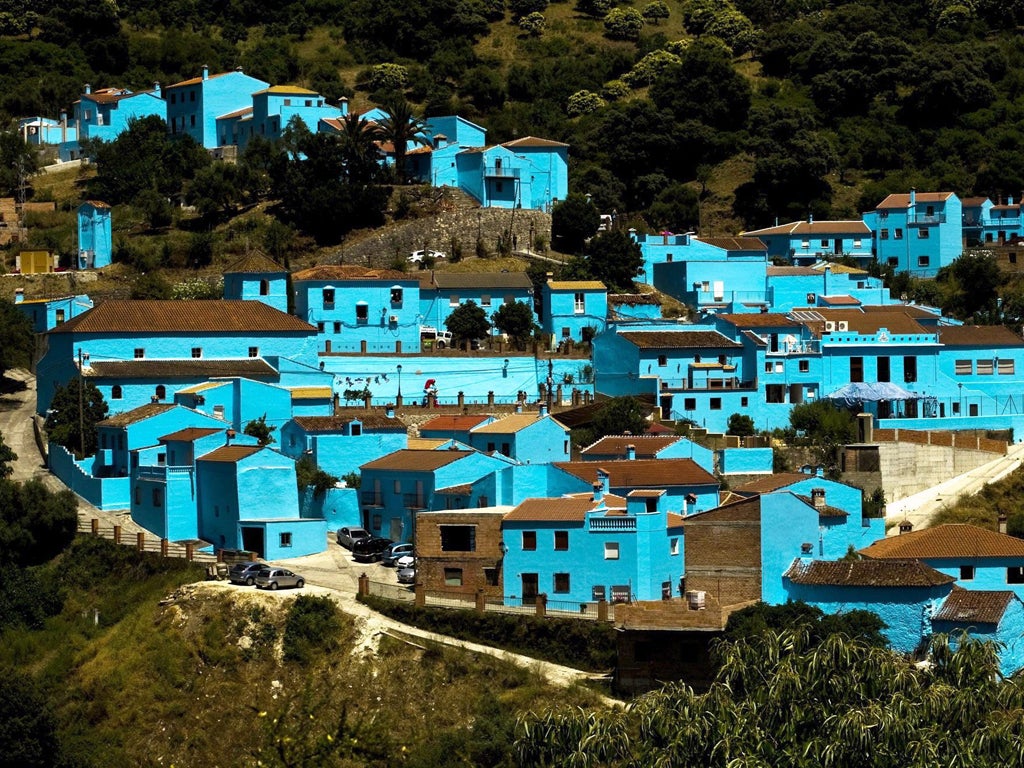 It was meant to be a short-lived publicity stunt for a film that became a box-office smash despite withering reviews. But for the 221 inhabitants of Juzcar in southern Spain, The Smurfs in 3D has brought them an unexpected lifeline in tough economic times – and yesterday they voted overwhelmingly to keep it.
The tiny pueblo of white-washed buildings near Malaga in Andalucía was selected by the filmmakers this summer to be painted entirely in that unique hue, Smurf blue.
While Sony had promised to return the village to its former glory after filming and publicity, the residents have found that being blue is not so bad at all, and yesterday in a referendum voted 141 in favour and just 33 against to remain the world's only Smurf village.
Ever since the pueblo was converted into the set of Smurftown for Sony's hit, it has been cashing in on its new-found celebrity status. Previously, about 300 tourists a year would pass through Juzcar. In the past six months, an estimated 80,000 followers of "Los Pitufos", as the Smurfs are known in Spanish, have made the trek to the remote village high in Malaga's sierras.
The village has eagerly embraced its new role, holding events such as a Smurf moonlight fun run, Smurf painting competitions and permanently running Smurf trade fairs. There are even Smurf-themed weddings to keep fans of the squeaky little blue folk coming.
However, the biggest draw for Smurfophiles is surely Juzcar's 175 buildings, uniformly repainted light blue from traditional white for the filming. Even the church and gravestones were transformed, with 4,000 litres of blue paint applied to one of Spain's famous 1,500 "pueblos blancos".
The Juzcar mayor, David Fernandez, reported that yesterday's referendum ran off "smoothly but with a great deal of excitement" and that many villagers had dressed up as Smurfs for the ballot count, held in a packed town hall sideroom.
Personally "delighted" at the large vote in favour of "staying blue", Mr Fernandez had earlier written a lengthy pro-Smurf column on the town's website. "Our blue friends are ecologists and enthusiastic mycologists [toadstool and fungus fans], just like us," he said.
Indeed, Juzcar – where fungi flourish in large quantities each autumn in dense local woodland – celebrated its fifth annual mycology congress this September, although in a nod to the village's latest residents, the publicity flyer came with a Smurf peeking out behind a prize specimen of a red and white Amanita muscaria tyndrum toadstool.
"I would charge a euro a shot for visitors, and keep it going," one Juzcar blogger called Monica wrote yesterday. "With 80,000 visitors, how much money we would get?"
Join our commenting forum
Join thought-provoking conversations, follow other Independent readers and see their replies