Spanish woman fined €800 for taking picture of police car in disabled parking space
She wrote: 'Park where you bloody well please and you won't even be fined'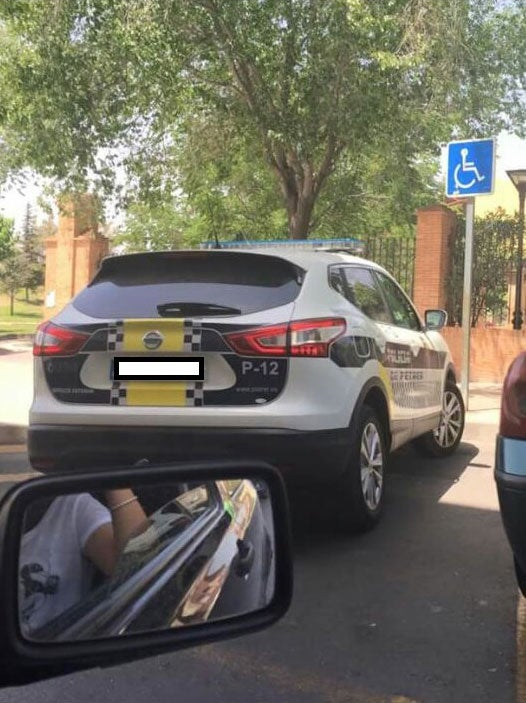 A Spanish woman has been fined €800 for posting a picture of a police car parked in a disabled parking space on social media, making her the latest individual to fall foul of the country's new contentious "gagging law".
The woman, who lives in Petrer in Alicante, south-east Spain, posted the picture on Facebook with the caption: "Park where you bloody well please and you won't even be fined."
Forty-eight hours after posting the picture police had found the woman and issued her with the fine, according to the Local.
The Citizens Security Law, also known as the "gagging law", was implemented on 1 July and forbids the "unauthorised use of images of police officers that might jeopardise their or their family's safety or that of protected facilities or police operations".
Fernando Portillo, a spokesman for the local police, defended the polices' actions saying that the officers were parked in the disabled bay so that they could quickly attend an incident of vandalism near-by, adding that in an emergency police are allowed to park where they can.
Responding to queries about how the post had jeopardised the police, Portillo told Spanish news site Petreraldia, that the officers felt that the woman had impugned their honour by posting the picture.
"We would have preferred a different solution but they have the legal right to impose the fine," said Portillo.
This is not the first case of an individual facing fines in Spain over content they have published on Facebook.
A 27-year-old man from Tenerife was fined last month under the gagging law after calling his local police force a "class of slackers" and criticising the amount money spent on police facilities in a series of Facebook posts.
The man made the comments on 22 July and received a visit from police that afternoon accusing him of "making comments on social media that showed a lack of respect and consideration for Güímar's local police". He now faces a fine of between €100 and €600.
The Citizen Safety Law, which sets fines of up to €600,000 for protestors who convene outside government buildings, has prompted a host of demonstrations in over 30 Spanish cities since it was passed.
These include the world's first ever virtual political demonstration in which thousands of human holograms marched outside the Spanish parliament in Madrid arguing that holographic people are given greater freedoms that those in real life.
Join our commenting forum
Join thought-provoking conversations, follow other Independent readers and see their replies