Nato accuses Sputnik News of distributing misinformation as part of 'Kremlin propaganda machine'
Outlet stands accused of reporting 'fake news' on refugee crisis and other contentious issues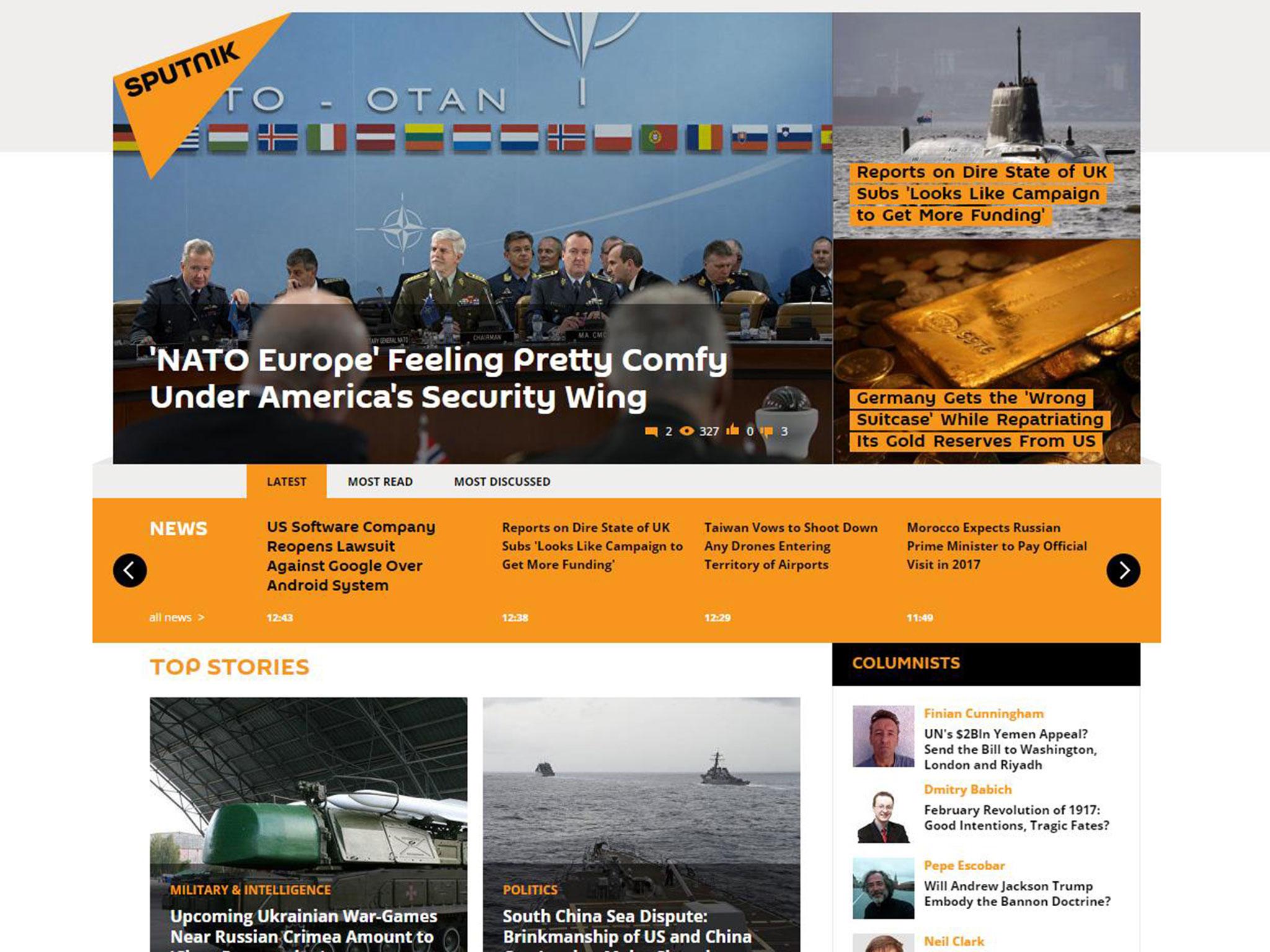 Nato has accused Sputnik News of being part of a "Kremlin propaganda machine" distributing biased articles and "misinformation" to influence political opinion around the world.
Oana Lungescu, the military alliance's spokesperson, said the website was exploiting news coverage for "political and military needs".
"It is a way, not to convince people, but to confuse them, not to provide an alternative viewpoint, but to divide public opinions and to ultimately undermine our ability to understand what is going on and therefore take decisions if decisions need to be made," she told the BBC.
DNI Chief describes current Russian cyber threat
Her claims came after a speech by Michael Fallon at St Andrews University earlier this month, where he called for "Nato and the West to do more to tackle the false reality promoted through Soviet-style misinformation".
"A lie can travel half way around the world while the truth is putting its boots on," the Defence Secretary added. "We need to call out messengers like RT and Sputnik."
The website and the Russian embassy in London denied the allegations, which come amid increasing tensions between Nato and the Kremlin over the Ukrainian and Syrian wars and military exercises across Europe.
Sputnik, which publishes online stories as well as podcasts, radio shows and videos, was established in 2014 by the Russian state-owned and operated news agency Rossiya Segodnya, which was itself created by an executive order by Vladimir Putin.
It produces editions in more than 30 languages, including Arabic and Chinese, and has international offices in London, Edinburgh, Washington, Cairo and Beijing.
"Telling the untold" is Sputnik's motto, but critics have accused it of spreading warped and false coverage on issues including the refugee crisis and Syrian civil war.
The website helped spread malicious social media posts falsely accusing Angela Merkel of appearing in a selfie with an Isis militant last year, with a headline asking: "Did Merkel take a selfie with Brussels attack suspect?"
The suspect was later named as Mohamed Abrini, while the innocent man in the picture – a Syrian refugee called Anas Modamani - is now suing Facebook for failing to take down defamatory "fake news" posts accusing him of terrorism and attempted murder.
Sputnik also spread false claims that a 13-year-old Russian girl had been gang raped by asylum seekers in Berlin, sparking a diplomatic row and waves of far-right protests in Germany.
Russian media reported that she had been imprisoned for 30 hours and raped by migrants, quoting relatives' claims of a "cover-up" by German authorities.
But police disproved the allegations, saying "Lisa" had absconded from school to visit her 19-year-old boyfriend and admitted lying to her family when she returned home.
Sergei Lavrov, the Russian foreign minister, accused Germany of "covering up the reality for some domestic politically-correct reason", causing his counterpart Frank-Walter Steinmeier to hit Russia for exploiting the case for "political propaganda".
In an article for Nato's Review magazine, Stefan Meister from the German Council on Foreign Relations said the saga exposed "links between Russian domestic and foreign media campaigns against Germany and Russian politics at the highest level".
His article named Sputnik, Russia Today and other state-owned media as one of "three areas of Russian influence" in Germany.
Debunked myths and fake news stories
Show all 25
But references to the Sputnik's links to the Russian government are hard to find on its website.
Sputnik's official Twitter account describes it as "is a global wire, radio and digital news service", while its website omits to mention its owner Rossiya Segodnya or predecessor RIA Novosti.
The "about us" section describes it as a "major new media brand" launched in 2014, which is supposedly "uniquely positioned as a provider of alternative news content".
Sputnik is capitalising on growing anti "mainstream media" sentiment, pushing divisive issues like Brexit, the refugee crisis and the Syrian civil war to the fore.
Its Twitter banner is stamped with the claim "not recommended by the European Parliament".
Its pro-Russian stance was evident on Saturday morning's homepage, which displayed reports critical of Nato alongside others calling Ukrainian military exercises near "Russian Crimea" a provocation, and reporting Russia's delivery of aid in former rebel strongholds in Syria.
Russia's annexation of the Crimean Peninsula at the start of the Ukrainian war in 2014 is considered illegal under international law, while its military stands accused of indiscriminately killing civilians and committing war crimes while backing Syrian President Bashar al-Assad.
Sputnik's stories are also generally pro-Donald Trump, who has refuted allegations of Russia interference in the US election and repeatedly praised Mr Putin while pledging to improve ties with Russia.
A poll on its site asks readers for their opinion on a recent phone call between the two world leaders. Out of three offered answers, there is no negative choice.
The coverage of Mr Putin and his government is also uncritical, with a gushing comment piece calling the Russian President "as relevant as ever" on Friday.
Sputnik has not yet responded to The Independent's request for comment but its UK editor, Nikolai Gorshkov, strongly denied Nato's claims in an interview with the BBC.
"It's extremely unfair but we've been on the receiving end of other similar accusations in the past, without any substantive evidence being provided," he said, claiming the Western establishment sees Sputnik as a "threat to their view of the world".
"We prefer to leave those inclined towards this kind of conspiratorial thinking to it."
The Russian embassy also denied the allegations, claiming Russian media was being "hounded" in Britain.
"Sputnik, like the taxpayer-funded BBC, is independent and has its own editorial policy," a spokesperson said.
"In our view, the claims of perceived 'Russian misinformation campaign to undermine the West' are a way to avoid an open and reasoned debate of the issues raised in British and American societies. Obviously, sticking labels of 'fake news' and 'misinformation' testifies to the lack of positive agenda. By the way, that is why our bilateral relationships suffer."
Join our commenting forum
Join thought-provoking conversations, follow other Independent readers and see their replies