St Petersburg explosions: Witnesses describe 'bleeding, burning' victims of metro blasts
Early figures say as many as 10 people have died and dozens more injured
Rachael Revesz
Monday 03 April 2017 13:48 Comments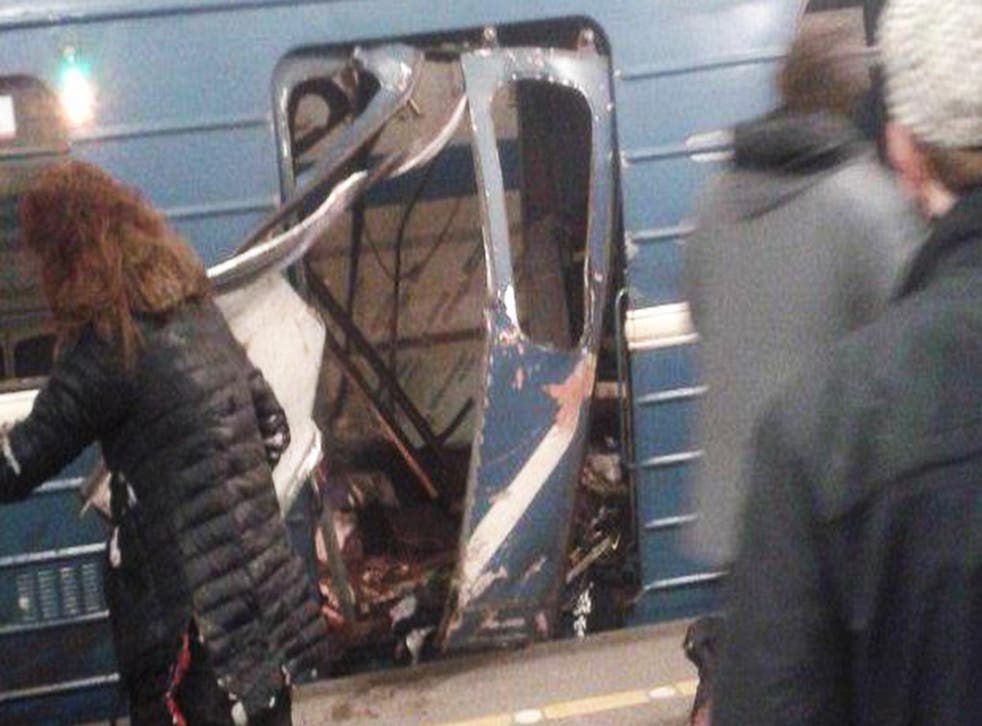 Witnesses have described the horrific injuries suffered by victims who were caught up in an explosion in the city of St Petersburg.
Two explosion hit between the Institute of Technology metro station and another nearby station, Sennaya Ploshchad, around 2.30pm, killing at least 10 people and injuring 50 more, including several children.
Photos, which quickly circulated online, captured victims of the blast, covered in blood, bending over fellow passengers lying on the platform, some of whom appeared to have died.
An eyewitness said that when smoke started pouring out of the carriages, people began to flee in panic.
"People were bleeding, their hair burned," one man told Russian channel Life News, translated into English.
"Smoke poured out of the carriages. We were told to move to the exit, because the movement stopped. People just fled. My girlfriend was in the next car that exploded.
"She said that he began to shake. When she came out, she saw that people were mutilated."
The bomb had exploded in the central carriage of the blue line train in the city. Fellow travellers rushed back to the broken windows of the carriage to help others escape.
Multiple ambulances arrived on the scene and travellers headed to ground level, huddling in groups and telephoning friends and family.
All subway stations have been closed down in the city and the bomb sites cordoned off.
Governor Georgy Poltavchenkso said an investigation had been launched.
Russian leader Vladimir Putin was in the city today, but it is not clear if he was anywhere near the explosions. His spokesman said Mr Putin was aware of the incident.
Moscow Metro said it would help St Petersburg Metro in any way that was needed and it was "very concerned" about the bombs.
Register for free to continue reading
Registration is a free and easy way to support our truly independent journalism
By registering, you will also enjoy limited access to Premium articles, exclusive newsletters, commenting, and virtual events with our leading journalists
Already have an account? sign in
Join our new commenting forum
Join thought-provoking conversations, follow other Independent readers and see their replies