Somali knife attacker kills three, injures 'several' in German town of Wuerzburg
Bystanders cornered the Somali suspect using cafe chairs until he was shot by police
Alastair Jamieson
,
Lizzie Dearden
Friday 25 June 2021 21:18 Comments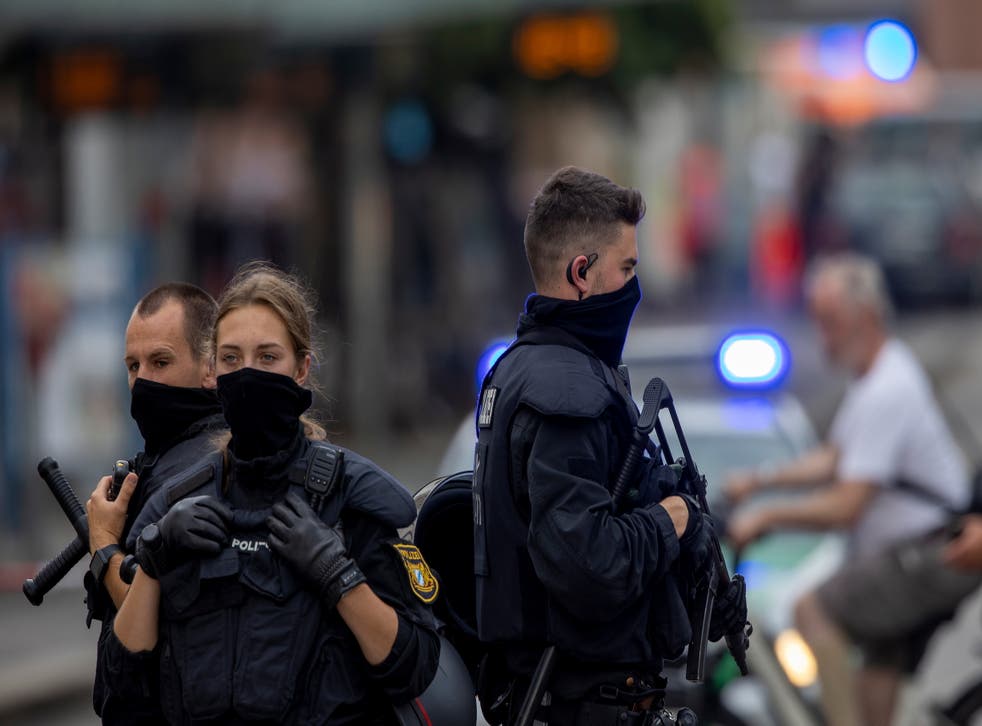 Three people were killed and several wounded in a knife attack in the centre of the German town of Wuerzburg on Friday, according to police who overpowered and arrested the suspected attacker, a 24-year-old Somali man.
Videos posted on social media showed the suspect holding a knife being cornered by witnesses armed with cafe chairs.
They said there was no indication that there were any other attackers, and that the situation was under control.
Bavaria's top security official Joachim Herrmann said the injured include a young boy, whose father was probably among the dead.
He said the suspect was in psychiatric treatment before the attack and had been known to police.
Julia Runze, who said she had witnessed the attack, told RTL: "He had a really big knife with him and was attacking people. And then many people tried to throw chairs or umbrellas or cellphones at him and stop him.
"The police then approached him and I think a shot was fired, you could hear that clearly."
"Three people were killed," Lower Franconia police wrote on Twitter. "Others were injured, some seriously. The man, who lives in Wuerzburg, was hit with a police bullet, but his life is not in danger."
Wuerzburg, which is south-east of Frankfurt. was the scene of an Isis-inspired terror attack in July 2016 in which a teenager attacked train passengers with an axe to avenge the killing of a friend in Afghanistan. The 17-year-old refugee was shot dead by police as he fled.
Register for free to continue reading
Registration is a free and easy way to support our truly independent journalism
By registering, you will also enjoy limited access to Premium articles, exclusive newsletters, commenting, and virtual events with our leading journalists
Already have an account? sign in
Join our new commenting forum
Join thought-provoking conversations, follow other Independent readers and see their replies