Russians take to streets in their thousands to mark 75 years since Battle of Stalingrad
Commemorations on anniversary of famous Soviet victory express national pride amid resentment for Winter Olympics ban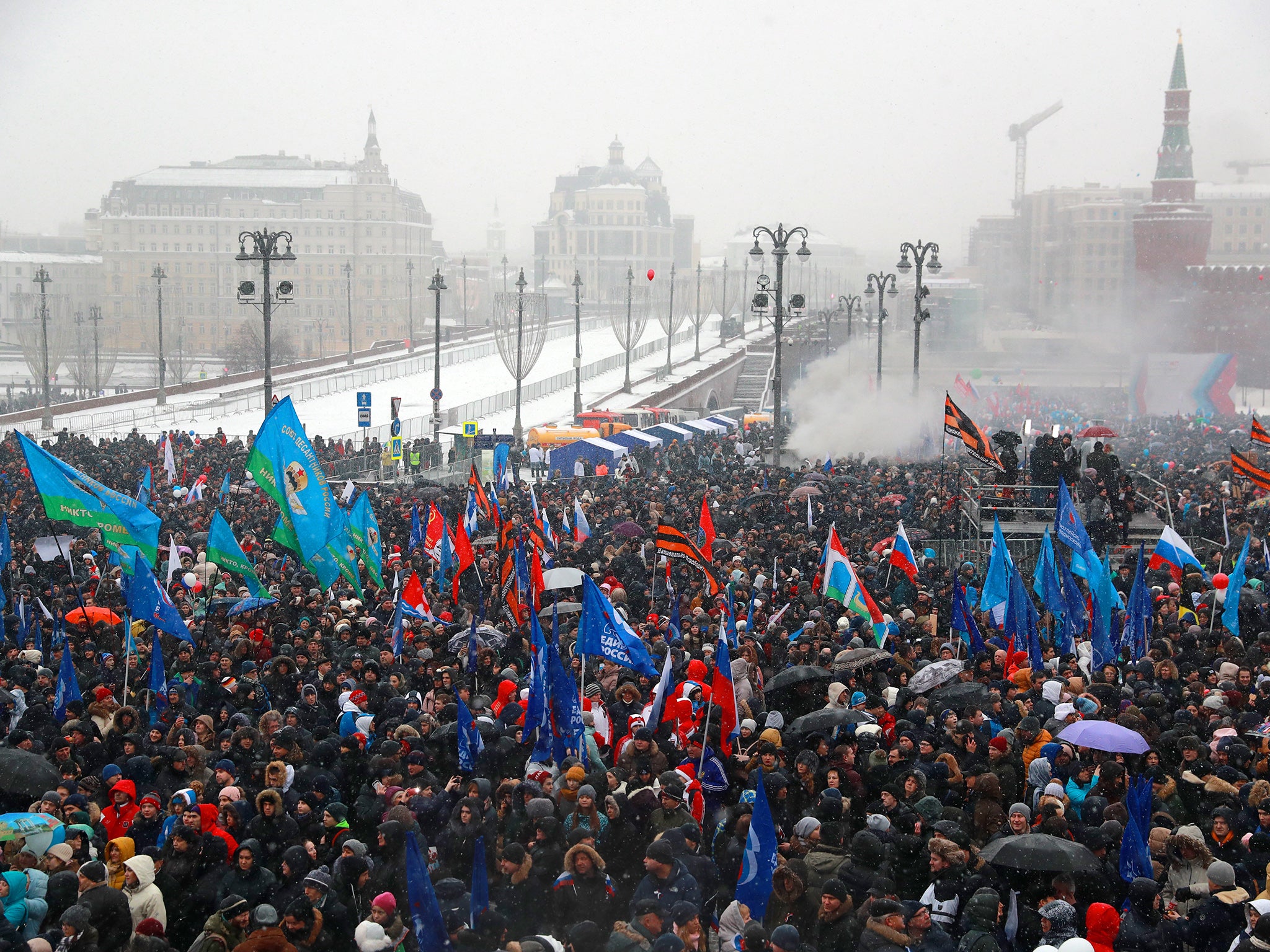 Tens of thousands of Russians have gathered across the country this week on the 75th anniversary of the Battle of Stalingrad.
Rallies organised by the government-initiated Civic Chamber were organised to mark the defeat of Nazi forces in the city, now called Volgograd, on 2 February 1943, a key turning point in the Second World War.
Police said 60,000 people attended a rally on Saturday at Moscow's Vasilyevsky Spusk, an area adjacent to the Red Square. Similar gatherings were held in other cities.
Vladimir Putin attended a rally in Volgorad on Friday, lauding the Red Army's victory as a shining example of Russia's perseverance amid adversity.
The events were also staged on the anniversary of the military victory in a bid to express patriotic unity and support for Russian athletes ahead of the upcoming Winter Olympics.
Demonstrations came amid criticism that Russian athletes were required to compete in neutral uniforms in the Pyeongchang games after doping scandals.
Some participants in the Moscow rally held signs reading: "Athletes without a flag – athletes without a motherland."
What happened at Stalingrad?
German forces had advanced across southern Russia throughout the summer of 1942 until they reached the outskirts of the city in late August.
By September, fighting had moved inside the city and Soviet reinforcements bedded down in the city and the battle was fought in close quarters in streets, factories and houses.
Both sides often captured locations while sustaining heavy casualties, only to lose the site again a matter of hours later.
By the end of 1942, the German Sixth Army was surrounded, but Hitler said Nazi forces would never leave the city, instead flying supplies in to troops until reinforcements could be assembled.
However, the Red Army wore down the Nazi resistance over the space of more than a month, until the remaining 91,000 Axis troops surrendered on 2 February 1943.
Why is Stalingrad so important?
Stalingrad is seen as the single bloodiest battle in the history of warfare, with somewhere between 1.7 million and 2.2 million people killed in little more than five months of fighting.
The battle is not only considered the biggest defeat in the entire history of the German army, but also as a turning point on the Eastern Front and the entire Second World War.
Although the battle saw Germany's Sixth Army wiped out and many of its allies' forces severely depleted, the symbolism of Stalingrad proved just as important.
Defeat had shattered German morale and Hitler began to believe he was fighting a defensive war, whereas victory had given the Soviets a new confidence the war could be won.
Many came to believe it was now only a matter of time before Germany was defeated and Allied forces went on to secure several key victories in 1943 to gain the upper hand in the war.
Join our commenting forum
Join thought-provoking conversations, follow other Independent readers and see their replies