Surge in far-right support in Sweden splits vote and pushes left wing towards power
Even with the support of the smaller Green and Left parties, the Social Democrats' bloc would have only 158 seats in parliament, 17 short of a majority
Karl Ritter
Monday 15 September 2014 18:08 Comments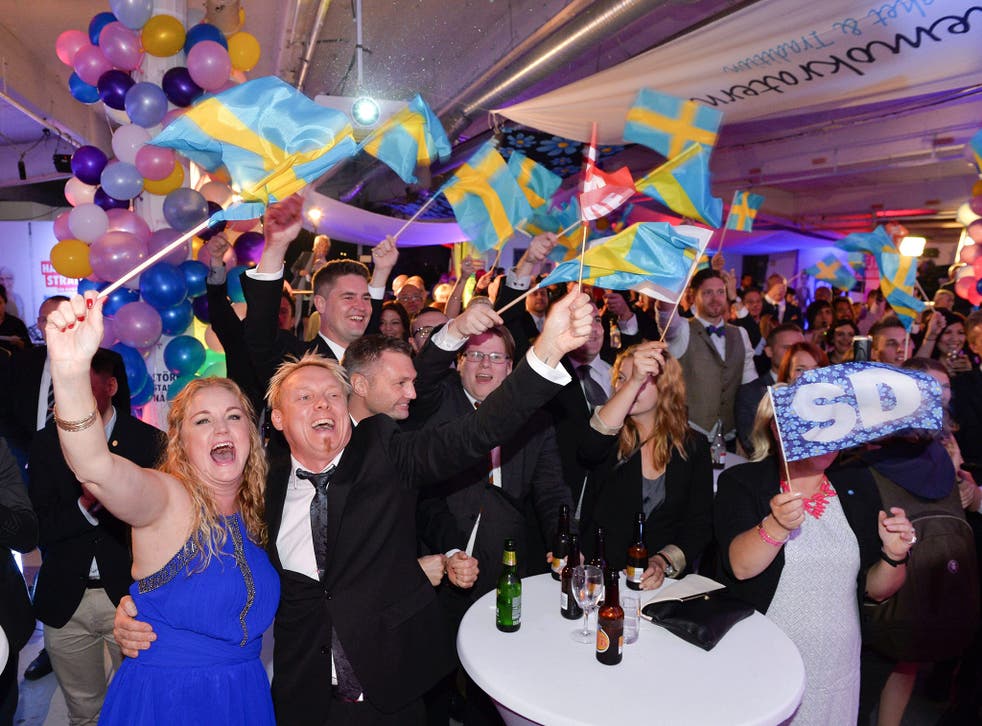 A Swedish far-right party demanding sharp cuts in immigration has more than doubled its support in a parliamentary election.
Ironically, the surge for the far-right Sweden Democrats means the country's government itself is poised to shift to the left, since many of the Sweden Democrats' new voters defected from the Prime Minister Fredrik Reinfeldt's centre-right coalition. That left Stefan Lofven's Social Democratic Party and its smaller partners on top after Sunday's election.
Mr Reinfeldt's four-party coalition, the Alliance, is out after eight years of tax cuts and pro-market policies that critics say have eroded Sweden's welfare system. The Prime Minister was expected to announce today that he will resign next Monday. The Alliance lost 31 seats in the 349-member parliament, paving the way for the left-leaning Social Democrats to start coalition talks on forming a new government.
Even with the support of the smaller Green and Left parties, the Social Democrats' bloc would have only 158 seats in parliament, 17 short of a majority. It's also unclear whether Mr Lofven can get any support from the centre-right parties.
Born out of a radical nationalist movement with neo-Nazi links, the Sweden Democrats have softened their rhetoric and expelled openly racist members. On Sunday, they surged from 20 seats to 49 to become the third-biggest party in Sweden's parliament. The Brussels-based European Jewish Congress called the vote a "wake-up call for Sweden and the rest of Europe".
This year, Sweden expects to accept up to 80,000 asylum seekers from Syria, Eritrea, Iraq and Afghanistan, among others. Relative to Sweden's population, that's the biggest flow in the European Union.
Surveys show about 40 per cent of Swedes want less immigration. Yet before the Sweden Democrats, no party in parliament wanted to tighten the rules. The other parties see it as their moral duty to keep wealthy Sweden's borders open to refugees fleeing war and poverty – and are likely to reach agreements across the political divide to keep the Sweden Democrats from having any influence on immigration.
It looks like Mr Lofven will be in charge of a weak left-leaning minority government that's going to struggle to push its agenda through parliament.
Mr Lofven won't reverse Mr Reinfeldt's most popular reforms, such as tax cuts for middle-income earners. The Social Democrats want to raise taxes only for people making more than £60,000 a year. But he has vowed to remove the tax breaks that made it cheaper for companies to hire young employees.
No dramatic shift in foreign policy is expected. Sweden, a member of the EU, will remain outside Nato and keep its krona instead of using the euro.
AP
Register for free to continue reading
Registration is a free and easy way to support our truly independent journalism
By registering, you will also enjoy limited access to Premium articles, exclusive newsletters, commenting, and virtual events with our leading journalists
Already have an account? sign in
Join our new commenting forum
Join thought-provoking conversations, follow other Independent readers and see their replies