Sven Sachsalber, the artist literally looking for a needle in a haystack
Earnest Italian called Sven explores futility in Parisian gallery, but is loath to talk about it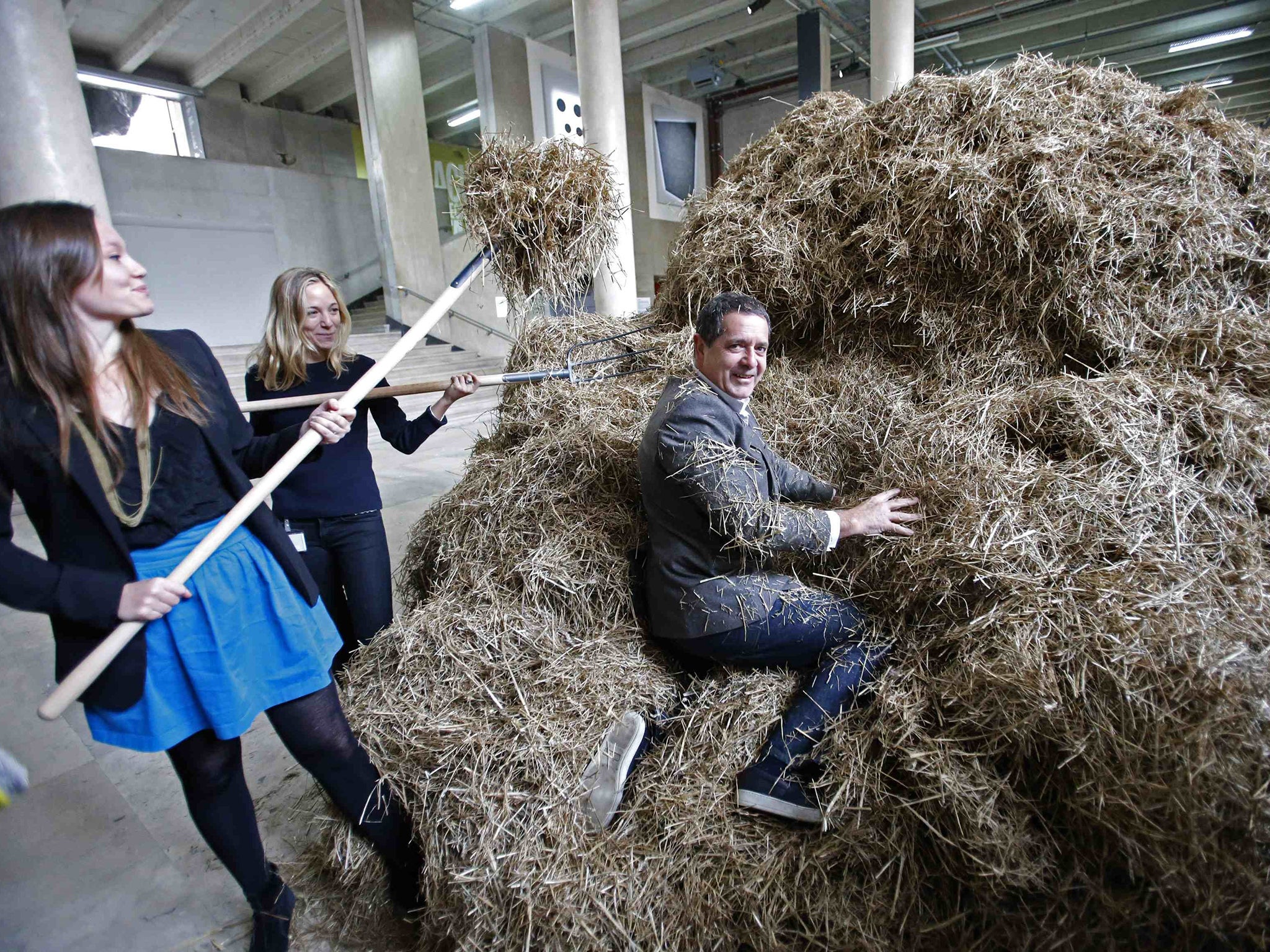 Take a solemn Italian artist called Sven, a haystack and a needle. Place them all in a room in a Paris art gallery.
The result, according to the artist, is an exercise in literalism – turning an everyday expression for futility or tedium into art.
Sven Sachsalber, 27, spent 12 hours yesterday, and will spend another 12 hours today, looking for a needle in a haystack. His performance will end if he finds the needle.
The Independent spoke to Mr Sachsalber as he, unsmilingly and with a look of cosmic boredom, sifted hay from a large pile into a smaller pile. "Where does all the hay come from?" he was asked.
"Erm, I don't know," Mr Sachsalber said. "The museum got it from somewhere."
"Why is this art?" your correspondent asked.
"Erm, because I'm taking an everyday expression and enacting it… my art is about ordinary things… look, please I don't want to be rude, but I don't like to talk when I'm working."
Sven Sachsalber: Looking for a needle in a haystack
Show all 5
All questions, he said, could be answered by his "gallerist" – the Dutch gallery owner who promotes his work. Luckily, she happened to be one of the few other people in the room at the Palais de Tokyo, just across the Seine from the Eiffel Tower. I had many searching questions for Rianne Groen. How much is Sven paid to do this? Where did the hay come from? Why is this art? And how does an Italian artist come to be called Sven?
Ms Groen answered all these questions. "He is being paid no fee at all, just his airfare from New York, where he lives; the hay came from a sheep farmer just outside Paris. The farmer was very sweet. He said that he would have liked to stay and watch but he had to go back to his sheep. Sven is Italian but he comes from the Italian Tyrol, which used to be part of Austria and is German-speaking. That is why he has a German name.
"He used to be a champion skier but he was injured and became an artist instead. Sven's art is about taking the literal and pushing it to an extreme. There is a sporting side to what he does. It is partly about endurance. But he is often very funny."
Sven was moving hay from the big pile into the small pile. He was still not smiling. Maybe that was the joke.
Sven Sachsalber is also a sculptor and a photographer. Previous events have included spending a day in a room with a cow and sawing all the branches off a tree, including the branch that he was sitting on. He also ate poisonous mushrooms and lived.
There was a small crowd for the start of Sven's performance. Museum director Jean de Loisy placed a small needle in the haystack while Sven looked away. Soon afterwards, there were only one or two spectators left.
"This is fantastic," said Mireille, 55. "But what if he finds the needle today? People might come especially tomorrow and be disappointed."
As of tonight, Sven had still not found the needle.
Join our commenting forum
Join thought-provoking conversations, follow other Independent readers and see their replies