Outrage after far-right Swedish MP goes to Greece and gives refugees leaflets saying: 'We're full – don't come!'
'We are part of this country whether you like it or not,' says an Iranian refugee in response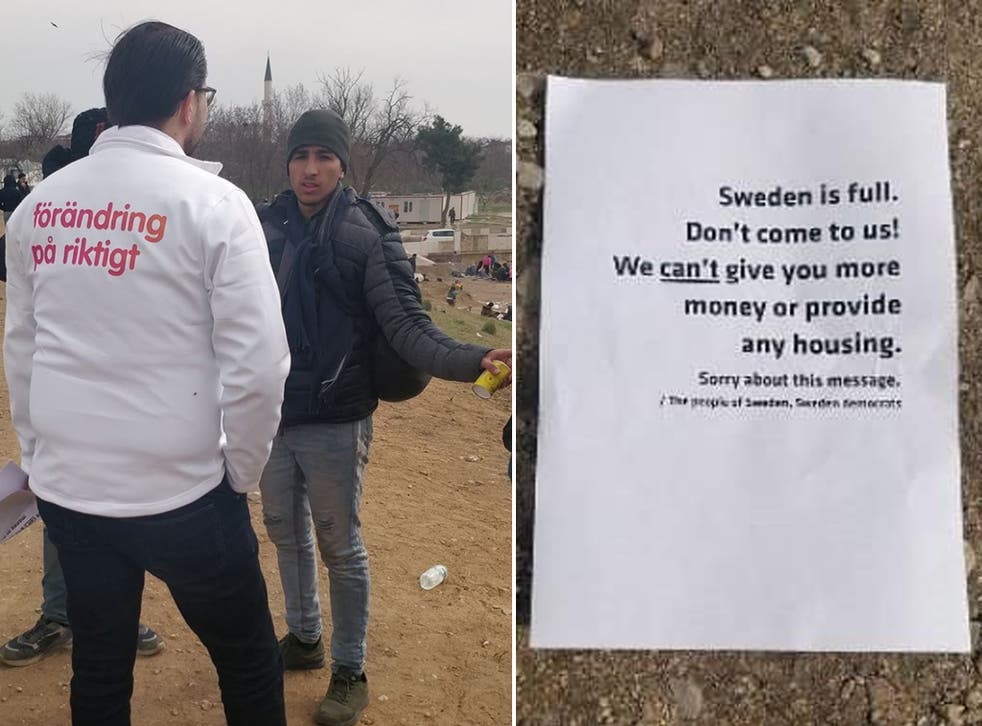 "Sweden is full. Don't come to us! We can't give you more money or provide any housing."
This was the message emblazoned in English on leaflets handed out by Swedish far-right leader Jimmie Åkesson to desperate migrants in the Turkish town of Edirne, close to the borders with Greece and Bulgaria earlier this week.
It was widely condemned as a publicity stunt and has enraged many in the country.
"We are experiencing a very serious situation that requires a serious response, former refugee and Liberal party leader Nyamako Sabuni, told the Independent.
"[This] isn't the leadership that Sweden or migrants need. It's just lazy populism."
Turkey announced last week that it will no longer adhere to the agreement with the EU to prevent refugees and migrants from entering Europe. Thousands of people have gathered at the Greek-Turkish border in recent days, and Greece has pledged not to allow people into the EU.
The flyer said it was signed by "The Swedish People and the Sweden Democrats", which prompted lawyer Behrang Eslami to report Åkesson to the police for "inciting hate".
"I am also part of the Swedish people and Åkesson does not represent me," said Eslami.
"To go out and try to persuade people, who are fleeing for their lives and in need, not to go to Europe, it is in principle wrong and it violates human rights".
A similar campaign was carried out by the Swedish Democrats in the fall of 2015 when mainly youth leaders went to the Greek Island of Lesbos and distributed similar leaflets. This is the first time, however, that a party leader has done so. On his twitter account, Åkesson justified the trip writing: "We all remember the migration chaos of 2015 and we have to do everything we can to make sure it never ever happens again."
In 2015 there was a huge uptick in the number of migrants and refugees trying to reach Europe from across the Mediterranean sea or overland via eastern Europe.
But people who came to Sweden as refugees are not staying silent over the incident.
Atoosa Farahmand, an Iranian refugee, launched a Facebook campaign #Iam2015 in response, in which hundreds of refugees have shared their stories.
"They say 2015 must never happen again. I would like to say I am part of 2015 with many others, and we are part of this country whether you like it or not," she said.
According to a recent survey, the right-wing Conservative bloc, which includes Åkesson's and Kristersson's parties along with the Christian Democrats, would get close to 50 per cent of the vote in an election. This means that Jimmie Åkesson could potentially become prime minister in future Swedish elections.
"I'm upset and stressed by this but also am not surprised," said Foujan Rouzbeh, a veteran activist working in migrant and refugee rights.
"This has been a long time coming and I think it will only get worse, anyone acting surprised has been living in a bubble of Sweden being this innocent exception in Europe, it isn't."
Henrik Gustafsson, press officer for the Sweden Democrats, is convinced the legal challenge "will go nowhere".
Åkesson joined the party back mid-1990's when it did not conceal its roots in the Neo-Nazi movement "Bevara Sverige Svenskt" ("Keep Sweden Swedish") – the logo back then was a brashly nationalist flaming torch in the colours of the Swedish flag. But, after taking the helm of the party in 2005, Åkesson steered the party away from its violent past and remade it in his own well-coiffed, preppy image.
It now espouses a doctrine of cultural nationalism, saying it welcomes foreigners who learn Swedish and accept the culture.
The Sweden Democrats have already shifted the country's political rhetoric. Where formerly compassion and kindness were at the heart of the conversation, now Migration Minister Morgan Johansson of the ruling Social Democrat party boasts that: "Sweden now has one of the most stringent refugee laws in the entire EU and therefore no longer functions as a magnet for refugees. It is difficult for them to get here at all now."
"Ten years ago, questioning the right to seek asylum wouldn't have been possible by the second biggest party in Sweden – the new normal is deeply alarming," said Alice Bah Kuhnke former Swedish Minister of Culture and Democracy. "I feel sadness and shame that a Swedish politician is so desperate for attention that he goes hundreds of miles to humiliate desperate people who have fled for their lives."
Join our new commenting forum
Join thought-provoking conversations, follow other Independent readers and see their replies