Sweden will apply to join Nato in historic shift – but Putin warns of 'response'
Nato membership would end more than 200 years of military non-alignment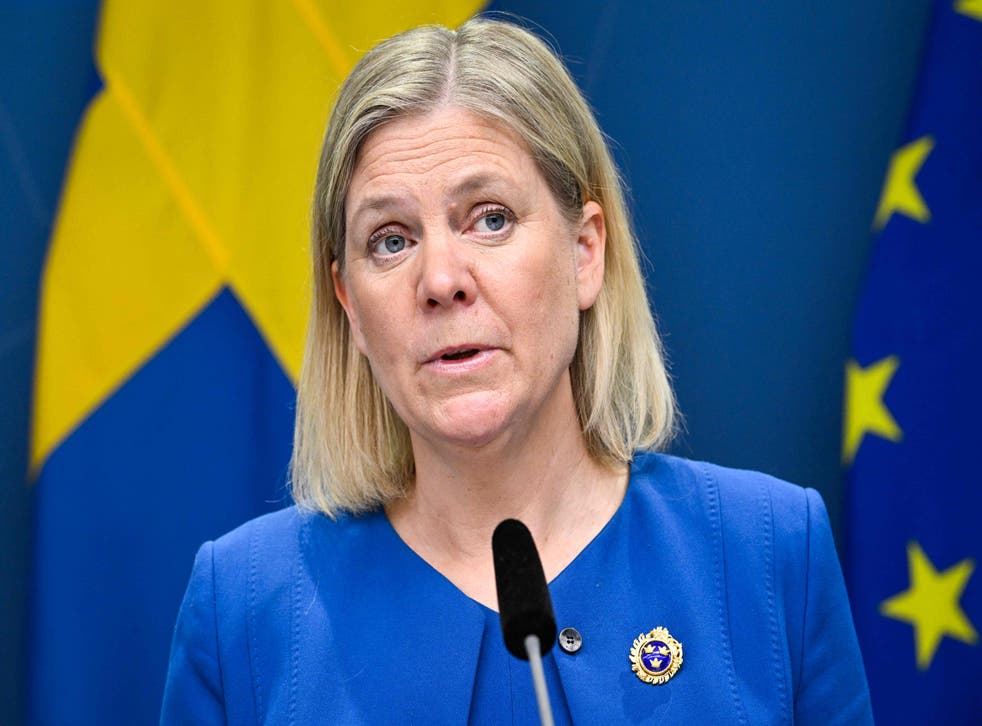 Leer en Español
Sweden is following Finland in seeking Nato membership following Russia's invasion of Ukraine, in a historic shift that could end more than 200 years of military non-alignment.
Prime minister Magdalena Andersson said she expected the application process to take no more than a year.
"Russia has said that it will take countermeasures if we join Nato," she said. "We cannot rule out that Sweden will be exposed to, for instance, disinformation and attempts to intimidate and divide us."
Her announcement came after a debate in the Swedish parliament that showed huge support for joining Nato. Out of Sweden's eight political parties, only two smaller left-leaning parties opposed it.
Opposition leader Ulf Kristersson said: "The Russian leadership thought they could bully Ukraine, and deny them and other countries self-determination. They thought they could scare Sweden and Finland and drive a wedge between us and our neighbours and allies. They were wrong."
Twenty-four hours earlier, the Swedish Social Democrats broke with the party's long-standing position that Stockholm must remain non-aligned, paving the way for a clear majority for Nato membership in parliament.
The move comes after the neighbouring country of Finland announced that it too would seek to join the 30-country alliance.
Public opinion in both countries was firmly against joining Nato before the Russian invasion of Ukraine on 24 February, but support for membership surged quickly after that.
International reaction to the announcement was swift, with France and Denmark backing Sweden's decision.
Foreign minister Ann Linde wrote on Twitter: "The Swedish government's intent is to apply for NATO membership. A historic day for Sweden. With a broad support from political parties in the parliament, the conclusion is that Sweden will stand stronger together with allies in NATO."
Once a regional military power, Sweden has avoided military alliances since the end of the Napoleonic wars.
Like Finland, it remained neutral throughout the Cold War, but formed closer relations with Nato after the collapse of the Soviet Union in 1991.
After the Russian invasion of Ukraine, the governments in Finland and Sweden responded by swiftly initiating discussions across political parties about Nato membership, and reaching out to the US, Britain, Germany and other Nato countries for support.
The Kremlin, however, has repeatedly warned that the move would have destabilising consequences for security in Europe.
Mr Putin said on Monday that Moscow "does not have a problem" with Sweden or Finland if they apply for Nato membership, but that "the expansion of military infrastructure onto this territory will of course give rise to our reaction in response".
Register for free to continue reading
Registration is a free and easy way to support our truly independent journalism
By registering, you will also enjoy limited access to Premium articles, exclusive newsletters, commenting, and virtual events with our leading journalists
Already have an account? sign in
Register for free to continue reading
Registration is a free and easy way to support our truly independent journalism
By registering, you will also enjoy limited access to Premium articles, exclusive newsletters, commenting, and virtual events with our leading journalists
Already have an account? sign in
Join our new commenting forum
Join thought-provoking conversations, follow other Independent readers and see their replies