Sweden school attack: Killer wearing Darth Vader mask Anton Lundin Pettersson shouted 'I am your father' during sword rampage
The man carried out the attack with 'racist motives' and selected his victims according to their skin colour, police have said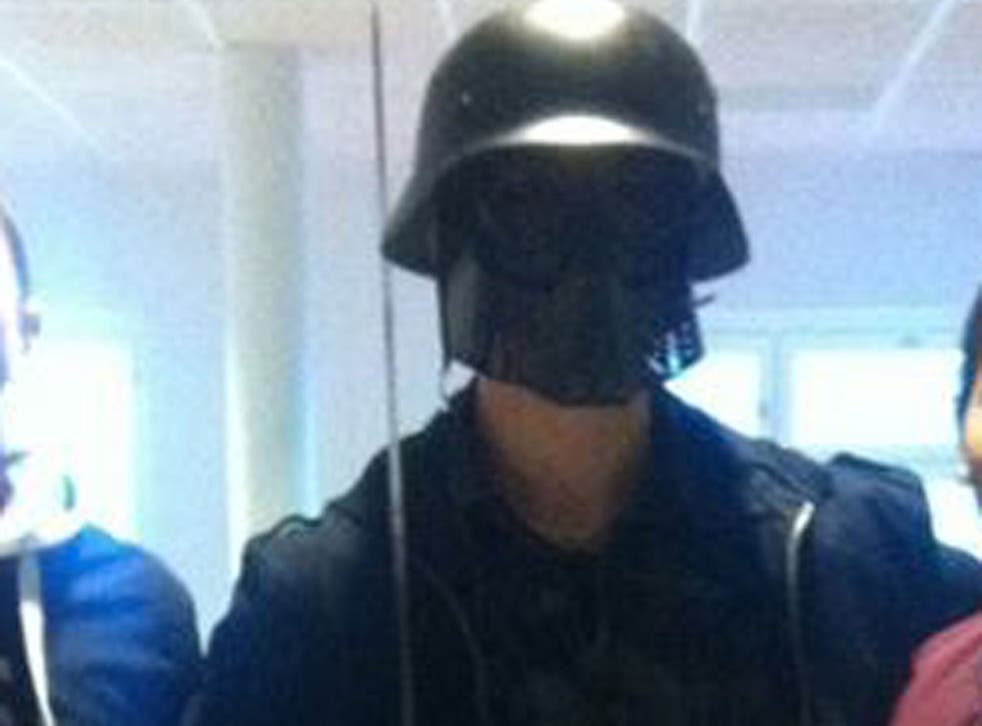 The Swedish school killer shouted 'I am your father' as he commited his sword rampage wearing a Darth Vader mask.
The man, named by Swedish media as 21-year-old Anton Lundin Pettersson, stabbed to death a student and teacher at the Kronan School in Trollhattan on Thursday.
Posing for photographs with students before the stabbings, the killer was dressed as the Star Wars character Darth Vader and carried a large sword. His victims initially assumed his costume was part of an early Halloween prank.
A witness told Swedish newspaper Expressen that he shouted the famous line as he carried out his attack, which, police have said was a hate crime driven by racism.
In pictures: Sweden school attack

Show all 5
Niclas Hallgren told the Swedish public service radio: "We are convinced that the assailant was driven by racist motives when he carried out the act.
"We have reached this conclusion based on what we found when we searched his apartment and his behaviour during the act, and also on the basis of how he selected his victims."
Police said that "all together, this gives a picture that the perpetrator had a racist motive when he committed the crimes at Krona school".
Swedish media reports have suggested that the suspect had far-right tendencies, that he admired Adolf Hitler and Nazi Germany, and was critical of Islam and immigration.
Investigator Thord Haraldsson said surveillance videos showed how "he selects his victims. And those with dark skin were attacked. The victims were dark skinned".
He said evidence appeared to show that the attacker acted alone and that police found a "kind of suicide note" in his apartment after the stabbings, in which he "tells us by that letter that he consider this his final act".
The sword's holster was found inside a car parked near the school, Mr Haraldsson added.
Other witnesses at the school – which has a large immigrant community – have told how the man silently killed his victims while playing "terrifying" Halloween music.
One student, named as Sara, who took a photograph with the attacker before his rampage, said her teacher had told him to "get away from here" as he was scaring the children, according to the Daily Telegraph.
"He just nodded, then he plunged the knife into the teacher's right side. The last thing I heard him say was 'call an ambulance'," she said.
"After that he hunted us through the school. He was playing strange music and didn't say a word. It was terrifying music, sort of Halloween music."
Police arrived at the school to find one male teacher already dead and three other people seriously wounded — two male students aged 11 and 15 and another male teacher.
One of the injured students later died in hospital.
Additional reporting by Reuters and Associated Press
Register for free to continue reading
Registration is a free and easy way to support our truly independent journalism
By registering, you will also enjoy limited access to Premium articles, exclusive newsletters, commenting, and virtual events with our leading journalists
Already have an account? sign in