Swedish hotel voted 'worst building of the year' denies project has been abandoned before official opening
Dragon Gate Hotel faces latest in catalogue of problems in decade since it was proposed
Gabriel Samuels
Thursday 15 September 2016 13:10 Comments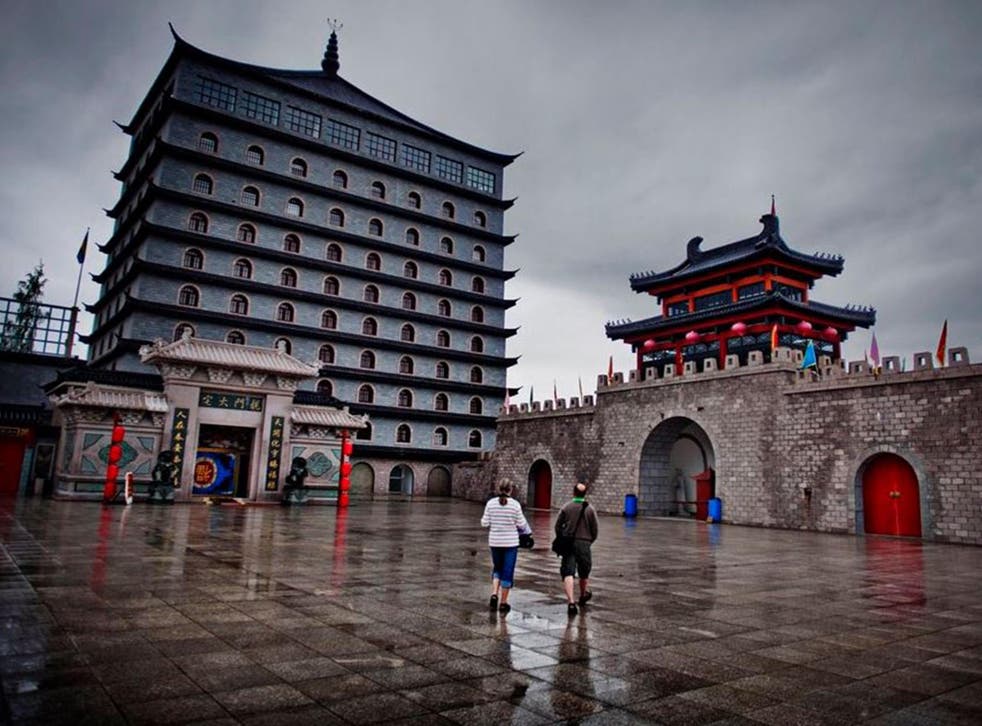 The owners of a huge hotel on a Swedish motorway voted "worst building of the year" have been forced to deny rumours the project has been abandoned before it even opens its doors to guests, more than a decade after it was first proposed.
The Dragon Gate hotel on the E4 motorway outside the city of Galve was commissioned by Chinese billionaire Jingchun Li in 2004, and the project has been beset by problems ever since.
The Chinese temple-style hotel's restaurant, museum and gift shop were unveiled to customers at a grand opening in August 2014, but the rooms themselves have remained closed.
The elaborate Chinese-style construction has been criticised by locals for looking out-of-place on the nondescript highway, and was voted "worst building of the year" by a Swedish architecture magazine in 2008.
Upon buying the property, Mr Li said he wanted to create a hotel "where East meets West", but was hit with a 1.1 million krona (£98,000) fine by the Swedish Work Environment Authority after it found staff working in bad conditions.
The site's large museum houses 200 replica terracotta soldiers resembling the famous Terracotta Army in Xi'an, and the owners previously announced plans to import a panda bear to show off to guests.
After Swedish media reported the project might be abandoned imminently, the hotel issued strenuous denials and insisted they planned to open to guests in the near future.
World news in pictures

Show all 50
"This domain and website were deleted and as the new owners of this domain name we figured it was best to restore the website to its original state," the hotel's owners said in a statement.
"One of our employees misinterpreted this and took it to mean that the hotel had closed down which is not the case."
Dragon Gate's former chief executive, Erland Agren, added: "The restaurant is temporarily closed, because the chef went to China. Whoever wrote this must have got it mixed up, I immediately realized it was wrong.
"The hotel has been closed for years, but it's about to open. They're getting permission from the municipality to open this month."
In August 2013, an employee at the hotel's restaurant told local journalists the site would open to paying guests the following spring, but no further announcements were made.
The project is said to have cost more than 250 million krona (£22 million) so far, and will offer 56 individually designed bedrooms when it finally opens its doors.
Register for free to continue reading
Registration is a free and easy way to support our truly independent journalism
By registering, you will also enjoy limited access to Premium articles, exclusive newsletters, commenting, and virtual events with our leading journalists
Already have an account? sign in
Join our new commenting forum
Join thought-provoking conversations, follow other Independent readers and see their replies