Swedish royal family hit by fresh Nazi allegations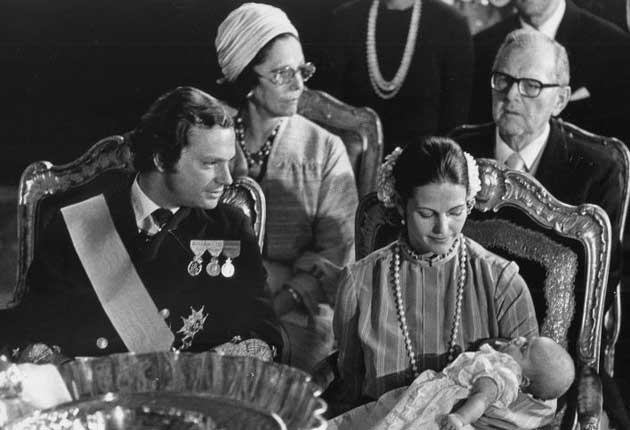 Sweden's royal family has been rocked by a new scandal which has exposed the hidden Nazi past of the Queen's father, only weeks after its reputation was shattered by lurid disclosures about the king's secret sex life.
The latest revelations concern Walther Sommerlath, the late father of Sweden's German-born Queen Silvia. He has been unmasked by an investigative television documentary as a Nazi party member who grew rich during the Second World War running an armaments factory that had been stolen from its Jewish owners.
The disturbing revelations, made by Sweden's Kalla fakta (Cold facts) TV programme, directly contradict 67-year-old Queen Silvia's claims earlier this year that her father was not "politically active" and that the factory he ran produced toy trains, hairdryers and parts for civilian gas masks. She also denied he had taken over the factory from its Jewish owners.
However, documents unearthed by Kalla facta in Berlin and South America show that Walther Sommerlath joined the Nazi party in Brazil in 1934 – only a year after Hitler took power.
They showed that he returned to Germany shortly before the Second World War broke out in 1939 and took over a previously Jewish-owned Berlin factory that had been "Aryanised" by the Nazis.
Under Sommerlath's ownership, the plant produced tank parts, anti-aircraft guns and other items vital to the Nazi war effort.
When Silvia Sommerlath married Sweden's King Carl Gustav in 1976, Walther Sommerlath denied he had ever been a Nazi party member. A Swedish newspaper first revealed the fact in 2003, but the Queen flatly refused to respond to the disclosure at the time. She spoke for the first time about the subject in July this year, saying that although he joined the Nazi party, her father was neither politically active nor a soldier.
She has so far refused to answer questions concerning the latest disclosures about her father.
Her brother Ralf told Sweden's Expressen newspaper in a recent interview that the Queen was "terribly upset" by the documentary, which he dismissed as "lies and slander".
A statement released by Sweden's royal palace said: "The Queen has no reason to comment on the content of the programme," adding, "Of course, the Queen is sorry about her father becoming a member of the Nazi party. She first knew about his membership in adulthood. She never had the opportunity to discuss this with her father."
Last month the Swedish royal family's reputation as a model of regal respectability suffered its first devastating blow after a warts-and-all book exposed Queen Silvia's husband, 64-year -old King Carl VVI Gustav as a philanderer who attended wild sex parties abroad and in underworld Stockholm clubs while the secret police kept guard.
The book entitled The Reluctant Monarch has become an instant bestseller in Sweden. The popularity of the royal family has dropped sharply since its publication. A poll published by the daily newspaper Dagens Nyheter showed that only 51 per cent of Swedes supported the King, compared to 64 percent a year ago. Carl Gustav has reluctantly admitted to most of the book's finding and attempted to dismiss them as past events that are no longer relevant. "I have spoken to the Queen and we have decided to turn the page and move forward," he said in a statement.
Join our commenting forum
Join thought-provoking conversations, follow other Independent readers and see their replies