Swedish man stabbed by 'clown' as craze sweeping Europe turns increasingly violent
The sinister craze has also prompted a spike in calls to Childline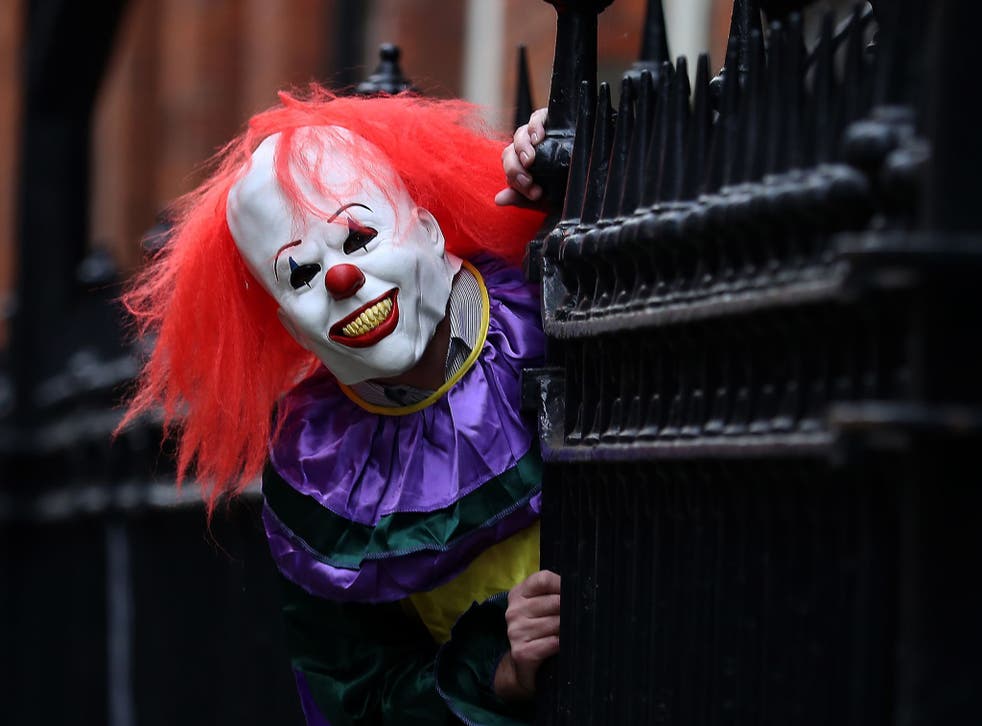 An attacker in a clown mask has stabbed a man in southern Sweden, prompting worries across Europe that the "killer clown" craze is becoming violent.
The 19-year-old man was stabbed in the shoulder late on Thursday night and sustained superficial wounds, according to Halland county police who are still searching for the suspect.
It is the third reported incident in the country this week, said police spokesperson Ulla Brehm, who called the phenomenon "very unpleasant."
Sightings of "killer clowns" have spread from the United States to Europe, creating concerns among authorities and the introduction of strict measures by police to try and contain the craze.
Police have intervened in dozens of incidents across the UK where pranksters have tried to terrorise the public by brandishing weapons such as knives and following people home.
However the US-born "prank" has taken a distinctly sinister turn as reported incidences in the UK appear to be increasingly violent.
On Tuesday, 17-year-old Owen Russell needed stitches to his head after he was attacked with a branch by a clown in Dinnington, South Yorkshire.
"The clown started to run once he realised he had hit me. He knew what he had done but he didn't stop. There was blood everywhere," he told the Sheffield Star.
"I could easily have lost an eye or been killed - this clown craze has to stop now, it's getting out of control. People doing this to frighten people need to stop before somebody dies."
In September, 16-year-old Christian Torres was fatally stabbed by a man in a clown mask in Pennsylvania.
Chief Superintendent Andy Boyd, of Thames Valley Police warned the phenomenon could become even more serious during the Halloween period.
"Some of the behaviour that is being reported would lead to arrest. We don't want to spoil the Halloween fun but we do want people to feel comfortable and safe," he told the Evening Standard.
"You need to consider the ramifications of your actions and how you are making people feel. You may be arrested if you are putting people in fear."
Childline has announced it has been overwhelmed by an influx of calls from worried young people.
It said a quarter of calls about clowns came from children under 11 and more than a third came from youngsters between the ages of 12 and 15.
Register for free to continue reading
Registration is a free and easy way to support our truly independent journalism
By registering, you will also enjoy limited access to Premium articles, exclusive newsletters, commenting, and virtual events with our leading journalists
Already have an account? sign in
Register for free to continue reading
Registration is a free and easy way to support our truly independent journalism
By registering, you will also enjoy limited access to Premium articles, exclusive newsletters, commenting, and virtual events with our leading journalists
Already have an account? sign in
Join our new commenting forum
Join thought-provoking conversations, follow other Independent readers and see their replies