Switzerland avalanche: Boy escapes deadly snow slide as it swallows skiers in extraordinary video
Young skier narrowly avoids wall of snow that left one dead and four others injured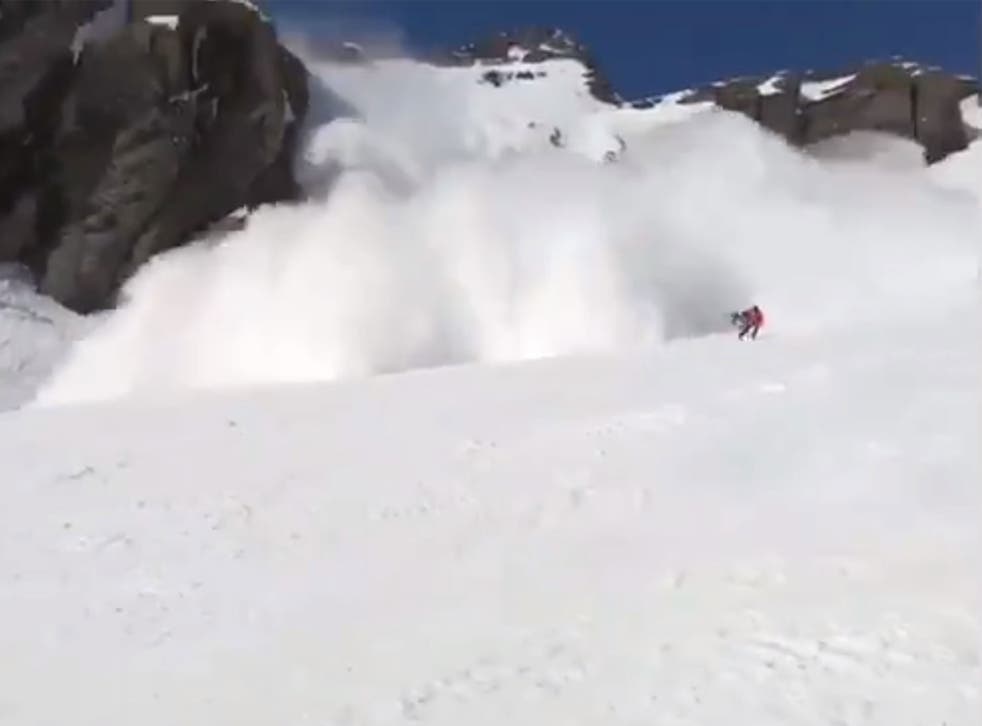 A boy narrowly escaped a deadly avalanche as it barrelled down a mountainside in the Swiss Alps.
Accelerating down the piste to avoid the wall of snow in the Crans-Montana resort, the young skier captured footage of the incident using a camera attached to his head.
As he turns round to look up the mountain, a wall of snow can be seen rapidly approaching him.
At least three skiers can be seen disappearing into the oncoming snow as the boy narrowly avoids being enveloped himself.
Speeding up, he tears down the mountain and eventually managing to outrun the avalanche.
World news in pictures

Show all 50
A 34-year-old Frenchman, whose job it was to check the safety of ski slopes died, police in Crans-Montana said.
A further four had been injured after being swept away by the avalanche.
Almost 250 rescue workers, medical professionals, police officers and military personnel were aided by eight helicopters to search for casualties - an operation that continued throughout the night.
Police said the search had been ended on Wednesday morning without anyone else being found.
Roughly half of the 840-meter-long avalanche made a direct hit across a marked piste – a relatively rare occurrence.
"Witnesses told us other people could be buried under the layer of snow. For that reason, we are continuing our search with considerable means," Commander Christian Varone of the Valais regional police said. "What's important for the intervention teams is that we do everything we can to verify whether or not people remain buried under the avalanche. That's our main priority
Support free-thinking journalism and attend Independent events
"The second is to take care of the families of the injured the best that we can."
Valais prosecutor Catherine Seppey said authorities were investigating what triggered the avalanche, citing weather conditions and skier behaviour as possibilities.
Switzerland's Institute for Snow and Avalanche Research had put the risk of an avalanche in the area at level 2 - relatively low on its 5-point scale.
Additional reporting by AP
Join our new commenting forum
Join thought-provoking conversations, follow other Independent readers and see their replies