Hiding in plain sight: Russia's private mercenaries and the lengths Moscow goes to deny them
'The system is not designed for a large number of troublemakers,' says one analyst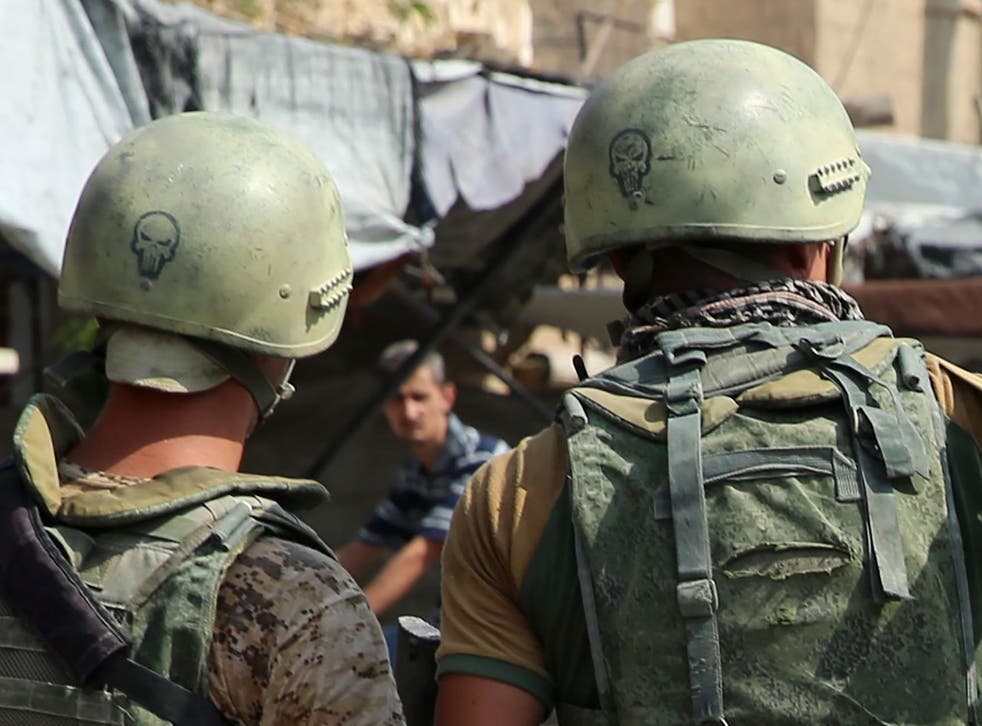 For a private army without an official name, and in a country where its activity is illegal, we already seem to know a lot about Russia's Wagner.
We apparently know where their soldiers are trained (a newly built compound in Krasnodar Krai, near Ukraine); how much they earn (up to 200,000 roubles, seven times the Russian average); where they fought (a list that includes Ukraine); how many of them are there (1,500-2,000); and when and where they died. We have learned all this from investigations using social media and other open sources – sources that the Kremlin seems unable to block.
Last week's clashes in the deserts of eastern Syria, where the US-led coalition said it had fought off an attack by "pro-regime" forces loyal to President Bashar al-Assad, brought those sources back into focus. In the absence of official recognition, evidence from social media – mostly from social media network Vkontakte – provided the most solid documentation of Russian losses to US-backed Kurdish forces, which may now number the high dozens. A number of those said to be involved in those clashes are said to be affiliated to Wagner, with the Kremlin one of President Assad's staunch allies.
After a period of anger and silence and statements boarding on outright denial, on Thursday Moscow accepted that five Russian citizens, maybe, could have died – but that required further verification, and they were not linked to official Russian military actions.
In recent years, the Kremlin has gone to great lengths to hide its military losses. In 2015, just before the beginning of the Syrian operation, President Putin made military deaths a state secret – whether in war or in "peacetime". By that time, the Kremlin narrative denying boots on the ground in eastern Ukraine as part of the conflict between Ukrainian forces and pro-Russian rebels had been seriously undermined by growing reports of dead Russian soldiers.
The use of private military groups such as Wagner continues that logic. Russia, of course, is not the only country to use private armies to keep its military deaths off the public balance sheet. But while the use of private armies by Western governments is common knowledge, in Russia membership is officially punishable by up to seven years' imprisonment. And the Kremlin does not look like it is about to authorise a change in law.
World news in pictures

Show all 50
The Kremlin's plausible deniability over Russian soldiers in Syria also has a flip side – angering Russia's usually loyal patriotic wing.
In Russia's parliaments this week, the tensions boiled over. Dependable deputies such as vice-speaker Igor Lebedev began to talk about the "obligation" of authorities to be more open.
"You have to express condolences to the relatives and loved ones of those who died," he said. "The government simply has to do this."
Franz Klintsevich, deputy chairman of Russia's upper house Defence and Security Committee, was even more forthright. "The actions of the US coalition go against legal norms," he said. "The Americans have never acted like this before in Syria ... it is unprecedented."
Russian warplane 'shot down and pilot captured' by Syrian rebels
But Klintsevich's message was off-cue and it soon got him into trouble. Within a day, he had "voluntarily resigned" his position. It was a turn that Speaker Valentina Matviyenko described as a "normal rotation" of cadres. But a source close to the committee told The Independent that Klintsevich should have kept his tongue. "There are serious players involved," he said. Klintsevich, meanwhile, declined to comment for this article, citing a "busy schedule".
As the scandal grew, government not only pulled down the shutters, but tried to empty the shop. Sources became busier and busier. Then came reports of new guidance for soldiers about social media use. According to the Izvestia newspaper, which is close to government, soldiers have been told to keep social media accounts private and to ask relatives not to divulge information about their service. The aim of the intervention seemed clear: to remove the lifeblood for activist open-source investigators.
One of its main targets was Ruslan Leviev and his Conflict Intelligence Team group of open source researchers. CIT has monitored and verified Russian military deaths in Ukraine and Syria since May 2014.
From about this moment, Leviev also attracted the attention of security services, who warned him to stop. He was summoned to a military prosecutor and told he risked prison. There was surveillance, phone-tapping, constant questioning and even a hacking attack.
The activist says the ministry of defence has recently turned its focus to the families of the deceased. Relatives have been told to sign non-disclosure agreements in exchange for receiving compensation, he says: "They tell us they aren't allowed to speak to us otherwise they will lose their money." Families are said to receive 3m roubles (£38,000).
Leviev's workaround is to approach distant relatives. The security services understand his methods, he says, but "aren't able to warn everyone".
Russian surveillance is not yet set up for large numbers of users, says Andrei Soldatov, author and security services expert: "Control breaks down at the lowest level. You would think that there would be nothing easier than confiscating a phone from young soldiers. But that isn't happening"
Instead of being an all-seeing eye, the Russian security system works instead works in chaotic, domino fashion. "They make demonstrative punishments and expect others to fall into line," says Soldatov. "The system is not designed for a large number of troublemakers."
Register for free to continue reading
Registration is a free and easy way to support our truly independent journalism
By registering, you will also enjoy limited access to Premium articles, exclusive newsletters, commenting, and virtual events with our leading journalists
Already have an account? sign in
Register for free to continue reading
Registration is a free and easy way to support our truly independent journalism
By registering, you will also enjoy limited access to Premium articles, exclusive newsletters, commenting, and virtual events with our leading journalists
Already have an account? sign in
Join our new commenting forum
Join thought-provoking conversations, follow other Independent readers and see their replies