Syrian regime torturer put on trial for war crimes in world first
Former Syrian officer Anwar Raslan on trial in Germany for allegations of crimes against humanity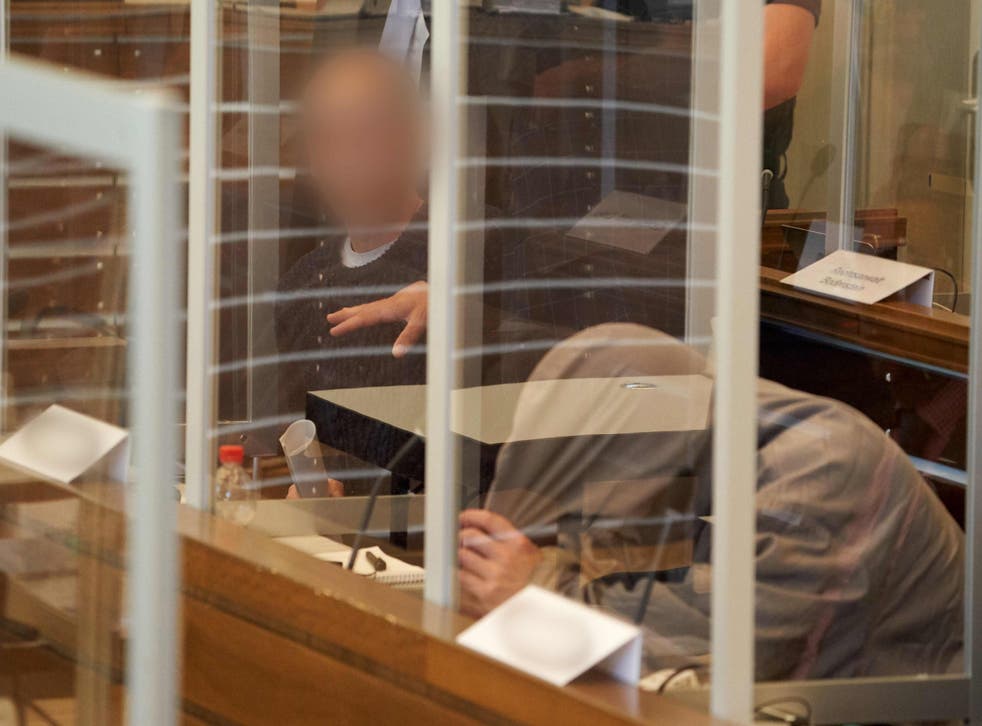 One of the most important trials in the annals of international human rights law got underway Thursday in a courthouse in the small western German city of Koblenz.
Former intelligence directorate senior officer Anwar Raslan is accused of overseeing the murder, torture and rape of at least 4,000 dissidents and activists locked up inside the al-Khatib branch of the Syrian Ministry of Intelligence for protesting dictatorship of Bashar al-Assad.
The more junior official, Ayad al-Ghareeb, who appeared in court with his face partially hidden by a jacket, is accused of aiding and abetting crimes against humanity.
Chief prosecutor Jasper Klinge spent more than an hour recounting the stories of 24 of those held inside al-Khatib.
"Anwar R was responsible for the ruthless torture by the prison guards," said Mr Klinge, according to lawyer who attended the trial. "The extent of the injuries was predictable. He accepted it."
The trial marks the first time that Assad regime enforcers are being tried for their violations of human rights in a court of law.
"It's not about this guy alone," Syrian human rights lawyer Anwar al-Bunni told journalists earlier this week in an online briefing. "It's about who the orders came from, how the torture is done. It's to expose all the regime structure and system of torture. It's important to expose this for all the world."
Mr Raslan, who originally escaped Syria with the help of dissidents and sought asylum in Turkey, appeared in court wearing spectacles and a moustache, as Mr Klinge read out allegations. He is accused of grave offences.
According to the indictment, he headed the investigations unit at Section 251 of the General Intelligence Directorate, overseeing Damascus and its suburbs.
Under his leadership, between 29 April 2011 and 7 September 2012, at least 4,000 prisoners were subject to torture including beatings, electrical shocks, and sexual assault.
During interrogations, prisoners were menaced with threats to family members to obtain confessions and information about what was a largely peaceful opposition movement opposed to the Assad family's 50-year monopoly on political power in Syria.
Prisoners were denied medicine, food and the basics of personal hygiene and were crowded into dark, dank, dirty cells so packed it was often impossible to sit down. Mr Raslan oversaw prison guards and kept track of their torture, according to German prosecutors.
At least 58 prisoners died under his watch.
The court session lasted 90 minutes, with the prosecutor laying out charges against the defendants in a courtroom turned into a maze of plexiglass dividers to prevent the possible spread of coronavirus among court officials, witnesses and lawyers.
Mr Raslan's attorney said he would retain his right to silence and submit written statements.
Mr Ghareeb's attorney argued that the case against his client should be thrown out because it was based largely on interviews obtained by officials who had told him he was a witness rather than a suspect in alleged crimes.
Human rights activists in Germany pursued the groundbreaking prosecution because of the large community of Syrian exiles who have settled in the country since 2015, says Wolfgang Kaleck, secretary general of the European Centre for Constitutional and Human Rights.
"It's not like Anwar R was a small fish," he said. "He played a very important role in the machinery. You have to understand the systematic structure of the abuse."
Human rights attorneys and activists have spent years assembling evidence against Mr Raslan, convincing German prosecutors to take up the case under the principle of universal jurisdiction.
The relatively novel concept in international law grants judiciaries around the world the authority to prosecute the most heinous crimes and human rights violations regardless of the nationality of the perpetrator when pursuing such cases where they took place is impossible or unsafe.
Koblenz, a riverside city of 100,000, lies between the former West German capital of Bonn and the commercial hub of Frankfurt.
The court complex includes an ornate Prussian-era villa of the president of the region. It was chosen as the venue simply because of an overload of cases at courthouses with similar federal authority, said lawyers at the European Centre for Constitutional and Human Rights, a Berlin-based organisation that has played a key role in bringing the case to justice.
Inside Idlib: Syrians caught in the crossfire

Show all 24
Rights activists say they hope the case will open the floodgates for other witnesses to stand up and other prosecutors to bring cases forward.
Cases have already been filed against ranking Assad regime officials in courts in Norway, Austria, France and Sweden as well as Germany, which has secured an indictment of Jamil Hassan, the notorious chief of Syria's air force intelligence.
"This trial aims at finding the truth," said Anna Oehmichen, a German lawyer representing one of the survivors of al-Khatib.
"Hopefully it can contribute to fighting the impunity for some of the horrible things that have happened in Syria. It's a warning sign to anybody who participated in torture."
The trial will take months, and Mr Raslan and Mr Ghareeb are represented by defence teams in a German legal system which has a reputation of vigorously upholding the rights of the accused.
Most of the 16 potential witnesses and plaintiffs, including torture victims, who may testify against Mr Raslan are keeping quiet for fear of tainting the prosecution. But their legal advocates say Mr Aslan's victims recognise the gravity and importance of the case.
"They have all been tortured in Branch 251," said Patrick Kroker, another lawyer at ECCHR. "They know there are many others who cannot speak. They want to really bring light into this whole system that is characterised by secrecy and darkness. They want the world to hear about this."
Register for free to continue reading
Registration is a free and easy way to support our truly independent journalism
By registering, you will also enjoy limited access to Premium articles, exclusive newsletters, commenting, and virtual events with our leading journalists
Already have an account? sign in
Register for free to continue reading
Registration is a free and easy way to support our truly independent journalism
By registering, you will also enjoy limited access to Premium articles, exclusive newsletters, commenting, and virtual events with our leading journalists
Already have an account? sign in
Join our new commenting forum
Join thought-provoking conversations, follow other Independent readers and see their replies