Syrian man tries to suffocate himself at refugee camp after finding out sister was killed in Aleppo air strikes
A doctor in Idomeni said refugees traumatised by the shelling and relatives' deaths were becoming ill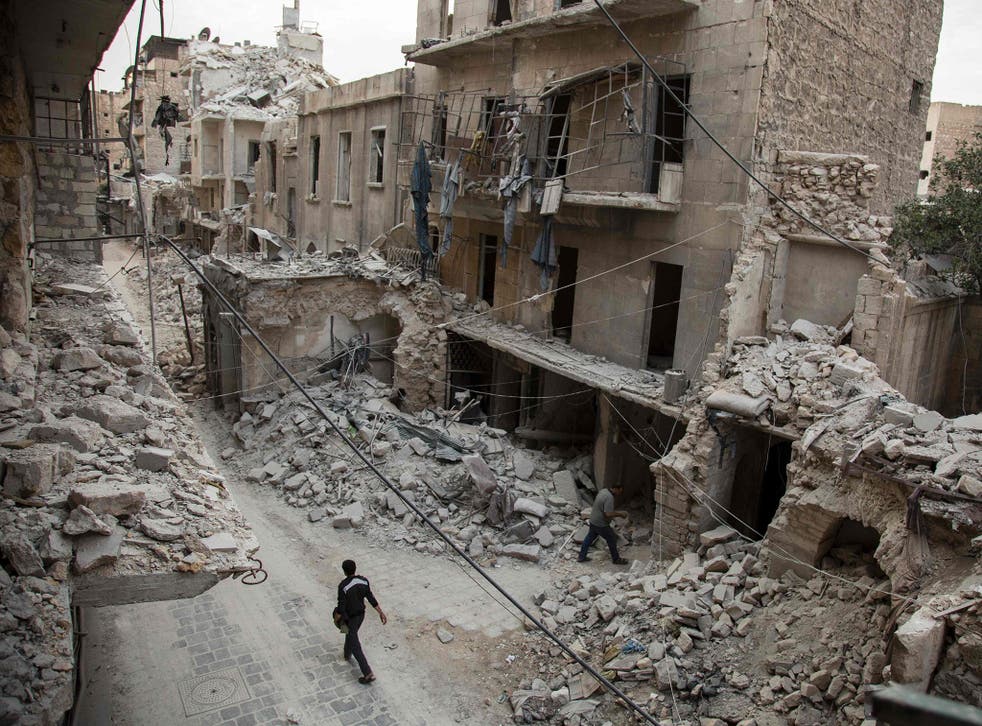 A doctor has revealed the devastating impact the bombing of Aleppo is having on traumatised refugees, with relatives of those killed falling ill and trying to harm themselves in a concerning pattern forming at a camp in Greece.
An Irish medic working in Idomeni, Dr Connor Kenny, described the moment one distraught man was brought to a Doctors Without Borders (MSF) clinic after trying to suffocate himself.
"Before I could even see him, I could hear his screams through the fabric of the field clinic tent, getting closer every second," he said.
"Carried into the tent in a dark thermal blanket by four young men, he was in tears, screaming and writhing in agony.
"We placed him immediately on our assessment bench. It was clear that this was an emergency. Each of his friends took hold of one limb to control the forcible kicking and lashing out, and to prevent him from hitting objects in the clinical area and causing significant harm to himself."
Dr Kenny said the refugee, a 22-year-old man called Hamza, only became more agitated as medics tried to treat him.
"Seeing his extreme distress, my initial thought was that it was a surgical problem – possibly a kidney stone or a perforation in the gut," he added.
"But during my assessment of his airway, it became obvious he was forcibly trying to swallow his tongue, actively holding his breath at the same time. As a result his oxygen levels were falling."
With the help of translator, friends explained that Hamza had just been told his sister had been killed in an air strike in Aleppo.
In pictures: Aleppo bombing

Show all 14
"He was so stricken with grief that he was now trying to seriously harm himself," Dr Kenny said.
"When I first arrived in Idomeni, this might have shocked me, or at least made me feel slightly surprised. But now it doesn't."
The doctor said he had seen several refugees become seriously ill after hearing news of their loved one's deaths, including a 68-year-old woman also from Aleppo who has been carried to the MSF clinic several times after fainting, following the loss of a relative in bombardment of the city.
No "medical reason" for the responses has been found, but a concerning pattern is forming, affecting refugees of all ages who have managed to reach the camp after making the treacherous boat crossing from Turkey to Greece.
In another case, a seven-year-old boy lost control over his bladder four months after watching his father be shot dead by a sniper.
Dr Kenny said the child was found to be "medically well" but that staff had referred him to MSF's psychological team for help.
"Clearly, there is a significant underlying issue here," he added.
"As doctors working in Idomeni field clinic, my colleagues and I increasingly find ourselves faced with the psychological impact of the shelling in Syria.
"People do not leave these experiences behind when they flee for their lives. These things are inescapable. They follow them, like a shadow."
An estimated 10,000 migrants are living at the camp, which has formed around an international railway station on the border between Greece and Macedonia.
Many arrived before the imposition of the EU-Turkey deal seeing migrants whose asylum application fail deported back over the Aegean Sea, but they have been trapped by restrictions allowing only those of selected nationalities, including Iraq and Syria, to cross the border and continue their journey into Europe.
Dr Kenny said palpable distress and frustration in the camp is worsening refugees' physical and psychological problems.
Hamza was prescribed relaxants as a last resort and kept in a clinic for observation, before being referred to psychologists.
"I hope he will recover," he said. "But to be honest, I don't know what will happen to him as time goes on. Nobody knows what will happen to him, or indeed to anyone stuck in Idomeni.
"It seems they are trapped in no man's land. As one patient told me: 'We are dying here, just like we were in Syria, but slower'."
A new wave of refugees has been fleeing Syria after bombardment re-started in Aleppo last month despite the "cessation of hostilities" earlier this year.
Monitors estimate that at least 285 people have been killed in strikes on both regime and rebel-controlled sides of the divided city, including some that hit hospitals and mosques.
Aleppo onslaught: New ceasefire announced
The Syrian government and its Russian allies have denied responsibility for civilian casualties after condemnation by the United Nations and international calls for a war crimes investigation.
Amid mounting pressure, Aleppo was added to a "regime of calm" truce that was extended for 72 hours starting at 1am on Saturday morning local time (10pm Friday GMT).
While the ceasefire has been largely holding in the city, the Islamist Jaysh al-Fatah rebel alliance - led by al-Qaeda's Jabhat al-Nusra group - has launched an assault on government-held areas to the south, sparking days of battles with Bashar al-Assad's forces.
Refugees continue desperate efforts to escape the violence but there have been allegations of Turkish border guards beating and shooting those trying to flee, while the journey to Europe has been made more difficult by the controversial EU refugee deal and border restrictions across the continent.
Many asylum seekers are attempting to avoid Greece by taking the land route from Turkey thorough Bulgaria and Serbia, with thousands being detained.
Additional reporting by agencies
Register for free to continue reading
Registration is a free and easy way to support our truly independent journalism
By registering, you will also enjoy limited access to Premium articles, exclusive newsletters, commenting, and virtual events with our leading journalists
Already have an account? sign in
Register for free to continue reading
Registration is a free and easy way to support our truly independent journalism
By registering, you will also enjoy limited access to Premium articles, exclusive newsletters, commenting, and virtual events with our leading journalists
Already have an account? sign in
Join our new commenting forum
Join thought-provoking conversations, follow other Independent readers and see their replies